The best and most-viewed YouTube videos for job seekers who hate looking for work and want to improve.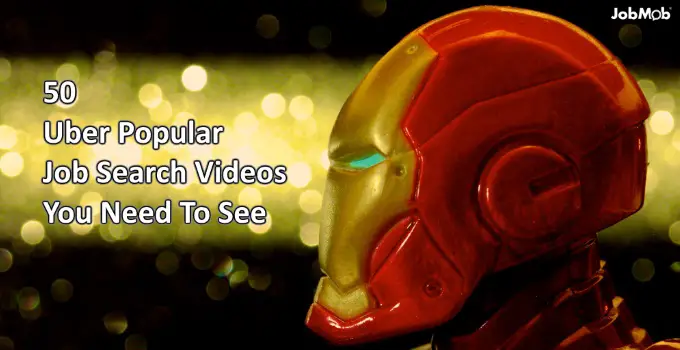 If you're like me, you use YouTube almost as much as you use Google to find information. Sometimes, you just want to see how it's done instead of reading a step by step guide, right?
Or maybe you're looking for the answer to a question, and Google sends you to a video on topic. Then you get distracted by the similar videos that YouTube suggests you watch next, because YouTube is pretty good at that kind of thing. And those might include a related classic movie clip or two…
In the interest of saving you a lot of distraction time and helping your job search along the way, I compiled this list of the most popular job search-related videos on YouTube.
It's all here:
Expert job search tips and advice on the topics most job seekers need help on
"How to" clips from job boards and other services on how to get best results
The funny stuff, including classic movie/tv clips, comedy sketches, pranks, ad parodies and cartoons
Even someone's amazing video resume
Some of these clips are borderline NSFW, mostly for language, and I've added a mention in their titles about that.
Enjoy!
Free bonus: Download 366 Top Tips to Rock Your Job Search Every Day of 2020 for easy reference, where I've highlighted effective tips that job seekers tend to not know .
50. Real English 24 b – Dream Job with subtitles
In this clip for ESL students to see how people speak English conversationally, the interviewer asks "what do you do for a living? Is that your dream job? No? What IS your dream job?". As you can imagine, surprisingly few people work at their dream job.
49. Focus Your Search with the LinkedIn Job Search App
Use the Advanced Search feature of the LinkedIn Job Search app to filter, target and find a job you love.
(If you're using your smartphone to job search, which you should, check out my lists of Android job search apps and iOS job search apps.)
https://www.youtube.com/watch?v=sXqtgLJ70D4
48. How to find a new job using LinkedIn?
A quick guide on how to use LinkedIn to job search, and why "the real power of networking is in the SECOND degree!"
47. How to search for jobs with Indeed.com
Indeed.com's overview of its job search engine, search options and what you'll see on their job search results page.
46. Improve Your Job Search with StartWire
"Find out how you can improve your job search with StartWire.com! Join today and start getting automatic updates on your job applications."
45. Job Search : Foamy The Squirrel [NSFW]
Germaine searches for a new job after quitting her old one.
44. Seinfeld – George Costanza ponders about potential jobs
Classic Seinfeld moment when George quits his job in a fit of rage without another job lined up, and him and Jerry discuss what he can try to do next.
43. Dreamjobs: the best job in the world, probably [NSFW]
Dreamjob.com.br's viral ad about a massage therapist for bikini models who's had enough.
42. MY DREAM JOB (REACT: Opinions)
A lot of kids and a few other people get asked what their dream job is.
41. Job Search Tip #9 – Explaining Employment Gaps
"There are many reasons why you might stop working for a period of time. Your resume usually reflects these gaps in your employment history (also called resume gaps). This is where your cover letter can fill in the blanks."
https://www.youtube.com/watch?v=tlMKhJlchH8
40. Job Interview Question & Answers for freshers – Free Job Interview tips & English Lessons
Common job interview questions and answers for freshers (new college grads, in India). For a more detailed take, check out How To Get a Sweet First Job After College or University.
39. Job Search #23 – Best Practices for Emailing Potential Employers
How to contact employers over email, something job seekers have a tough time doing. For starters, use one of these awesome email subject lines that job seekers are using to get results.
https://www.youtube.com/watch?v=vn2BzOOipEI
38. Turn Twitter into your career search engine
Dan Schawbel explains how to use Twitter in your job search search. After watching the clip, take a look at my free Ultimate Twitter Job Search Guide.
https://www.youtube.com/watch?v=NNKPQiQe1CE
37. Video Resume: Google Please Hire Me
Matthew Epstein's studio-quality video resume aimed at getting a job at Google (it didn't work, unfortunately).
36. Ridiculous Job Interview Prank – Ownage Pranks
"This guy recently applied for a web hosting company and had 2 in-person interviews. He knows nothing about web hosting technologies but is really hoping to get the job, I decided to call him for a 3rd interview, things get ridiculously hilarious."
35. Training for your Job Interview best english learning program
Another video for ESL students on job interviewing. Specifically, how to ask questions in job interviews. (Here are 175 job interview questions to prepare from)
34. The Pursuit Of Happyness – Job Interview
A classic clip from the movie with a great line, where Will Smith's character has a job interview problem.
33. Subway Job Interview Prank
"A viewer submitted this number to me after having a miserable experience at a Subway location and getting food poisoning. I decided to call them up as Rakesh and see if they'd hire me for a job, things didn't go very smoothly, but it becomes pretty obvious why he got food poisoning in the first place."
32. The Job Interview…Part 2 (prank)
(Part 1 is further down the list at #13)
"This job interview was set up by the owners of Pets Plus. Josh is the manager of the Philadelphia store and was asked to come to the Lansdale store to interview Tetse. He had no idea who we were. The rest is history."
31. Chopper Reid Job Interview [NSFW]
In this comedy sketch, Chopper Reid demonstrates the best way to get a job. From the Ronnie Johns Half Hour.
30. Learn English – A Successful Job Interview [English Conversation] FULL
This 3rd video aimed at English Second Language students demonstrates an entire job interview.
https://www.youtube.com/watch?v=xkPTJwSWnJ8
29. 08 Common Interview Questions and Answers – Job Interview Skills
Why interviewers ask certain questions, what kinds of answers they're hoping for and common mistakes job seekers make. After the clip, check out 7 Common Job Interview Questions That Can Trick You.
28. José Vs. Joe: Who Gets A Job?
"How much does your name really matter when applying for jobs?" Unfortunately, job search discrimination is real and you need to know how to defeat it.
27. Why I Hate Interviews [NSFW]
A-list YouTuber GradeAUnderA with a funny rant about job interviews.
26. "Why should I hire you" – Best Interview Questions and Answers
Don Georgevich advises how to answer this common interview question.
25. How to Land a Job with Grace Helbig
This Marriott Hotels ad makes fun of interviewers with crazy interview questions.
https://www.youtube.com/watch?v=oartlVHmE3I
24. Interview Dos and Don'ts
A basic guide to job interviewing from Vault.com.
23. If Everyone Was Honest At Job Interviews
"Try being more honest at your next job interview. Or not."
Favorite quote: "as a woman, I wouldn't expect for you to get past a surface-level observation"
22. Interview Question: Tell Me Something About Yourself?
Learn how to face what is often the first question of many job interviews.
21. Interview questions and answers
"Learn how to better perform in an interview with real simulations of interview situations, including a professional review of popular interview questions."
20. Every 7 Seconds: Job Interview [NSFW]
"They say a man thinks about sex every 7 seconds…" and how it would hilariously impact that man in a job interview.
19. The Interview
A funny job interview cartoon about how bad a job interview can go.
18. Lie Detector
Another funny sketch: "Dane only has one chance to make a stellar first impression. Good thing there's a lie detector present at his job interview! *BEEP* He's screwed. And he's going to find out just how much the truth really hurts."
17. Welcome to LiveCareer Resume Builder
LiveCareer Resume Builder provides you with step by step tips and advice to build the perfect resume and land your next job!
16. Job Interview Tips: Tell me about yourself. Example of a good answer.
So many people are concerned about answering this interview question, this is the second popular clip here on the topic.
"This is an example of a GOOD way to answer this question."
15. Job Interview Skills – Questions and Answers
"Some common questions you will be asked and how to answer them! Learn what to say to impress and get that job!"
14. Pepsi Max – OFFICE INTERVIEW Ad
A terrific, classic job search-related ad from PepsiMax: a job seeker collaborates with his friends to boost his odds of getting the job.
13. Job Interview Prank…Part 1
(Part 2 is above at #32)
***Josh is the store manager in Philadelphia. Bruce is one of the owners of Pets Plus and asked Josh to come to the Lansdale store to interview Teste. We were there an hour before setting up the cameras***
12. Good Interview Answer to "Tell me about yourself"
Don Georgevich also covers the basic introduction question of many job interviews.
11. Key & Peele – Job Interview [NSFW]
Comedians Key & Peele do a take on what happens when the previous interviewee had things go so well…
On to the Top 10, where each video has over 5 million views…
Top 10 most popular job search YouTube videos
10. Tell me about yourself – The perfect answer.
(are you noticing a theme yet?)
A UK-based guide on how to answer "the most common interview question."
9. Job Interview Tips – Job Interview Questions and Answers
Maggie Mistal explains how to ace your next job interview.
8. Singapore Parody of Dreamjobs video, Massage Therapist for Models with Everijob! [NSFW]
Everijob.com.sg does a parody of Dreamjobs.com.fr's massage therapist parody (above at #43).
7. Resume Tip #15 – Using Action Verbs
Stay away phrases like "responsible for." Instead, use action verbs to turboboost your resume (here's a list of 500 to choose from).
https://www.youtube.com/watch?v=bYBm-xgfz8c
6. Workin' Stiff | A Mickey Mouse Cartoon | Disney Shorts
"Mickey and Donald struggle to help Goofy get through a job interview."
5. Top 10 Interview Questions and Answers (English)
"This video contains information about top 10 interview questions and answers with examples and important points to remember."
4. LG Ultra HD 84″ TV PRANK (METEOR EXPLODES DURING JOB INTERVIEW)
LG wanted to show off who realistic their new TVs are, so they pranked job interviewees with a meteor explosion. Well, supposedly. The "interviewees" were in on it, but it still looked cool.
3. 10 Fun Jobs You Wish You Had
"Ten of the best jobs in the world. People making a living off fun and some unusual work!"
2. Silly Job Interview – Monty Python
Classic Monty Python skit of an absolutely ridiculous job interviewer.
1. World's Toughest Job – #worldstoughestjob – Official Video
American Greetings made an ad for mother's day cards by interviewing candidates for the "world's toughest job", making them appreciate what their mothers do for them.
I hope you enjoyed this playlist. Please use the share buttons here on the side to share it with at least one friend who would enjoy it as much as you did.
Which was your favorite video? Tell us in the comments.
Free Bonus
Download this list so you can print it out to keep it handy.
This free download contains:
All 366 job search tips listed above
The tips have been categorized for easier reference
In every category, I've highlighted effective tips that job seekers tend to not know
Click the image to get access to
365 Top Tips to Rock Your Job Search Every Day of 2019
:
JobMob Insiders can get this free bonus and other exclusive content in the JobMob Insider Bonuses area. Join now, it's free!
Subscribe to JobMob via RSS or email and follow me on Twitter for more top job search resources you can watch.