The Dream Job. The one that you never want to end. The one that you would love. The one that you've never had and may never have. Until now.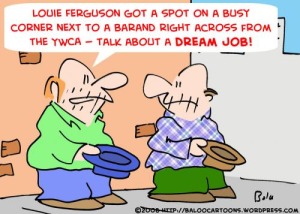 In Theory
Find out what you like doing best, and get someone to pay you for doing it
Flashback. When I was a teenager growing up in Montreal, I loved baseball. A friend and I would try to see as many games as possible each summer, and every time we went to the stadium to watch our favorite team (the now-defunct Expos), we would rave about what work must be like as a batboy, the next best thing to actually being a player.
Being a batboy was our dream job at that time, a job we would have done for free paid to do. The fact is that we saw only one facet of that job – the batboy helping the players during the game – and that if we'd known his entire job description including all the time he spends cleaning, polishing and shining, we would have set our hearts elsewhere.
Find a job you enjoy, and you'll never work a day in your life
Fast forward a few years. I remember coming home one day and turning on the TV to see Warren Beatty as a guest on the Oprah Winfrey show. It was a very candid interview and he said something that I'll always remember – "you've achieved success in your field when you don't know whether what you're doing is work or play." I would take it one step further and say that a dream job is one where you can't tell the difference between work and play.
If you don't want a job to end, you must be enjoying almost every aspect of the work. If you love the job, it's likely that you are passionate about the issues involved on a daily basis. And if you continue in that position for a long time, it's because you are good at it, recognized for it, and feel well-rewarded by it.
The fact is that just like other people, you have your own definition of a dream job and that definition has evolved over time with your likes and dislikes. I used to dislike writing immensely and now here I am blogging and loving it. As my wife suggests, I could love it more if I was blogging while sitting with my feet in the surf, but one thing at a time 🙂
This fantasy can come true for you too.
In Reality
Why do we call it a Dream Job?
In my experience, people spend more time dreaming when they hate their work, and then it's generally about their next vacation as opposed to their next job (usually not too far away by that point). On top of that, people working their dream job often spent little time dreaming about finding it, having only recognized it as such after the fact. In their eyes, they found the dream job by accident, which means that they weren't even trying to find it.
In the summer of 2000, I was working as a web developer for Amazon.com, part of the team that built Amazon.fr for France. There was a lot of work needed to meet our end-of-August launch deadline and the pressure from Seattle HQ was high as we often worked into the early hours of the morning. And yet, we were having the time of our lives. It was so much fun working with that terrific group of people that I personally found it difficult to pull myself away from the office at the end of the day. When I finally did so, almost regretfully, I couldn't wait to get back to work the next day. It had become my dream job.
How did this come about?
Definitely not by accident. I knew that I wanted to be a web developer before I began my job search. When I interviewed for the position, I already knew that it was for an opportunity to work on a major Internet event – tantalizing for any web programmer. The work conditions and salary were appealing enough that I shunned higher-paying offers – I was selective – because I knew that with Amazon I was in for an unforgettable experience that would also look great on my CV. In hindsight, I was fortunate to get my manager and other teammates but otherwise I was intuitively making the right choices in trying to find my dream job, and that's the secret.
In Practice
Landing your dream job requires identifying which jobs fit that title for you and then actively working towards obtaining one of them.
Here are a list of questions to guide you:
What do you like doing? Examples: eating gourmet food, driving race cars, learning about history, playing video games
What are you good at? Examples: programming, recognizing instruments in a song, handiwork, rugby
Which work conditions are important to you? Examples: flex-time, free cafeteria, having an office, frequent business travel
List your answers for each of these questions and then try to discern jobs that regroup a maximum of your answers across all lists. Take this seriously – the more you develop your answers, the better your chances are of finding something that will truly satisfy you as only a dream job can. If needed, consult your friends or explain yourself in the comments below and let the JobMob Community help you.
Once you have a definite idea of what your dream job would be, completely orient yourself towards finding it. That may mean changing the direction of your job search or canceling it completely if 'be my own boss' is an ideal work condition for you. When the former, only apply for jobs that seem to meet your criteria above and continuously verify whether that is true or not throughout the recruitment process. This may mean asking lots of questions during interviews and that's fine.
Also, try to meet your future boss and immediate colleagues so as to judge the chemistry between you and between them as well. You want to get to the point of being excited about joining the company when an offer is finally made.
In Conclusion
For a lot of people, the dream job is like an endangered species; very limited in number. Anyone can get lucky and fall into a dream job, but if you take the time to understand what your dream job would be and then aim for it, you greatly improve your odds of being so lucky.
Subscribe to JobMob via RSS or email and follow me on Twitter for more tips on finding the job of your dreams.