How to know if you're ready to leave.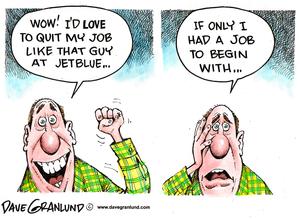 This is a guest post by Nettie Feldman. If you'd also like to guest post here on JobMob, follow these guest post guidelines.
Want to leave your job? You can, you know.
Okay, so you've been at your job for awhile and you're not happy, but you're not that unhappy, either. You get up in the morning to work because it's better than sitting home and finding out what your friend is making for lunch on FB, and because — bottom line — you do need the paycheck.
But it just doesn't have the oomph of that mythical perfect job you read about in the magazines.
Or maybe you work for a sadistic or officious boss (aka SOB) and you just can't take the blame game, the insults, and yes, the incompetence.
Is it time to leave? Or do you listen to your friends and some headhunters who say: "don't leave til you get another offer. Companies don't like to hire people who are unemployed."
What's right?
I don't think that people who leave companies necessarily have a harder time finding a job than people who are employed.
Just like in most situations, if you fit the job, if they like your personality, if you explain why you left without dissing anyone (because no one likes to hear someone trashing a company), then you have as much chance as anyone to get that job.
So if you're looking into leaving, what you really ought to consider are your financial state, your mental state and your physical state.
Financial state
Can you afford to quit without another job in the works, knowing that it may take a good few months until you get an offer you won't refuse? It may be worth tightening your belt and putting your money in the usual no-interest savings account for a few months, and then quit.
Just the fact that you know you'll be quitting after X months could take some pressure off you, knowing your self-termination is in sight. In the meantime, your company may go through its own turmoil, and maybe you'll be one of those declared redundant, awarding you with extra compensation, plus unemployment benefits.
Aside: Even if you quit, you may be eligible to receive unemployment benefits, albeit for a reduced period.
Mental state
If your job is frustrating you, or if you think the mindless work will kill more brain cells than the aging process, then of course, send out feelers to friends/family/headhunters and maybe, some very discreet colleagues. It's also always a good idea to brush up on a new skill that you know is becoming hot in the market. Maybe you can even do it legitimately on company time.
And when you do get that new offer, just wave goodbye to your old company. Politely.
Aside: I know an IT whiz who was totally frustrated by her dead-end job. She was brilliant. She could solve things that stymied seasoned IT staff. But no one would give her credit, and they certainly would never think of moving her up. Probably a case of professional jealousy.
Well, this smart woman bided her time, sent out feelers and after going out on lots of interviews, became senior IT for a company and ultimately, product manager for another, well-known high tech organization.
There is hope!
Physical state
If your SOB is driving you so crazy that your stomach clenches for most of the working day, or you make excuses to call in sick so that you don't have to face that misery, then it's time to do some gut searching and say: is it worth it? (If you're worried you can't afford it, see Financial State, above.)
Aside: I had an SOB who was so insufferable, I felt I couldn't stay another day in the company. I resigned, did some freelance work and ended up a few months later working for one of the best companies I ever worked for, and even made a little bit of money when the company was sold two years later (and don't believe all those stock option stories of employees getting rich overnight; we don't; the investors do).
Just do it.
About the Author


Nettie Feldman is host of the Afternoon Schmooze talk show on Rusty Mike Online Radio. She's also a seasoned job hunter and has some tricks up her sleeves. To contact nettie, email: nettie@rustymikeradio.com
This article is part of the Over $5000 in Prizes: The 5th Annual JobMob Guest Blogging Contest, which was made possible thanks in large part to our sponsors:
| | |
| --- | --- |
| | Marcus Tandler's JOBlog is Germany's oldest blog about job search & careers. |
| | Rabbi Issamar Ginzberg is an internationally acclaimed advisor to successful business owners, known for his small business ideas. |
| | HireAHelper.com helps people compare and hire local movers in the USA. |
If you want Nettie Feldman to win, share this article with your friends.
If you liked this article, you'll also enjoy Thinking of Quitting? Know Why Companies Won't Hire You Back.
Subscribe to JobMob via RSS or email and follow me on Twitter for advice on good career decision-making.