Everything you need to job search with Twitter in 2016, including the new Likes.
The Ultimate Twitter Job Search Guide is a concise report that I created to teach you how to use Twitter to find jobs effectively.
The new 2016 edition of the Guide is now available, and you can get it by simply clicking the image below:
Wasn't this supposed to come out last week?
Yes. Yes, it was.
2 weeks ago, I told you: Coming Next Week: The New Ultimate Twitter Job Search Guide.
Then, 1 week ago, everything was set and ready to go for a big announcement.
The only problem was that the big announcement that followed wasn't the one I'd planned: Twitter scooped me a day early by announcing that Favorites were now Likes:
Imagine that: one day before I launch a product about Twitter, something I've been working on for months, they announce a change to a major feature for the first time since Twitter itself was launched in 2006.
All of a sudden, I needed to do rewrites and edits and get a new cover design, and in a hurry. I'm proud to say we pulled it off:
I'm also very proud of the quality of the book. It's going to help a lot of people.
The Ultimate Twitter Job Search Guide will teach you how to use Twitter to find jobs quickly in the short-term and to attract jobs in the long-term. Which is something you probably don't know how to do, or even realized you could do, based on last week's poll:
The easy-to-read ebook, currently a free download, contains chapters on:
How To Make Every Recruiter Jump To Hire You
Which Key Tools Need to Be in Your Twitter Job Search Toolbox?
An Easy Checklist to Follow Every Day (including a handy printable version)
I hope you enjoy it!
Click the image below to get access to The Ultimate Twitter Job Search Guide: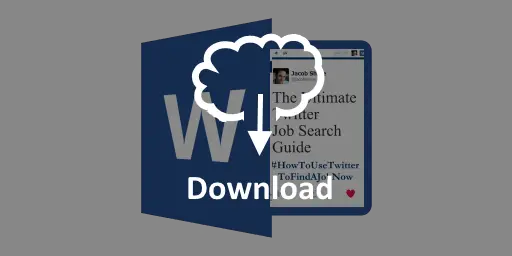 JobMob Insiders can get this free bonus and other exclusive content in the JobMob Insider Bonuses area. Join now, it's free!
Subscribe to JobMob via email and follow me on Twitter for surprising techniques that work to get you work.