It would suck to lose your current job before finding a new job.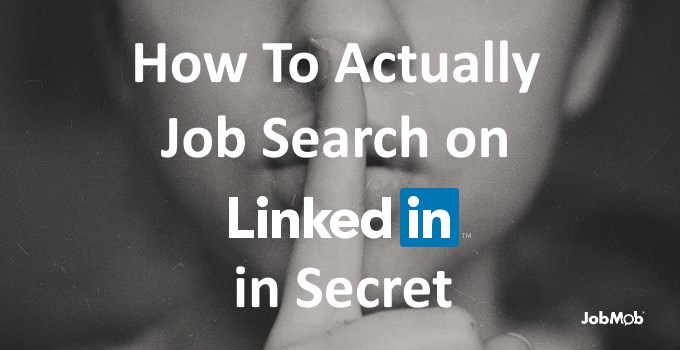 This is a guest post by Chris Perry.
There is a lot of great advice out there for job seekers on how to use LinkedIn to build their personal brands and find new career opportunities.
Some of these tips include maintaining a 100% complete LinkedIn profile, building your network of connections, getting recommendations, sharing valuable and relevant content to enhance your personal brand, contributing to industry-specific and job search LinkedIn groups, following companies, applying for opportunities via LinkedIn Jobs, and more.
However, I am often asked "can my company see my job search on LinkedIn? If so, how can professionals who are currently employed can leverage LinkedIn effectively, yet discreetly, without compromising their current job security?"
The following 5 critical steps ensure your LinkedIn job search efforts are successful, yet go undetected by your current employer.
Here's how to look for a job on LinkedIn while still being employed.
1) Manage your feed carefully
Whether you're already active on LinkedIn with a 100% complete profile or you're just getting started, the first thing to do is to hide your job seeking from your connections by changing your privacy settings so that your activity is not automatically broadcast to your network in the activity feed.
In other words, this is how to keep your current employer from finding out about updates to your LinkedIn account:
Once signed in to your account, click on your name in the upper right-hand corner of the screen and click on "Settings & Privacy" in the dropdown menu.
Choose "Privacy", to the right of "Account" in the middle of the screen.
Scroll down to the section titled "How others see your LinkedIn activity".
Set "Sharing profile edits" to "No". This prevents people from seeing "when you change your profile, make recommendations, or follow companies."
Note: This doesn't hurt your overall visibility on LinkedIn, but just helps make your activity related to job searching more discreet to help protect you and your current job.
2) Don't openly advertise your job search
DO NOT post any LinkedIn status updates that would imply that you are dissatisfied with your current job and/or looking for a new job opportunity.
DO post status updates that demonstrate your expertise and interests and that support your personal brand.
DO NOT include language anywhere in your profile implying that you are dissatisfied with your current job and/or looking for a new job opportunity.
DO leverage your profile as a selling document for you and your personal brand by including your accomplishments, skills and more.
DO NOT post anything openly related to your job search in LinkedIn Groups, especially job search-oriented LinkedIn Groups. This doesn't mean you can't participate in these places. It just means you should focus your participation and contributions on building your personal brand in your area of expertise and should message people of interest directly and thus, discreetly.
DO NOT show all of your groups on your profile. When joining LinkedIn groups related to job search or any groups you don't want people from your current employer to see, go immediately to the group after joining, click on the gear wheel Settings icon and then un-check "Display the group logo" so that it no longer appears on your profile.
DO NOT ask your current manager or colleagues for LinkedIn recommendations. You can ask previous managers and colleagues, but just be careful when they also work for the same employer. You can always say, "I just wanted to ask you for your feedback before too much time had passed since we had worked together."
3) Be strategically visible
While you don't want current co-workers to see your job search activity, you do want potential employers, recruiters and hiring managers to be able to find you, see your profile and consider you for new jobs.
Therefore, you will first want to ensure your public profile is fully visible in LinkedIn and search engine results.
Here's how:
Once signed in to your account, click on your name in the upper right-hand corner of the screen and click on "Settings & Privacy" in the dropdown menu.
Choose "Privacy", to the right of "Account" in the middle of the screen.
Under "How others see your profile and network information", click "Edit your public profile".
In sidebar of the Public profile settings page, under Edit Visibility, set "Your profile's public visibility" to On and choose Public for your Profile Photo.
Second, because other LinkedIn users can see who has viewed their profile, and if your boss keeps looking at your LinkedIn profile, you need to consider how you show up here depending on whose profiles you are viewing.
If you're viewing your current co-workers' profiles to see how they look, you might want to make yourself show up anonymous; however, if you are looking up recruiters or managers at target companies, you may want to make yourself show up with full information to prompt them to look at your profile.
Either way, here's how:
Once signed in to your account, click on your name in the upper right-hand corner of the screen and click on "Settings & Privacy" in the dropdown menu.
Choose "Privacy", to the right of "Account" in the middle of the screen.
Under "How others see your LinkedIn activity", click "Profile viewing options".
Select "Your name and headline" to be fully represented or select Private mode to be totally anonymous.
Should you use the Open Candidates feature?
In 2006, LinkedIn added the Open Candidates toggle in your Career Interests dashboard, which allows to you to signal to recruiters outside of your company that you're open to discussing new jobs regardless of your current job status.
However, the feature is far from perfect for confidential job seekers. LinkedIn "can't guarantee complete privacy" and all it would take to get around it would be a company recruiter asking a recruiter friend to look at your profile.
If you're trying to keep your job search truly secret, don't enable the Open Candidates toggle.
4) Be conveniently accessible
In addition to being found and seen by the right career stakeholders, you will want to make it easy for them to reach out to you.
First, you will want to ensure you modify your contact settings to make it easier for people to find you and to see what types of contact you would welcome.
Here's how:
Once signed in to your account, click on your name in the upper right-hand corner of the screen and click on "Settings & Privacy" in the dropdown menu.
Choose "Communications", to the right of "Ads" in the middle of the screen.
Click "Messages from members and partners", set to Yes the toggle to "Allow others to send you InMail?"
Note: Some professionals further increase their accessibility by including their email address and/or phone number in their profile. You can do this by either simply including them in your profile summary, or by choosing "Everyone on LinkedIn" in the "Who can see your email address" Privacy setting.
Second, don't forget to allow your fellow group members the opportunity to send you direct messages about new opportunities. Go to the group's page, click on the gearwheel Settings icon tab and make sure that Member Messages is checked off.
Lastly, as mentioned above, if you choose to pay for one of the several types of premium LinkedIn packages, you can leverage Open Profile, a premium feature that allows "allows other LinkedIn members to message you at no cost," without an introduction or InMail, once you've enabled the option to show your premium membership on your profile.
5) Never job search at work
Again, while this may seem obvious, doing or talking about your job search at work can quickly compromise your current employment.
Many employers are monitoring more than you think, including your email, your voicemail and your internet activity.
Here are a few more things to consider:
DO NOT tell anyone at work—even closer work friends—that you are seeking employment elsewhere. They can be the first ones you tell when you submit your resignation, but until then, you don't know how far news like this might spread, so keep it to yourself.
DO NOT do anything related to your job search at work. Not even on your lunch break. Period.
DO NOT include your work contact information in your LinkedIn profile. You should make your contact information available to increase your accessibility, but it should be your personal email address and personal phone number to avoid receiving anything at work you don't want anyone to see or hear.
DO NOT make your work email address the primary address on your LinkedIn account. If you do, messages and job opportunities sent via LinkedIn will end up in your inbox at work. Choose a personal email address (Jacob: or your job search email address) as your primary account email address to avoid mixing work with your job search activity.
Ultimately, there are many ways to launch a thorough and successful job search on LinkedIn without compromising your current employment. However, it is imperative that you follow all of these steps, as neglecting just one of them could result in content being seen by the wrong eyes.
A little extra caution and attention to detail will ensure your career success.
What others are saying
How to Keep Your Boss From Noticing You Are Updating Your LinkedIn Profile
Question of the article
Are you using LinkedIn as part of your job search? If so, how? Tell us in the comments.
READ NEXT: Reader Question: Job Searching at Work?
Bonus: 5 Ways to Make Jobs Come to You on LinkedIn

Franklin's video is about legal jobs, but his tips apply to any profession:
About the author
Chris Perry, MBA, is a Gen Y brand and marketing generator, brand marketing manager, career search and personal branding expert, professional speaker, entrepreneur and brand consultant. Chris is the founder of Career Rocketeer, the Career Search and Personal Branding Network, MBA Highway, the MBA Job Search and Career Network and multiple other ventures.
This article was part of the Over $6000 in Prizes: It's The 6th Annual JobMob Guest Blogging Contest, which was made possible thanks in large part to sponsors:
| | |
| --- | --- |
| | WebHostingBuzz is a reliable web hosting company with the servers hosted at multiple US and Europe locations and over 30,000 happy customers worldwide. |
| | Rabbi Issamar Ginzberg is a keynote marketing speaker, marketing strategist, and the secret weapon for many successful entrepreneurs. |
Subscribe to JobMob via RSS or email and follow me on Twitter for more ways to harness LinkedIn on your job search.