If you applied to a large company and never got a response, chances are your resume couldn't pass the screening of their ATS.
This is a guest post by Nissar Ahamed.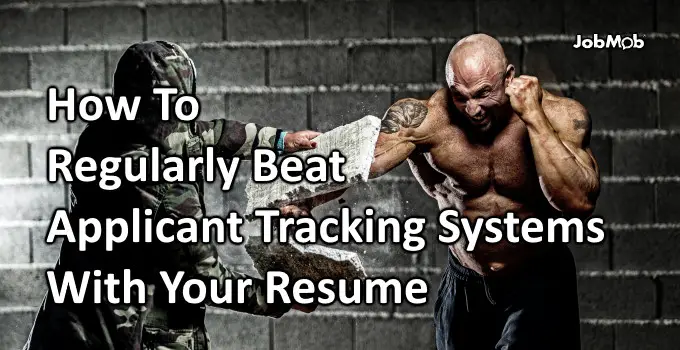 Research by CareerArc shows that almost 40% of employers make use of an applicant tracking system when recruiting.
Furthermore, 99% of Fortune 500 companies filter resumes through an applicant tracking system before they ever cross a human eye, according to JobScan.
Now, the name "Applicant Tracking System" can be misleading because you might actually think that they track where you (the applicant) are in the recruitment process – but they don't.
In fact, an ATS is not built with the applicant in mind; it's built with the recruiter in mind.
In this article, I will briefly explain what an ATS is and how it works. I will also share some actionable tips on how to optimize your resume to make it ATS-compliant, so you can get it past the ATS successfully and into the recruiter's or hiring manager's hands.
Free bonus: The One Resume Resource You'll Ever Need is a handy reference to make your resume get you more job interviews. Download it free now
What is an Applicant Tracking System?
An applicant tracking system (or ATS, for short) is a software program that provides employers with recruiting and hiring tools to save time and (supposedly) filter the strong candidates from the weak ones.
Its job isn't to make it easier for applicants to get hired. Rather, its job is to make it easier for recruiters to hire the "right" candidate.
When you apply for a job online at an organization that uses an ATS, each resume will pass through the ATS's filters, which will decide if a human recruiter should review it.
Sadly, the chances of your resume finally reaching that human recruiter depend on how well your resume was written and optimized for ATS algorithms, not necessarily the information it conveys.
(It also depends on how good the ATS is…)
What does an applicant tracking system do?
You can think of an applicant tracking system as a hub where every hiring action taken by an employer or organization happens.
It helps employers do so many things like post jobs on multiple job boards, search for profiles among the applicants, evaluate them, schedule interviews with qualified candidates, and lots more.
More sophisticated ATSes make it easier for employers to find more qualified candidates by integrating with other systems.
Some applicant tracking systems are designed to rank each job application based on how well it fits the job description. Rather than going through every application, the employer can focus on applicants whose resumes are identified as a great fit by the ATS.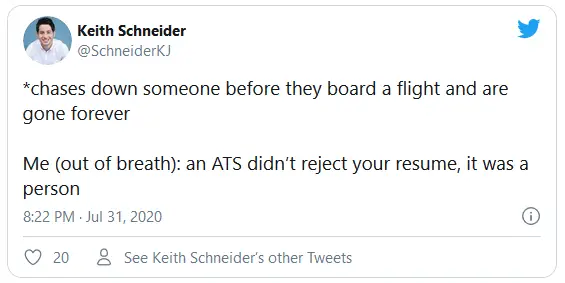 How do you make a resume that is ATS friendly?
Armed with this basic knowledge of ATSes, you can now tweak your resume so that it both appeals to ATS algorithms and human recruiters. Here's how:
1. Target specific companies
When you search for a job on Google or any job search engine, the results you get are usually the highest ranking from the database that is determined by search engine algorithms, and this process takes control out of your hands and puts it in the hands of the recruiters.
To increase your chances of succeeding in your job application, you need to take this control back.
You can do that by targeting specific companies that fit certain criteria you like:
Select a maximum of two industries that you'd like to work in. It's better if they're complementary industries, such as software and robotics.
Choose three sub-industries, products, and/or services that exist within your selected industries.
Make a list of 20 companies that fit the criteria you created from the first two steps. Ensure half of your list consists of small and medium-sized businesses so you can have better options.
2. Read the job description
Recruiters usually include every qualification that they'd love applicants to have. However, job functions can change rapidly, so they'll also want candidates who are trainable.
Avoid wasting time applying for a job you don't qualify for, but if you have at least 60% of the required qualifications, go for it. They can train you on the remaining ones.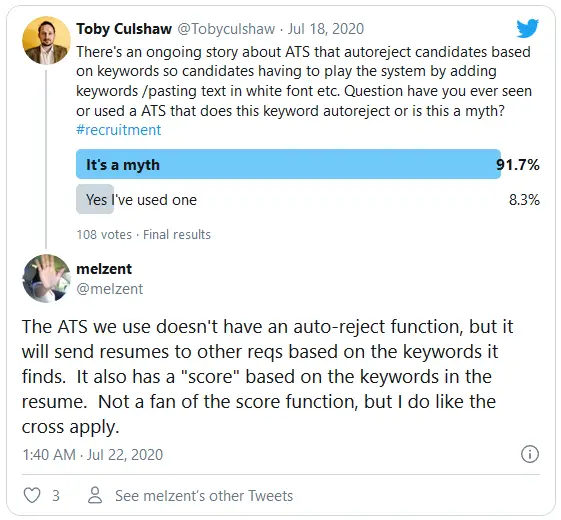 3. Use keywords in your resume
One of the things that ATSes look for are job-related keywords.
Your correct use of keywords in your application can be the difference between whether your application will make it to the eyes of the human recruiter or not.
The first step here is doing proper keyword research.
Then, customize your resume to include those keywords so you can successfully pass the ATS algorithms and rank higher in the ATS's database.
Finally, show proof as much as you can that you have any required qualifications stated in the application.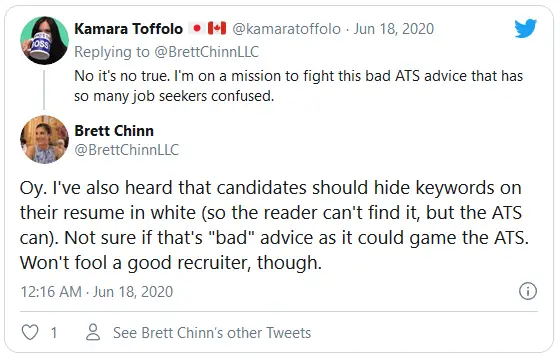 4. Keep your resume design simple
ATSes can be somewhat strict in the way they review your application.
Trying to use cool fonts, writing on a white background with any text color other than black, or adding graphic elements might actually be counterproductive.
Most ATS algorithms are not sophisticated enough to properly decipher applications with the above, and that will mean you'll be weeded out even though you might actually be the best candidate for the job.
You also need to format your application and resume correctly. Although some modern ATSes have the ability to understand "less than well-formatted" documents, some of the most popular ATSes used by large organizations still make use of outdated and unintelligent algorithms that don't have that ability.
In order to overcome this problem, you need to:
Make your section headings simple
Use consistent formatting
Choose either .docx or .pdf file format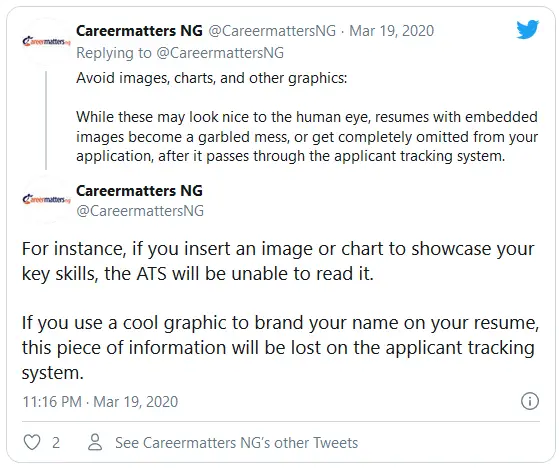 5. Test your resume for ATS readability before submitting it
There are a number of websites that will take your resume and give you feedback on how to improve it for ATSes, and recruiter appreciation in general.
Some of them offer free ATS resume scans so you can try them out:
"Designed by top recruiters, our AI-powered platform instantly gives you tailored feedback on your resume and LinkedIn profile. Land 5x more interviews, opportunities and job offers."
They have a free, limited tier.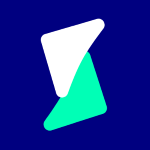 "SkillSyncer is a free resume keyword optimizer and job application tracker for job seekers. Our tool intelligently identifies skills and keywords missing from your resume when compared to a job description."
You can try SkillSyncer for free.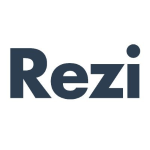 "Our AI-powered free resume builder is trusted by thousands of job seekers. Create an ATS optimized resume and tailor it to any job application in only minutes."
They have a free, limited tier.
"Jobtestprep offers you the most advanced possible tool to scan, edit, and improve your resume for the job you want."
6. Follow up
The fact that you applied for a job does not mean you should fold your arms and rest. You need to find a way to follow up.
You can do this by reaching out to your LinkedIn network or other social media to see if there's anyone who works for the company you applied to and who can get you useful information on how your application went.
You can also call up those contacts or send them a note to see if they'll be willing to recommend you to the recruiter. An internal referral will often motivate recruiters to pull out your resume from the ATS and with that, you'll actually bypass the ATS algorithm.
7. Repeat
Just like everything in life, persistence is the key to landing your dream job.
Your previous attempts at applying for your dream job might have failed, but you shouldn't give up, whether it was caused by an ATS or not.
Every failure is a stepping stone to success, so whenever you apply for a job and you don't succeed, try as much as you can to find out why and make improvements from there.
Here's a summary and some extra tips you can use:
Customize your resume to every job description every single time you apply for a job.
Match your resume with keywords in the job description to optimize for ATS search and ranking-algorithms.
For maximum searchability, use both acronyms and long-form versions of the keywords (eg "Bachelor of Engineering (B. Eng)" or "User Experience (UX)")
Avoid the functional resume format, instead, make use of chronological or hybrid resume format.
Avoid using tables or columns as they often cause errors to the ATS algorithm while evaluating your resume.
Make use of traditional resume fonts like Georgia, Grammond, or Helvetica, and maintain it throughout your resume.
Use standard resume section headings such as "Education" instead of trying to sound clever by using e.g. "Where I studied".
If possible, save your file using the .docx file extension.
Good practice is to always proofread your resume twice (or more) before submitting it online, or even if you were to hand-deliver it.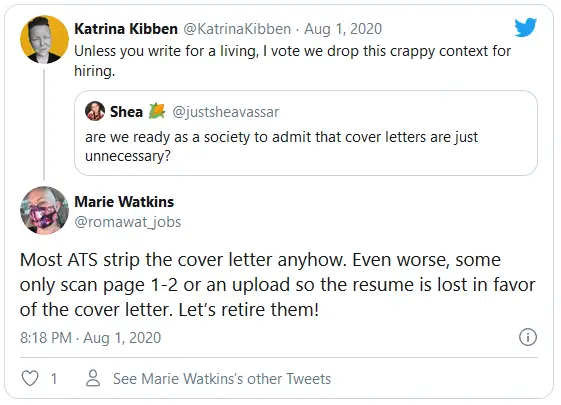 Conclusion
Most recruiters, especially for big corporations, have thousands upon thousands of applications to comb through during any recruitment process.
An ATS is a "necessary evil" they have to employ in order to make the process easier for them. Learning how to beat these ATS algorithms can keep you ahead of your competition and increase your chances of landing your Dream Job.
Use what you've learned today and apply for your next job.
Happy Job Hunting!
Free Bonus
If you want a handy resume and CV resource that you can keep on your smartphone or print out for easy reference, this special bonus is for you.
This free download contains:
111 Smart Resume Section Headings and Titles
60 Resume Achievement Writing Ideas and Expressions
500 Positive Resume Action Verbs That Get Job Interviews
35 Resume Filenames Recruiters Won't Respond To
Click the image below to get access to
The One Resume Resource You'll Ever Need
:
JobMob Insiders can get this free bonus and other exclusive content in the JobMob Insider Bonuses area. Join now, it's free!
Question of the article
What will you do to your resume to make it more ATS-friendly? Tell us in the comments.
What others are saying
About the Author

Nissar Ahamed is the Founder & CEO of CareerMetis.com, a publication dedicated to helping job seekers and freelancers with actionable advice and resources. He is also the host of The Career Insider Podcast. Follow him on Twitter @CareerMetis. Like his Facebook page.
Subscribe to JobMob via email and follow me on Twitter for more of the best tips on getting your resume through the top applicant tracking systems.