Which soft skills are best for your resume? Check this long list of examples.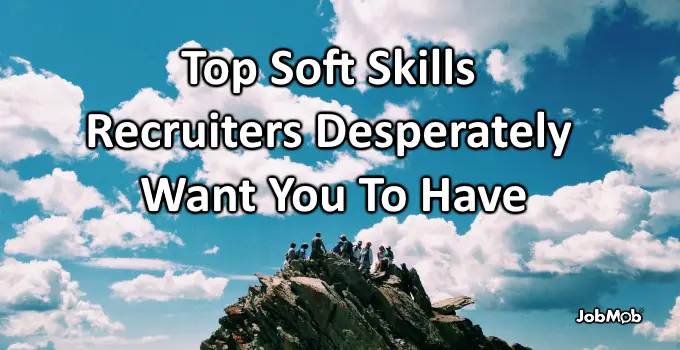 LinkedIn CEO Jeff Weiner said in 2018 that the biggest skills gap in the US is not coding, it's soft skills such as "written communication, oral communication, team-building, and leadership skills."

LiveCareer went even further. They analyzed "thousands of resumes and job ads across 12 different occupations" to realize that "Job ads average just over 5 soft skills" but that "jobseekers' resumes only match… 62 percent of soft skills in job ads, which is evidence of the chasm between what employers and applicants see as valuable."
In other words, there's a good chance you're not including enough soft skills on your resume, or even the right soft skills on your resume.
Which are the right soft skills for resumes?
Simple: at the very least, the ones mentioned in the job listing you're applying for.
However, those required soft skills are often just the bare minimum and since they're posted publicly, every candidate competing with you can also include them in their resumes.
To stand out, you'll need to do company research to learn which other soft skills their recruiters care about, and this list will give you ideas of what to look for.
Why are soft skills important?
A 1918 study – yes, over 100 years ago – by Harvard University, the Carnegie Foundation and Stanford Research Center, found that "85% of a person's job success is a product of interpersonal (soft) skills and that only 15% of his success is the result of technical knowledge (hard skills)."
Does that still hold up today? It certainly feels right, give or take.
What is true is that many recruiters prefer candidates having all the desired soft skills while missing some of the required hard skills rather than vice-versa. Hard skills training is a lot easier than soft skills training.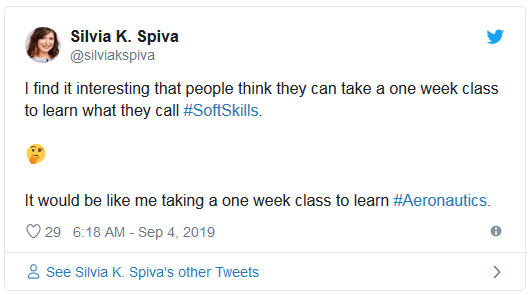 Free bonus: The One Resume Resource You'll Ever Need is a handy reference to make your resume get you more job interviews. Download it free now
All the Soft Skills You Need in One List
I was tempted to organize these into categories such as "Communications Skills" and "Interpersonal Relationships," but so many soft skills overlap or are related, so this one list is just simpler and easier to refer to.
As with my list of positive personality adjectives, reading this list of soft skills examples quickly should have an uplifting effect, regardless of whether they all apply to you.
Accepts Feedback
Adaptability
Analytical
Artistic Sense
Assertiveness
Attention To Detail
Attentive
Body Language Reader
Business Etiquette
Coaching Abilities
Collaborating
Competitive
Conflict / Dispute Resolution
Conflict Management
Considerate
Cooperative
Courteous
Creative
Crisis Management
Critical Thinking
Cultural / Diversity Awareness
Deal Making
Deal With Difficult Situations
Dealing With Difficult People
Decisive
Dedicated
Delegation
Dependable
Design Sense
Desire To Learn
Developing Others
Diplomacy
Disability Awareness
Easy-going
Effective Communicator
Emotion Management / Regulation
Emotional Intelligence
Empathy
Energetic / Dynamic
Enthusiasm
Entrepreneurial Thinking
Even keeled / Keeps cool
Facilitation
Flexibility
Focus
Follow Instructions
Follow Rules
Friendly
Functions Well Under Pressure
Gives Good Feedback / Constructive Criticism
Growth Mindset
Highly Driven
Highly Organized
Honesty
Impulse Control
Independent
Influential
Innovation
Inspire Others
Integrity
Interpersonal Relationships
Interviewing Skills
Knowledge Management
Leadership
Listening
Logical Thinking
Make Deadlines
Manage Others
Manages Work-Life Balance Well
Managing Difficult Conversations
Meeting Management
Mentoring
Motivated
Motivating
Multitasking
Negotiation
Networking
Nonverbal Communication
Observant
Office Politics Navigator
Optimism / Positive Attitude
Organizational Thinking
Patience
Perceptiveness
Performance Management
Perseverance
Persistence
Personal Branding
Planning
Polite
Polymath
Possess Business Ethics
Powers Of Persuasion
Presentation
Problem Solving
Process Optimization
Professionalism
Project Management
Proper Business Etiquette
Public Speaking
Punctual
Quick Learner
Quick-wittedness
Reliable
Researcher
Resilience
Resourcefulness
Respectable
Respectful
Results Oriented
Safety Conscious
Self Assessment
Self Awareness
Self Confidence
Self Efficacy
Self Leadership
Self Directed
Self Monitoring
Sense Of Humor
Social
Storytelling
Strategic
Stress Management
Strong Work Ethic
Takes Criticism Well
Teaching Abilities
Team Building
Teamwork
Thinks Outside The Box
Time Management / Scheduling
Tolerance Of Change And Uncertainty
Training Abilities
Trend Awareness
Verbal Communication Skills
Virtual / Remote Team Management
Visual Communication Skills
Well Groomed
Winner
Work Well Under Pressure
Written Communication Skills
Is it necessary to explicitly list soft skills on a resume?
I polled over 200 recruiters on Twitter about that exact question, and included the results and my recommended best practice in 👏 How To Properly Include Soft Skills On Your Resume.
Question of the article
Did you consciously think about soft skills when you last updated your resume? Tell us in the comments.
What others are saying
Free Bonus
If you want a handy resume and CV resource that you can keep on your smartphone or print out for easy reference, this special bonus is for you.
This free download contains:
111 Smart Resume Section Headings and Titles
60 Resume Achievement Writing Ideas and Expressions
500 Positive Resume Action Verbs That Get Job Interviews
35 Resume Filenames Recruiters Won't Respond To
Click the image below to get access to
The One Resume Resource You'll Ever Need
:
JobMob Insiders can get this free bonus and other exclusive content in the JobMob Insider Bonuses area. Join now, it's free!
Bonus 2
Expert resume writer Lisa Rangel explains 5 ways how to list soft skills on your resume:
READ NEXT: 💻 Top Computer Skills Your Resume Needs Today
Subscribe to JobMob via email and follow me on Twitter for more ways your soft skills can get you a job.