Looking for some positive words to describe someone great, namely yourself? Here's a long list for you.
A classic move for a job interviewer is to ask if you could describe yourself in one word.
To help you prepare for that surprisingly challenging personality-testing job interview question, here's some positive adjective help that will also make you happy.
The good, better and best adjectives to "describe me"

Dilbert creator Scott Adams once asked his readers to pick one word to describe themselves.
Looking at the results, he made an interesting discovery. Scott is also a trained hypnotist, and according to him, quickly reading this powerful, positive personality adjectives list will make you happier.
And you know what?
It works!
Give it a try…
These are also good adjectives for a person you're writing about, such as when you need to describe someone in a LinkedIn recommendation.
Free bonus: The One Job Interview Resource You'll Ever Need is a handy reference to help you prepare for any kind of job interview. Download it free now
adept
agreeable
alert
alluring
amazing
ambitious
amusing
attentive
awesome
boundless
brave
bright
calm
capable
charming
cheerful
clever
coherent
comfortable
confident
conscientious
considerate
consistent
cooperative
courageous
creative
credible
cultured
dashing
dazzling
debonair
decisive
decorous
delightful
detailed
determined
diligent
discerning
discreet
dynamic
eager
eclectic
efficient
elated
eminent
enchanting
encouraging
endurable
energetic
enterprising
entertaining
enthusiastic
excellent
excited
exclusive
exuberant
fabulous
fair
faithful
fantastic
fearless
fine
frank
friendly
funny
generous
gentle
glorious
good
groundbreaking
happy
hard-working
harmonious
helpful
hilarious
honorable
impartial
ingenious
insightful
inventive
industrious
inscrutable
instinctive
jolly
joyous
kind
kind-hearted
knowledgeable
level
likeable
lively
logical
lovely
loving
loyal
lucky
mature
meticulous
modern
multi-talented
nice
obedient
optimistic
organized
painstaking
peaceful
perceptive
perfect
persistent
placid
plausible
pleasant
plucky
productive
professional
protective
proud
punctual
quiet
receptive
reflective
reliable
relieved
resolute
responsible
rhetorical
righteous
robust
romantic
sedate
seemly
selective
self-assured
sensitive
sharp
shrewd
silly
sincere
skillful
smart
smiling
sophisticated
splendid
steadfast
stimulating
strategic
studious
successful
succinct
talented
thoughtful
thrifty
tough
trustworthy
unbiased
unprecedented
unusual
upbeat
vigorous
vivacious
warm
willing
wise
witty
wonderful
Feel better?
Good 👍
However, if you're now tempted to go off with this list and rewrite your resume, adding in as many positive, empowering adjectives as you can, please don't. Adjectives come across as fluff in a resume.
Instead, use action verbs instead to give your resume more punch.
Question of the article
What's your choice for "best word to describe myself" and why? Think how you would justify your response in an interview, and tell us in the comments.
Free Bonus
If you want a handy job interview resource that you can keep on your smartphone or print out for easy reference, I've got a special bonus for you.
This free download contains:
165 positive personality adjectives to describe yourself
444 of the most popular job interviewer questions to prepare yourself with
175 questions that you can ask in job interviews to make a good impression and learn about your future employer
Click the image below to get access to
The One Job Interview Resource You'll Ever Need
: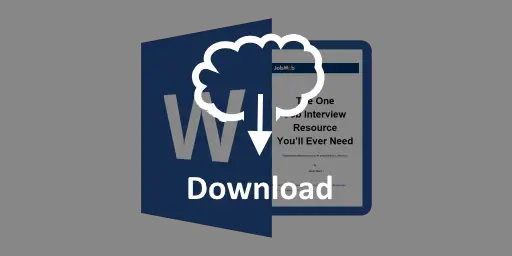 JobMob Insiders can get this free bonus and other exclusive content in the JobMob Insider Bonuses area. Join now, it's free!
Subscribe to JobMob via RSS or email and follow me on Twitter for more happiness-increasing job search advice.