I polled over 200 recruiters on how to best showcase soft skills on your resume. Here's what they said.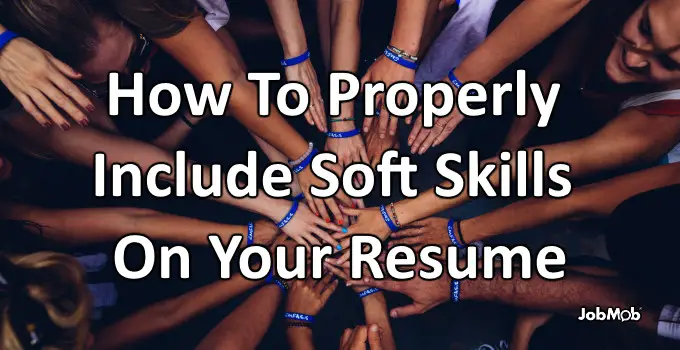 How important is it to have soft skills on your resume?
Very.
In 🙏 Top Soft Skills Recruiters Desperately Want You To Have, I presented the case with numbers and expert quotes and gave a long list of examples to inspire you for your next resume update.
---
---
What I didn't say is exactly how to mention the soft skills, and one angry commenter took me to task for it:
who cares if a resume matches a list of "soft skills?"

Seriously, an employer can list 5, 10, 15, or all 140 of these skills in a job ad, and there will be hundreds (thousands?) of applicants who will simply paste them into their resume and send it in … irregardless of whether or not they actually have the skills. Employers looking for purple squirrels, applicants gaming the system, both sides shirking their duty and due diligence, each hoping to fake out the other.

Seriously? I mean really, seriously?
(I love getting comments like this, even if I don't always aim to rile people up. Well, not always 😉 )
The commenter understood that I recommended putting a list of short skills directly in your resume. I responded to the commenter, and then decided to take it further:
Maybe the recruiters reading your resume DO want such a list?
Free bonus: The One Resume Resource You'll Ever Need is a handy reference to make your resume get you more job interviews. Download it free now
I asked recruiters about soft skills on your resume
I reached out to over 200 recruiters with a Twitter poll. Not everyone responded but the results are still fascinating: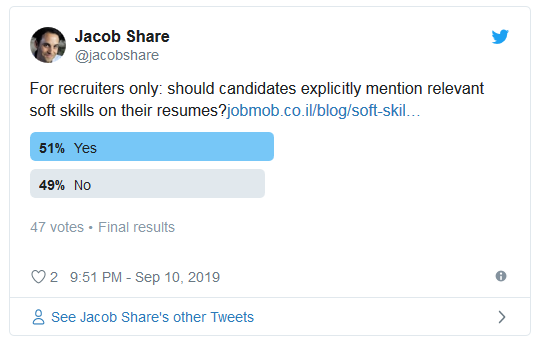 Here are some of the recruiters' reactions to the poll: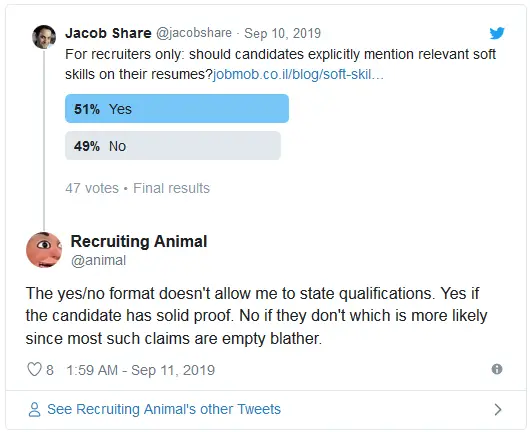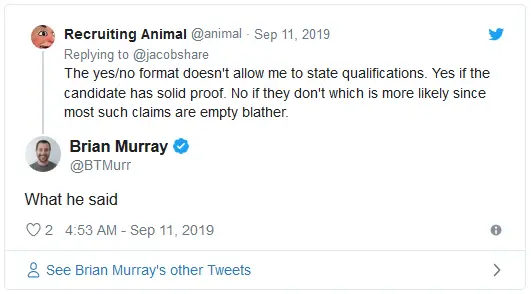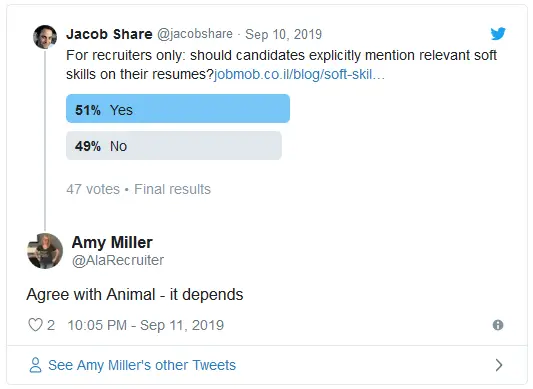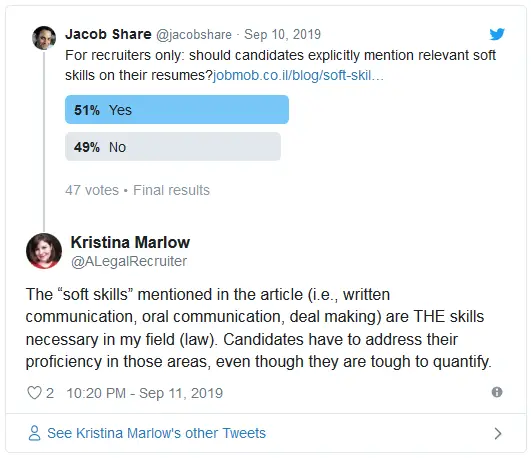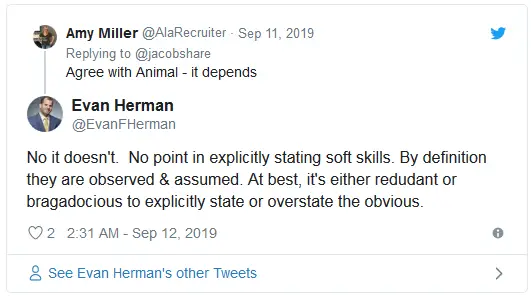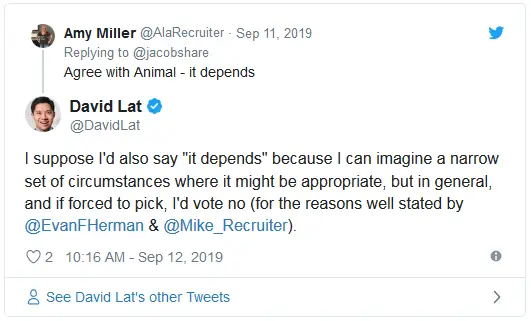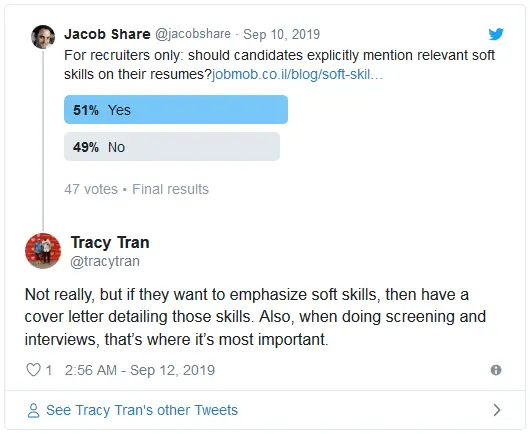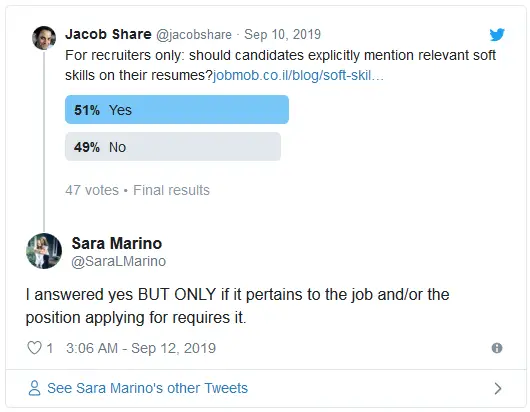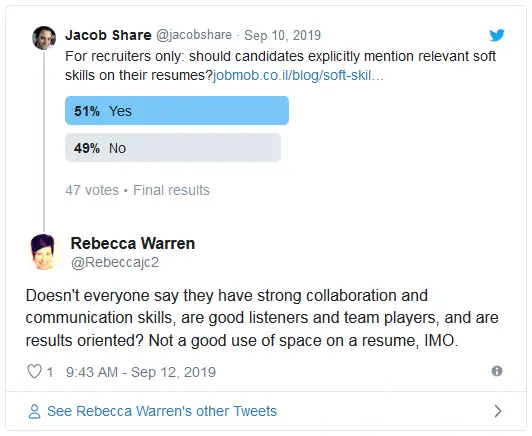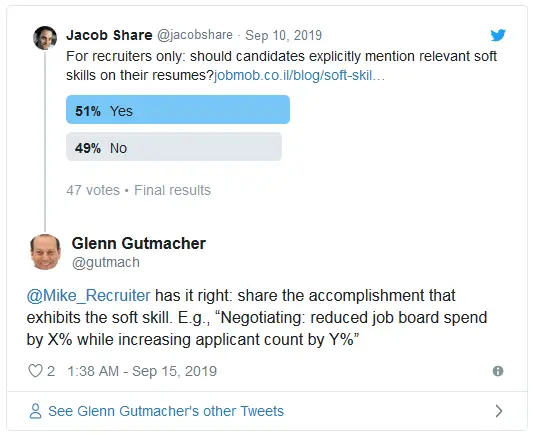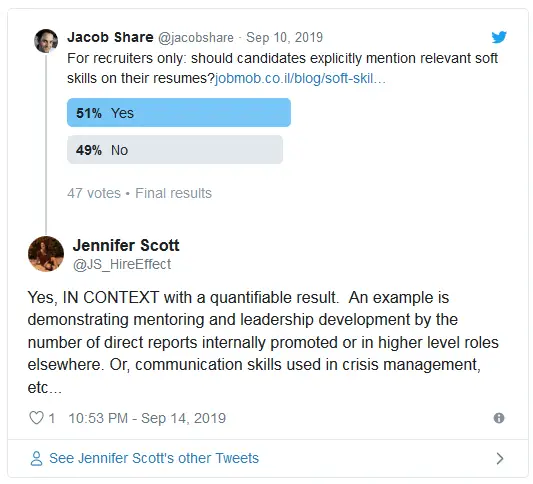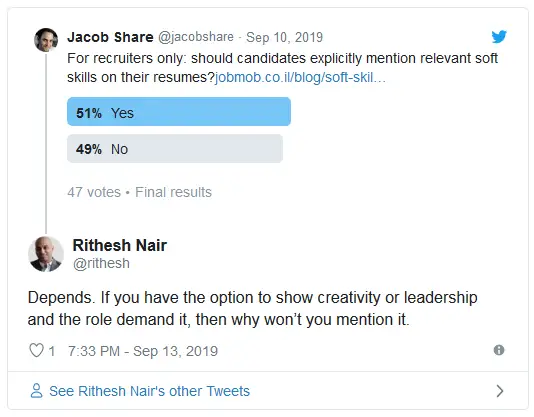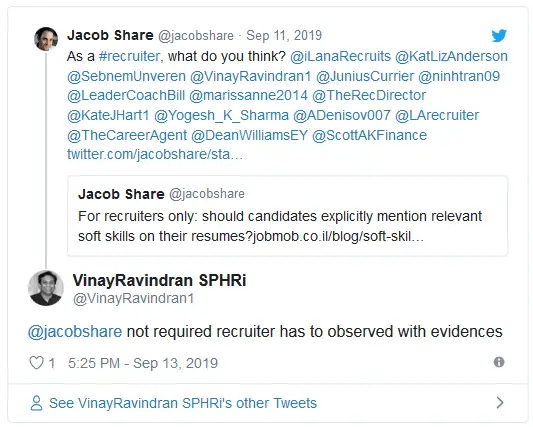 What this poll tells you
While the results are close and aren't statistically significant, and regardless of how recruiters voted or reacted, there's still an important takeaway, the implied one:
You must showcase your relevant soft skills on your resume, whether you list them explicitly or list top achievements that demonstrate those soft skills.
My recommendation for you

The poll and its responses show that unsurprisingly, different recruiters see things differently, and sometimes it may be industry-related.
Tailoring your resume well requires first doing company research, and if your resume is going to be sent to one of the recruiters here above, you now know how to tailor it for them, at least with respect to soft skills.
Otherwise, the most powerful yet simplest way to show someone you're listening is by repeating their own words back to them.
If a job listing requires certain soft skills and you have stories and achievements to prove you have them, include those soft skills in your resume like any other requested qualifications.
Include them word for word as much as it makes sense, especially if the recruiter may be using an ATS to scan candidate resumes for keywords.
This doesn't mean, unlike what the angry commenter understood, that you should group them into a "Soft Skills" section of your resume, which is why it's not one of my recommended 📝 111 Helpful Resume Section Headings and Titles and never has been.
That's "not a good use of space on a resume," as Rebecca Warren tweeted.
Instead, "address your proficiency" with the required soft skills, as Kristina Marlow tweeted, by highlighting them with "a listing of accomplishments that obviously would require the use of said skills," as Michael G. Cox tweeted.
For example, if the job opening requires someone with "Good communication skills, ability to mentor and work collaboratively," perhaps you "Coached a team of 10 salespeople to a 41% increase in annual sales, including absorbing and mentoring 3 new hires."
Question of the article
How are soft skills currently included in your resume, and are you planning to change? Tell us in the comments.
What others are saying
Free Bonus
If you want a handy resume and CV resource that you can keep on your smartphone or print out for easy reference, this special bonus is for you.
This free download contains:
111 Smart Resume Section Headings and Titles
60 Resume Achievement Writing Ideas and Expressions
500 Positive Resume Action Verbs That Get Job Interviews
35 Resume Filenames Recruiters Won't Respond To
Click the image below to get access to
The One Resume Resource You'll Ever Need
:
JobMob Insiders can get this free bonus and other exclusive content in the JobMob Insider Bonuses area. Join now, it's free!
Bonus 2: How to Make a Resume Stand Out: Crash Course Business – Soft Skills #5

Subscribe to JobMob via email and follow me on Twitter for more tips on soft skills for resumes.