The list is divided into sections, just like your resume, to group the related headers together for easy reference.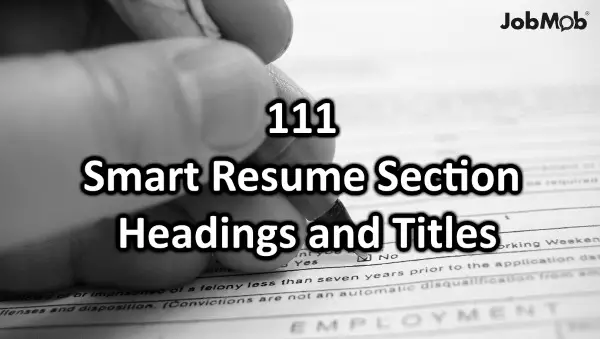 You might want to bookmark this for reference later…
Free bonus: The One Resume Resource You'll Ever Need is a handy reference to make your resume get you more job interviews. Download it free now
Objectives, Summaries and Goals
Career Goal
Objective
Career Objective
Employment Objective
Professional Objective
Summary
Career Summary
Professional Summary
Summary of Qualifications
Work and Employment
Employment History
Work History
Work Experience
Experience
Professional Experience
Professional Background
Additional Experience
Career Related Experience
Related Experience
[Industry] Experience – replace [Industry] with the name of yours, such as 'Accounting Experience'
Freelance
Freelance Experience
Army Experience
Military Experience
Military Background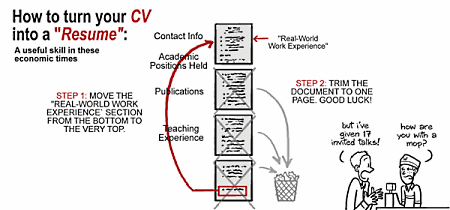 Education and Training
Academic Background
Academic Experience
Programs
Courses
Related Courses
Education
Educational Background
Educational Qualifications
Educational Training
Education and Training
Training
Academic Training
Professional Training
Course Project Experience
Related Course Projects
Internship Experience
Internships
Apprenticeships
College Activities
Certifications
Special Training
Extra-curricular
Activities and Honors
Affiliations
Professional Affiliations
Associations
Professional Associations
Memberships
Professional Memberships
Athletic Involvement
Community Involvement
Civic Activities
Extra-Curricular Activities
Professional Activities
Volunteering
Volunteer Work
Volunteer Experience
Skills, Expertise and Proficiencies
Credentials
Qualifications
Areas of Experience
Areas of Expertise
Areas of Knowledge
Skills
Career Related Skills
Professional Skills
Specialized Skills
Technical Skills (or 'Tech Skills')
Computer Skills
Computer Knowledge
Software (as in, 'software you are familiar with')
Technologies
Technical Experience
Proficiencies
Languages
Language Competencies and Skills
Programming Languages
Achievements and Accomplishments
Licenses
Presentations
Conference Presentations
Conventions
Dissertations
Exhibits
Papers
Publications
Professional Publications
Research
Research Grants
Research Projects
Current Research Interests
Thesis / Theses
Awards and Recognition
Honors
Academic Honors
Accolades
Endorsements
Achievements
Accomplishments
Awards
Distinctions
Fellowships
Scholarships
Credibility and Proof
Portfolio
References
Testimonials
Recommendations
Web Portfolio
Writing Samples – as in, 'where to find them'
Websites – as in, 'Created' or 'Designed')
Social Media Profiles
Status
Availability – as in, 'when I will be available' if you're currently unavailable (e.g. student) but need to apply in advance
What's missing?
Did you notice that the following weren't in the list?
Hobbies
Interests
Personal Interests
Miscellaneous
That's because none of these sections should appear on your resume unless you have a very specific reason to add them, and I don't mean 'as filler to make it a whole page.'
Frequently asked questions
What are the 4 main sections of a resume?
After the contact information at the top, a typical resume should contain at least these resume categories: a work experience section followed by an education section. If you have too much relevant work experience to fit in a 1-2 page resume, include a professional summary after the contact information but before the work experience section. For many people, it's also a good idea to end with a skills section to emphasize the high level of expertise you have for a given role.
READ NEXT: 9 Tips for a Surprisingly Helpful Hobbies & Interests Resume Section
Free Bonus
If you want a handy resume and CV resource that you can keep on your smartphone or print out for easy reference, this special bonus is for you.
This free download contains:
111 Smart Resume Section Headings and Titles
60 Resume Achievement Writing Ideas and Expressions
500 Positive Resume Action Verbs That Get Job Interviews
35 Resume Filenames Recruiters Won't Respond To
Click the image below to get access to
The One Resume Resource You'll Ever Need
:
JobMob Insiders can get this free bonus and other exclusive content in the JobMob Insider Bonuses area. Join now, it's free!
Subscribe to JobMob via RSS or email and follow me on Twitter for top-notch resume writing resources.