Make your resume stand out by using a beautiful design that most people have never seen before.
Here are some terrific resume ideas to inspire you.
You might want to bookmark this article and come back to it when you're updating your resume. Enjoy!
Beautiful resume designs
Bonus designer alternative resume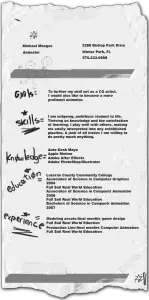 Although you would never send this to an Israeli diamond dealer or your local chick sexer, the mix of drawing and print on top of "the back of an envelope" really makes this resume (or curriculum vitae) memorable.
READ NEXT: 38 More Beautiful Resume Ideas That Work.
This article was part of Jacob Cass's $5000+ Graphic Design Group Writing Project that I discovered on Group Writing Projects.
Resume looking good? Subscribe to JobMob via RSS or email and follow me on Twitter for more resume makeover pointers.