Using the emotion of a beautiful resume will always help recruiters and managers remember you. Get inspired now with these great resume ideas.
Bookmark this article for handy reference later when it's time to update your own resume.
Resume designs too beautiful to miss
Funky bonus designer resume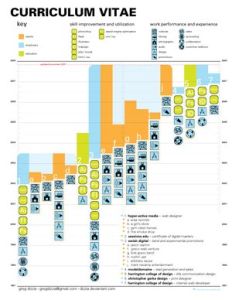 For data visualization lovers like myself, this resume is too cool but you almost need a college degree (or years of video games) just to understand it. If you took off the bold title, it looks like it could hang in a statistics class without anyone noticing anything unusual.
If you enjoyed this article, you'll also like The 25 Most Creative Designer Resumes You'll See This Year.
Looking to spruce up your resume? Subscribe to JobMob via RSS or email and follow me on Twitter for outstanding resume inspiration.