Can you get hired at a job fair? You can if you follow these tips.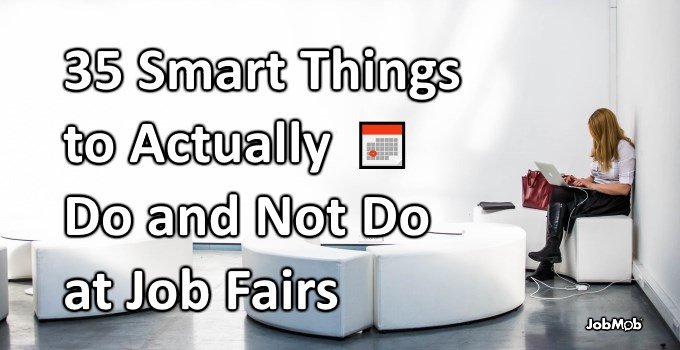 I've been to many career fairs, both as a job seeker and as a speaker and advisor.
When looking for a job, I would typically come to the fair early in the event, dressed well and holding a binder or folder with resume copies. Once inside, I'd scan the room (or fair map) to decide which companies to visit. Then I'd head first to whichever company stand had the shortest line of waiting job seekers.
I came more or less prepared, yes, but too often I arrived with the wrong mindset: I basically treated the fair as a simple item to check off on my job search to-do list.
Instead of aiming to really push my job search forward, I would ultimately just go through the motions of handing out all the resumes I brought with me, trying to get it all over with and get out of there as soon as possible, without truly taking advantage of what was going on around me.
Sound familiar?
The main reason why job fairs are good for jumpstarting your job search is for meeting company reps, but they can do so much more IF you know how to take advantage of everything they have to offer.
Here's a list of 35 job fair do's and don'ts for success at your next fair.
Free bonus: Download JobMob's Job Fair Success Guide with over 60 job fair tips.
Before the job fair
Do fill in an online application form in advance if the career fair organizers requested that you do so.
Do dress professionally. For guys, that means ironed shirt and pants, possibly even a jacket and tie. For girls, that's a pressed skirt or pantsuit with sleeves and necklines that are conservative.
Don't wear jeans or flashy jewelry.
Do have many copies of your resume with you to distribute. Needless to say but I'll say it anyway, make sure the resume is up-to-date. Bring a work portfolio too in case of snap interviews.
Don't give out rumpled copies or anything less than crisp CVs, which is why I usually brought a folder or binder.
Do come with note-taking gear – a smartphone, or a day planner and pen. If a recruiter offers you a meeting or interview, immediately update your agenda with the date and time in front of that person, which builds your credibility and makes you look professional.
Don't try to commit that information to memory and risk forgetting it, which would be very unprofessional.
Do have a small backpack or briefcase to hold any business cards, flyers or swag that companies give you.
Don't carry about a plastic bag from a local supermarket with your resumes inside. You'd be surprised.
Do prepare in advance and have clear goals for the job fair. If you know which companies will be at the fair, research them by visiting their websites and seeing if they have any open positions that interest you. If so, learn about the business and be ready to answer questions when you meet their representatives.
Don't make unrealistic goals. Walking out of the fair with a job contract in hand would be one of them. Even interview invites are often unlikely, but it is realistic to get hiring manager contact information that you can act on later.
Do make a sales pitch for yourself, also called an elevator pitch: a 30-second infomercial about you. Practice saying it to other people. When you're comfortable enough, you'll get the hang of tweaking it on the fly as you discuss yourself with other career fair attendees.
Don't wait until the last minute to do follow these pre-job fair tips but even that is better than not preparing at all.
During the job fair
Do arrive early to take some time to develop a plan of action for your time at the fair.
Don't bring up the fact that you arrived late if it happens.
Do talk to as many people as possible within reason – bearing in mind that quality is more important than quantity – since networking is an important element of any job fair.
Don't interrupt other people when they're talking at company booths.
Do look directly at recruiters and listen to them.
Don't answer your cellphone when talking to any company representatives.
Do smile, be friendly and try to relax. Bring a friend if it will help break the ice and make it easier for you to approach the company tables.
Don't come to the fair and expect that people will approach you or call out at you like in the shuk (Israeli marketplace, or bazaar).
Do take note of whom you submitted resumes to, for following up later.
Don't give out your resumes to uninterested companies just for the sake of doing so. You may run out of resumes sooner than you think.
Do request business cards. Write down who you met and where on the back of each business card you receive, and in front of the giver. If they have none, ask for their contact information and note it.
Don't just stuff the business card in your pocket as if you're doing the giver a favor by taking it from her.
Do visit companies that you are unfamiliar with e.g. because you didn't know they'd be at the fair. If their representative asks, give them that reason and say that you normally would have researched them otherwise.
Don't pretend that you know their business. They'll notice sooner than you realize.
Do ask when is best to contact the company after the fair and write it down.
Don't ask and then forget or otherwise miss that contact deadline.
Do stop and reflect midway through the fair. Have you accomplished any of your goals? If not, what do you need to change before the fair ends? Otherwise, what's left to be done?
After the job fair
Do follow up any job opportunities that you discovered at the fair. Email is good, telephone is better.
Don't call during lunch hour or any other inconvenient moment.
Do send thank you letters with copies of your CV, especially if you ran out of CVs during the fair.
Don't pester these new contacts or be too insisting and appear desperate. Be courteous of the recruiter's time.
Do take a look back at your performance. Did you reach all of your goals? What did you do well? Where could you improve for next time?
Don't browbeat yourself. Everyone has bad days. What's important is to learn from your mistakes. Behind every success story is a list of failures.
It can be easy to have a successful job fair if you take the time to prepare for it and act professionally throughout. You'll leave a good impression and might even find your dream job.
Question of the article
Which job fair tips have worked well for you in the past? What new ones will you need to try next time? Tell us in the comments.
More job fair success tips
Free Bonus
JobMob's Job Fair Success Guide explains why you should go to the fair with over 60 tips.
This free download contains:
25 Reasons Job Fairs Are Not a Waste of Time
35+ Job Fair Success Do's and Don'ts
Click the image below to get access to
JobMob's Job Fair Success Guide
: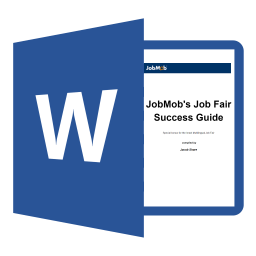 JobMob Insiders can get this free bonus and other exclusive content in the JobMob Insider Bonuses area. Join now, it's free!
Subscribe to JobMob via RSS or email and follow me on Twitter for more do's and do not do's in your job search.