Have a proven track of success? Wow recruiters by bringing the proof to job interviews.
This is a guest post by Debra Wilson.
3 Reasons to Have a Work Portfolio
You might feel a little strange compiling a work portfolio (aka a career portfolio), especially if you have to fill it with rather abstract reports and things, which you might if you're in a certain type of work. However, there are lots of great reasons to have a work portfolio.
Free bonus: The One Job Interview Resource You'll Ever Need is a handy reference to help you prepare for any kind of job interview. Download it free now
Here are just a few:
1) To solidify your resume
The actual process of making a portfolio helps you find out what you've actually done in your work so far – whether you're still in college or have been in the work force for years.
By creating a portfolio, you can find more concrete accomplishments to list on your resume. Even if you don't use it for every job interview, you'll still have a more polished resume to present to potential employers.
2) To make a good impression
Having a portfolio at an interview makes you seem more put-together and prepared, which is impressive for potential employers.
3) To build your credibility
A portfolio is also excellent for lulls in an interview or for giving interviewers concrete answers to their questions. For instance, when asked what experience you have in your particular profession, you can pull out a report or give concrete statistics about what you've done.
Notice how the word "concrete" has come up a couple of times in this list?
Having real items to show potential employers, whether they are reports that you have actually written, statistics about your job performance, or samples of projects you've been a part of, can help employers understand the value of what you can bring to a work team.
What is a Work Portfolio, Anyway?
Now, you might be wondering what exactly a portfolio is.
When you hear the word, you think about art projects or slides that a graphic designer might display. Your portfolio doesn't have to be anything like that. All it needs to be is a folder full of samples of your work. It can include photos, reports, brochures, lists of statistics, and anything else you can think of.
All a work portfolio needs to be is a folder full of samples of your work
Click To Tweet
For example, if you were involved in the planning of a major event at a theater, you can include a brochure for that event. Even if you did not work directly on the brochure, you can use it as a concrete reminder of what you did do during that project, so you can bring that up in interviews.
As long as everything in your portfolio ties in directly to your work experience and offers logical glimpses into your work experience, you'll be helping yourself by putting one together.
5 Tips for Creating and Using a Portfolio
There are all sorts of ways to make your portfolio unique. Some people have both hard copies and a PowerPoint presentation saved on a disc or USB thumb drive.
The key is to make sure your portfolio is organized and neat looking. If you're in a field like graphic design or advertising, you'll also want it to be visually attractive. In other fields that rely less on visual arts, just make sure that it's neat and easy to navigate.
Here are some tips for creating and using your work portfolio:
1) Never assume you don't have enough to fill a portfolio
Even college students can include transcripts, letters of recommendation from professors, and even college papers on work-related topics.
2) Include anything positive
Include performance reviews from former bosses, copies of certificates for training and awards, writing samples, design samples, testimonials from clients, a list of your accomplishments, a list of things you can do that aren't necessarily on your resume, and your complete resume. In this instance, your resume can spill over the standard one-page, and can be more like two pages.
3) Formatting counts
Put a table of contents at the beginning of your portfolio, and number the pages so that you and potential employers can navigate it easily.
4) Use a three-ring binder with plastic page covers for your portfolio
This allows you to keep different-sized sheets of paper together, and it allows you to rearrange or add to your portfolio over time. This way, you don't have to re-create it every time you have new things to add.
5) Take your portfolio to every interview
You don't always need it, but you should definitely have it with you. If you think it's a really great way to connect with interviewers, make it conspicuous when you walk in. Many interviewers will ask what you have with you when they see it. If you're a little less confident, leave it tucked away, and only pull it out if you know you can use it to answer a question more fully.
Putting together a work portfolio can take time, but it can also be an excellent way to set yourself apart from the crowd during an interview.
If you're nervous during your interview, it may help you feel more confident. Instead of stuttering around trying to explain your work experience, you can pull out your portfolio and have concrete examples of your work to guide your interviewer's questions and your own answers throughout the interview.
Sample work portfolio for any profession
Wondering what a work portfolio looks like?
Here's one example of a work portfolio binder to bring to job interviews that you can use as an interview portfolio template:
Free Bonus
If you want a handy job interview resource that you can keep on your smartphone or print out for easy reference, I've got a special bonus for you.
This free download contains:
165 positive personality adjectives to describe yourself
444 of the most popular job interviewer questions to prepare yourself with
175 questions that you can ask in job interviews to make a good impression and learn about your future employer
Click the image below to get access to
The One Job Interview Resource You'll Ever Need
: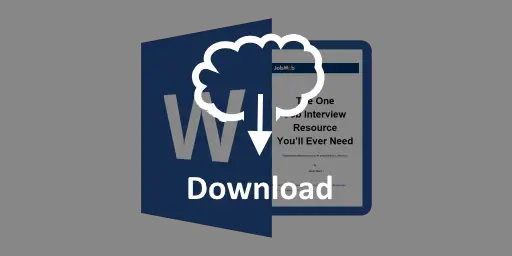 JobMob Insiders can get this free bonus and other exclusive content in the JobMob Insider Bonuses area. Join now, it's free!
READ NEXT
Wondering how to make an online work portfolio? Check out 115+ Resources for Showing Off Your Work Skills
Are you creative and handy with graphic design tools? Stand out with the one page resume work portfolio
About the author
Debra Wilson is a social media advocate at the business credit cards comparison website CreditDonkey.
Subscribe to JobMob via RSS or email and follow me on Twitter for more great job interview tools.