This is your chance to win a career success guide written by a career success guide.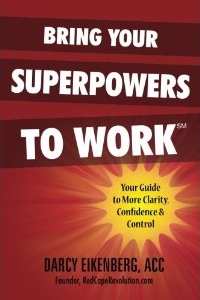 To celebrate the release of her book "Bring Your Superpowers to Work: Your Guide to More Clarity, Confidence & Control", author Darcy Eikenberg is offering some copies as prizes for this contest.
This is the third contest as part of the run-up to JobMob's 5th Anniversary on March 21st, and more are coming.
Here are the others you can (and should!) enter:
And it's ok to enter all the contests separately. You're not limited to entering only one.
Who is Darcy Eikenberg?
With a unique mix of perspectives, passions, and practice as a leadership and workplace coach, author and speaker, Darcy Eikenberg, ACC, founded the Red Cape Revolution as a way to help everyday professionals discover their superpowers, bring them to work, and make a bigger difference in their corner of the world.
Working with clients such as The Coca-Cola Company, Deloitte Consulting, GE Energy, and State Farm, she is recognized for her ability to help today's busy professionals find clarity, confidence, and control, in ways that work for their organizations and for themselves.
How to Enter
At the bottom of this article, leave a comment about the superpowers you're bringing to work.
For example, tell us about:
That special skill, talent, or ability that you bring to your organization
The unique way you solve tough problems, or take care of customers, clients, or colleagues
Your attitudes or perspectives that you use each day to make a bigger difference, or
The experiences and lessons you've had that have made you stronger and contribute to your success at work!
Those are only suggestions! Tell us about anything you see as your superpowers at work–we know you have them!
(For more about discovering your superpowers, you can also access Darcy's free superpower statement generator.)
Be as descriptive as you can.
How to Win
Simple – Leave an impressive comment.
The winners will be the 5 people with the most impressive comments as judged by Darcy.
You, or anyone you know, can try to influence the choice of winners by leaving more comments in support.
Prizes
5 people will each win one copy of "Bring Your Superpowers to Work: Your Guide to More Clarity, Confidence & Control."
Winners in the USA or Canada will have the paperback edition shipped to them free of charge.
Winners anywhere else in the world will receive the ebook edition.
Void where prohibited.
Rules
Must be 18 or older.
You can comment as many times as you like, but you can only win one prize.
Be sure to use a real email address or Twitter account when you comment so that I can contact you if you win.
Contest Deadline
To be considered as entries in the contest, all comments must be submitted before this coming Monday, March 26th, 2012.
And please tell your friends on Facebook to comment too.
Good luck!
Subscribe to JobMob via RSS or email and follow me on Twitter for more fun job search contests.