Get your resume or CV stylized as if a graphic designer had done it for you.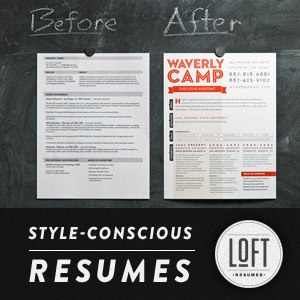 LoftResumes.com is sponsoring this contest with prizes of personalized design packs of resumes and cover letters. Thank you, LoftResumes.com.
This is the second contest as part of the run-up to JobMob's 5th Anniversary on March 21st, and more are coming.
Here are the others you can enter:
It's ok to enter all the contests separately. You're not limited to entering only one.
How to Enter
At the bottom of this article, leave a comment about the most memorable resume or CV you've ever seen.
Some suggestions of what to write in your comment are:
The best-looking/worst-looking resume you ever saw and why
An resume mistake that you'll never forget, whether it was yours or someone else's
an idea you once had to make your resume more memorable (and if you didn't follow through, why not?)
Tell us what was so memorable about it. Be as descriptive as you can.
How to Win
Simple – Leave an impressive comment.
The winners will be the 5 people with the most impressive comments as judged by me.
You, or anyone you know, can try to influence the choice of winners by leaving more comments in support.
Prizes
5 people will each win one resume design pack, worth over US$100.
Each pack includes:
A voucher for a free two-page resume & matching cover letter design on LoftResumes.com
From their website, here's how it works:
"First you'll shop for a resume. You can choose your preferred delivery time and the number of pages in your resume [Jacob: the voucher is good for 2 pages]. When you complete the checkout process, you'll be directed to a page where you'll upload the information for your resume and provide any special instructions. We'll custom typeset your content and email you a high-resolution PDF version of your resume along with a matching, editable cover letter. Your purchase includes up to 2 rounds of revisions, if they're needed."
Void where prohibited.
Rules
Must be 18 or older.
You can comment as many times as you like, but you can only win one prize.
Be sure to use a real email address or Twitter account when you comment so that I can contact you if you win.
Contest Deadline
To be considered as entries in the contest, all comments must be submitted before this coming Monday, March 26th, 2012.
And please tell your friends on Facebook to comment too.
Good luck!
Subscribe to JobMob via RSS or email and follow me on Twitter for more fun job search contests.