You're one comment away from getting all the job interview tutoring you'll ever need.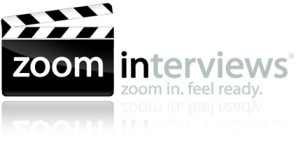 ZoomInterviews is a relatively new site dedicated to helping people drastically improve their job interview skills through video tutorials. To get the word out, they're sponsoring this contest, the fifth and final contest as part of JobMob's 5th Anniversary celebrations. Thank you, ZoomInterviews.
In case you missed them, here are the other contests and you can still enter each one too:
How to Enter
At the bottom of this article, leave a comment about your most memorable job interview.
Some suggestions of what to write in your comment are:
Describe the first thing that comes to mind when you think of job interviews
What went right during your most memorable interview?
What went wrong?
Be as descriptive as you can.
How to Win
Simple – Leave an impressive comment.
The winners will be the 15 (yes, FIFTEEN) people with the most impressive comments as judged by me.
You, or anyone you know, can try to influence the choice of winners by leaving more comments in support.
Prizes
Each winner will earn unlimited access to all the job video tutorials currently available in the ZoomInterviews job library.
Void where prohibited.
Rules
Must be 18 or older.
You can comment as many times as you like, but you can only win one prize pack.
Be sure to use a real email address or Twitter account when you comment so that I can contact you if you win.
Contest Deadline
To be considered as entries in the contest, all comments must be submitted before this coming Monday, March 26th, 2012.
And please tell your friends on Facebook to comment too.
Good luck!
Subscribe to JobMob via RSS or email and follow me on Twitter for more fun job search contests.