If you're wondering where to find a job in Israel on Twitter, this is the resource for you.
Looking for Twitter job feeds for other countries? Then see the 400+ Twitter Feeds of Job Openings From Around the World.
Not sure what to do with these Twitter job feeds? See The Beginner's Guide To Finding A Job With Twitter and then come back here.
Don't bother following all these feeds one by one because after the list, I show you how to grab them all in one shot below.
Download The Ultimate Twitter Job Search Guide
English Twitter job feeds
@rachelbergerNBN – all kinds of jobs
@HappyZion – all kinds of jobs
@jobinisrael – all kinds of jobs from Israemploy's Twitter feed
@jobs_in_Israel – jobs in marketing, sales, business development, high tech, Internet, real estate, banking, finance, etc.
@jobwhisper – mostly high tech jobs
@jobsisrael – more high tech jobs
@JobsatIntel_ISR – "Intel Israel has job opportunities in software, hardware, engineering, manufacturing, finance and more."
@adigon – all kinds of professional jobs
@ronitamiaz – all kinds of professional jobs
Hebrew Twitter job feeds
@codex_israel – law jobs from the Codex Israel placement agency
@isrotel_hr – all kinds of jobs needed by Isrotel Hotels
@Jobtov – "We expert in finding jobs for students/university graduates in Israel"
@mojob_drushim – all kinds of jobs, mostly entry-level or aimed at students
@XPlaceFreelance – freelance projects of all kinds
@ManpowerIsrael – openings with the biggest full-time and flex-time employment agency in Israel
@CPSIsrael – professional jobs from the CPS placement agency
@walla_jobs – all kinds of jobs
@facebookwallajobs – more jobs from Walla, and the listings are different than on @walla_jobs, but it's not clear why.
@TheJobSource – all kinds of jobs
@HeverHon – jobs from the Hever ITR placement agency, of all kinds
@jobox_maariv – all kinds of jobs
@tamarjobs – mostly high tech jobs
@workathot – all kinds of jobs available the HOT cable company
@Jobs972 – all kinds of jobs from Employers.co.il
@muvtalcoil – all kinds of jobs
@AllJobs_Israel – mostly hi-tech jobs from the AllJobs.co.il job board
@jobabajob – all kinds of jobs
@communitechIL – all kinds of jobs at the Communitech company
@Nisha_Jobs – biotech and hitech jobs from the Nisha Group placement agency
@adamsharonjobs – placement agency with jobs in biotech and hitech, also for executives and administrators
@workinisrael – mostly high tech jobs, both in English and Hebrew (mostly Hebrew).
@seeV – hi-tech jobs and job search tips
@iljobs20 – all kinds of Web2.0-related jobs
@Efrati – openings at Google Israel
@Limorke – hi-tech jobs from the Liba placement agency
@GotFriends – job openings from the GotFriends.co.il website, which covers hitech, finance and other professional jobs.
@GotFriends_Java – Java programming and related jobs
@GotFriends_Web – web development & programming jobs
@GotFriends_HW – hardware engineering and related positions
@GotFriends_QA – quality assurance jobs
@GotFriends_RT – engineers specializing in real-time projects
@GotFriends_DB – database administrators and developers
@GotFriends_C – C/C++ programming jobs
@SQLinkGroup – all kinds of job openings at the SQLinkGroup
@giyus_isky – hi-tech and Internet-oriented jobs
@mitjobs – hi-tech jobs from the MIT placement agency
@HEVERITR – high tech jobs from Hever ITR placement agency, and some retweeted postings from other Twitter users.
@drushim_sw – software-oriented jobs
@LogOn_Software – high tech job openings at this services company
@esramtech – high tech jobs from Esramtech placement agency
@PicaroPlacement – hi-tech jobs from the Picaro Placement agency
@Dialog_Jobs – hi-tech jobs from the Dialog placement agency
@kikojobs – Boaz Lev aggregates listings from some of the other feeds listed here and other sources.
How to follow all these job feeds at once
Use this Twitter List: @jacobshare/israeljobfeeds.
How to get on this list
These are the criteria I followed in adding job feeds to the list above:
The job feed must be active i.e. have tweets posted in the past month, unlike @gabi_drushim.
Most of the job feed's tweets must be for specific job openings and not just "come visit our website" messages like you can see on @Danhr036136555.
The job feed should not point at websites that have spammer warning signs, like @humanresourcesj.
If you know of any other Twitter feeds posting for jobs that follow these criteria but aren't on the list, tell me what they are in the comments so I can add them.
Free Bonus
Learn how to find use Twitter to find jobs quickly in the short-term and to attract jobs in the long-term.
This free download contains sections on:
How To Make Every Recruiter Jump To Hire You
Which Key Tools Need to Be in Your Twitter Job Search Toolbox?
An Easy Checklist to Follow Every Day
Click the image below to get access to
The Ultimate Twitter Job Search Guide
: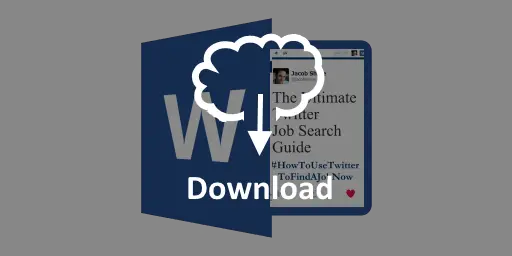 JobMob Insiders can get this free bonus and other exclusive content in the JobMob Insider Bonuses area. Join now, it's free!
Subscribe to JobMob via RSS or email and follow me on Twitter to get more Twitter resources for finding a job in Israel.