Twitter is the original micro-blogging service, created with the idea of posting updates via SMS or text messages. Here's how can you use Twitter to find your next job.
This quick guide will show you to get started with Twitter, build your network effectively and focus on your job search goals all while staying in a good mood. Yes, you can.
20 tips to Twitter job search success
Like blogging, Twitter is a terrific way to reinforce your personal brand by showing your professional expertise and helping people. To find a job with Twitter, keep this in mind all the time.
I used all the following tips to create my own Twitter profile, so visit http://twitter.com/jacobshare to get examples of everything recommended here below.
1. Discover Twitter. Spend some time surfing Twitter profiles to get a feel for how people are using Twitter. Bookmark a first group of people you'd like to follow. See what you like and don't like and take notes for reference later. (That's how I was able to put together this article so quickly)
2. Create a Twitter strategy. Your main goal is to find a job, but what are your secondary goals? Specific people to meet, industry news to follow, etc.? Plan to Twitter accordingly. Sketch out all your goals and ideas on how to reach them but don't spend too much time on this initially, because there's a good chance that your ideas will change once you start using the service heavily. And that's ok, just rewrite your goals and strategy when it happens.
3. Sign up to Twitter. Create an account using your "home work" email address – the one you would use strictly for job searching as well – and choose a username that's either your full name, first name and profession (think "Joe the Plumber") or a pseudonym based on a formula of [Adjective][Country][Profession] e.g. SmartTechGuy. If you're planning to twitter a lot about your private life, consider a second Twitter account.
4. Don't follow your friends while signing up. After creating your account, Twitter will suggest that you immediately search through your email contacts to find friends that are already on Twitter. SKIP THIS because you'll do it later. You want to create an impressive profile before telling anyone that you're on Twitter.
5. Design your profile to impress. My Ultimate Twitter Job Search Guide explains exactly how to do this:
Download The Ultimate Twitter Job Search Guide
6. Prepare to simulcast. Set up Facebook and LinkedIn to include your tweets as status updates and check out free services like Socialoomph.com to broadcast your tweets as status messages for your other social network profiles. This is a good way to get more return on your Twitter investment but make sure you'll be able to reply when people also respond outside of Twitter. Not all tweets will make sense off-Twitter, so only simulcast when your tweet can stand on its own e.g. shared links, tips or answers to Twitter's famous "What's happening?"
7. Pick the best tools for your tweets. The standard Web interface is fine and it's what most people use. Another tool worth trying is TweetDeck which lets you categorize the people you follow for easy organization.
8. Setup Auto-Follow. SocialOomph can also do this: when people follow you, you automatically follow them back. Prune your followers list from time to time to weed out spam-like followers who aren't contributing to your conversations or because their tweets just don't interest you.
9. Choose an url-shortening service to share links. Stay with a service like bit.ly that allows you to track how many people click on your link. Even if you've tweeted a link before, create a new "shorturl" every time you mention a link so that you can measure the number of clicks separately.
10. Keep handy updated versions of your resume. Have a short url to your optimized LinkedIn profile or blog-hosted resume that you can send in a tweet, so you don't hesitate when someone asks you to send it over.
11. Start tweeting! Before you have any followers, twitter a handful of messages to set expectations and give people a taste of what they'll see when they follow you. Then continue doing it, at least 15-30 minutes per day as you slowly grow your network.
12. Be someone worth following. Provide value by twittering tips, sharing news or resource links about your profession and answering as many questions as you can, quickly and well. Enjoy yourself too, while helping your followers as much as you can.
13. Follow people who are likely to follow you back. To gain some momentum in getting followers quickly, use Twitter's Find People tool to invite your email friends and contacts to follow you now that your Twitter profile is ready to show off.
14. Browse Twitter directories to find industry professionals to follow. Twellow is currently where it's at, and you should also browse the Twitter Lists of the industry influencers you admire most on Twitter.
15. Follow people who might have jobs to offer. Use Twitter Search to look for people who have twittered relevant job offers in the past and follow them until you can sense if it will happen again. Notice any keywords in common and then search on those too. Also, watch how people reacted to those offers. Search more keywords to find conversations among other industry pros and follow them too.
16. Follow industry-specific job feeds. Use my massive Twitter job feeds guide to follow your industry's job openings, in your country, region or city. When you see a job opening to apply for, save it as a Favorite until you've applied for it.
17. Grow your network some more. Follow who your followers are following. Visit people's profiles and see their starred favorites to get to know them. Also, don't forget the list of people you drew up when you researched Twitter at the beginning of this guide.
18. Find your best time of day for Twitter conversations. Twitter is best when people discuss and help each other out live but not everyone connects at the same time, often spanning many time zones. Watch the people you follow and choose your Twitter time of day accordingly using a tool like Tweriod.
19. Tweet from time to time about your job search. Your Twitter friends need to know that you're job hunting. An occasional reminder is critical to cut through the river of tweets. Ask if you have a job search question. Post updates on your job search tactics to see what people think. And ask for referrals after you've just helped someone with your expertise because that's precisely the moment they are most impressed by you.
20. Follow me at http://twitter.com/jacobshare. I'll follow you back, and I'm always happy to give you feedback and suggestions about your Twitter profile. Or if you prefer, contact me before signing up to Twitter and I'll help you focus your ideas to achieve your goals from the start.
Bonus tip
21. Avoid Twitter spammers. Some Twitter accounts are simply broadcasting ads or links to sites that can help you gain lots of followers while taking your Twitter username and password with questionable credibility. Another example- accounts where the number of "following" is much higher than the number of followers.
Free Bonus
Learn how to find use Twitter to find jobs quickly in the short-term and to attract jobs in the long-term.
This free download contains sections on:
How To Make Every Recruiter Jump To Hire You
Which Key Tools Need to Be in Your Twitter Job Search Toolbox?
An Easy Checklist to Follow Every Day
Click the image below to get access to
The Ultimate Twitter Job Search Guide
: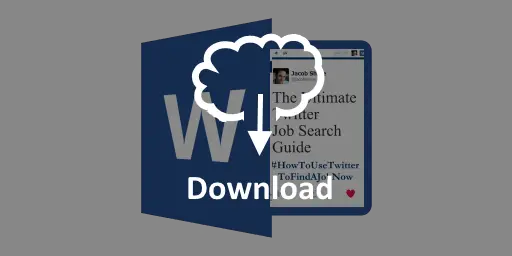 JobMob Insiders can get this free bonus and other exclusive content in the JobMob Insider Bonuses area. Join now, it's free!
Related Twitter articles from other blogs
The Ten Commandments of Twitter
The Top 5 Ways Smart People Use Twitter
7 Tips for new Twitter Users
All a-twitter? Subscribe to JobMob via RSS or email and follow me on Twitter for new and innovative ways to land your next job.