Who to follow on Twitter for advice about finding jobs in Israel.
Israeli job search experts on Twitter
All the experts in this list tweet in English and in Hebrew, so know that they're quite capable of answering your questions on Twitter.
In no specific order…
Download The Ultimate Twitter Job Search Guide
| | |
| --- | --- |
| | Morit Rozen, @moritrozen: CEO of HRD; Founder of the first Israeli Recruiting School and the first Recruiting Conference. |
| | Yakov Rozen, @yakov_rozen: Recruitment & Sourcing wizard at HRD. Helping companies leverage advanced internet tools, reduce hiring cost and identify best candidates. Founder of gius.co.il |
| | Efrat Aghassy, @EfratAghassy: WEB 2.0 Recruitment Manger for High tech positions |
| | Rotem Kazir, @RotemKazir: HR consultant, Startup and technology enthusiast, Web recruitment specialist |
| | Maya Bouhnik, @Tips4Geeks: All you need to know in order to find a job in Israel – Jobs, career tips, networking events and market updates |
| | Revital Hendler, @Revital_H: 35, Love people, CEO of AllJobs.co.il |
| | Tali Raviv, @TaliRaviv: Recruiter for SQLink Group |
| | Roie Shiloah, @Roieshiloah: מנהל השיווק והמכירות ב'קבוצת נישה – השמה איכותית' המתמחה בגיוס והשמת מועמדים לחברות הייטק, ביומד ופיננסים |
| | Jacob Share, @jacobshare: Job Search Expert, Professional Blogger, Creative Thinker, Community Builder with a sense of humor. I like to help people. |
Free Bonus
Learn how to find use Twitter to find jobs quickly in the short-term and to attract jobs in the long-term.
This free download contains sections on:
How To Make Every Recruiter Jump To Hire You
Which Key Tools Need to Be in Your Twitter Job Search Toolbox?
An Easy Checklist to Follow Every Day
Click the image below to get access to
The Ultimate Twitter Job Search Guide
: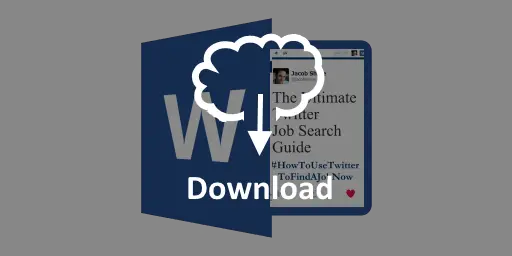 JobMob Insiders can get this free bonus and other exclusive content in the JobMob Insider Bonuses area. Join now, it's free!
Subscribe to JobMob via RSS or email and follow me on Twitter for more helpful resources tips for your Israeli job search.