How to use Twitter to find the latest summer jobs still available.
Just make sure to keep an eye on when the tweets were posted.
Free: Download The 50+ Mostly Unusual Places to Find Summer Jobs, a handy checklist to keep track of where you applied for summer jobs.
1) Check Twitter feeds of seasonal jobs
In summer, you'll see summer jobs. In winter, you'll see winter jobs. (Funny how you never seem to hear that term, isn't it?)
Australia and NZ
@CCUSAAustralia – Sending Aussies abroad since 1986! US Summer Camps jobs * Working Holidays USA #AnAdventureToRemember #CCUSAAustralia!
@seasonaljobsnz – Seasonal Jobs in New Zealand. Summer and Winter Jobs. If you are a backpacker in New Zealand then you use us. Apple picking, Kiwi fruit picking, working holiday
@CCUSANZ – #AnAdventureToRemember Official J1 Visa Sponsor • Summer Camp Jobs & Working Holiday USA Adventures.
Canada
@summerjobs.ca – Canadian job board specializing in Summer employment.
UK
USA
@getsumcampjobs – jobs at summer camps across the USA
@coolworks – "finding a seasonal job or career in some of the greatest places on Earth."
International
For more ideas, check the latest tweets from accounts that post jobs year round, but focus on the ones in industries that tend to have seasonal jobs:
Finally, follow the accounts of seasonal employers you'd like to work for. There's a lot of turnover during the summer and it's very common to see companies scrambling to hire again mid-summer.
2) Smart Twitter searches to find latest summer jobs
Twitter Search is also a good way to find summer jobs but you need to use the right keywords to get meaningful results. For example, if you search "summer job", most of the results will be people twittering that they found a summer job or that they need a summer job.
Or if you search on these next phrases, many of the results are scammers who just want your money:
screw summer jobs
Want an easy summer job? For extra cash?
Need a summer job?
Anyone Need a JOB? Extra Money For the SUMMER?
"summer job:" or "my summer job:" or "best summer job:" followed by a url
Don't waste your time with those.
Instead, use the following keyword phrases to pull up summer job leads as quickly as possible. Just click the links to see the latest results:
[your location] summer job (such as "chicago summer job")
If you have Twitter's Location feature enabled, you can use the Search Filters to see results near you:
Question of the article
When was the best time to look for a summer job in your experience? Tell us in the comments.
READ NEXT: 🌦 40+ Worst Summer Jobs People Like You Have Had
Free Bonus
Download a checklist of The 50+ Mostly Unusual Places to Find Summer Jobs to keep track of where you applied while getting ideas for new places to try.
Click the image below to get access to The 50+ Mostly Unusual Places to Find Summer Jobs: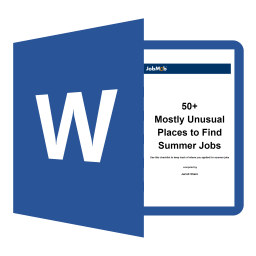 JobMob Insiders can get this free bonus and other exclusive content in the JobMob Insider Bonuses area. Join now, it's free!
How to Turn Your Dumb Summer Job Into $162,000
Like using Twitter for your summer job search? Download The Ultimate Twitter Job Search Guide FREE.