What's the easiest way to find a summer job?
Not every summer job that comes your way is a good one, but you can still learn good lessons and skills from them… if you can actually find them.
Take a look at my past summer jobs and you'll notice one critical thing on how to best do that.
Free: Download The 50+ Mostly Unusual Places to Find Summer Jobs, a handy checklist to keep track of where you applied for summer jobs.
My summer job history
1) 📦 Shipper, summer of 1990
I was 14 years old, living in Montreal. Minimum wage in Quebec was CDN$5 an hour. I worked full-time through July and August.
My job was to work in the shipping department of a small sportswear company, mainly putting price tags on clothing, and packing boxes while listening to classic rock radio all day. I had an Israeli co-worker who claimed to have been a former naval commando.
I'll never forget the feeling of getting my first paycheck ever, and the feeling which immediately followed it when I saw how much had been deducted for taxes.
How I got the job: through family. The sportswear company was co-owned by my dad (may he rest in peace), my uncle and my cousin. Dad was eager to give me a taste of what it's like to have a job, be in the workplace, manage responsibilities, etc.
2) 🍕 Pizzeria assistant manager, summer of 1992
I'm making that job title up. I don't think that I ever had a title in that fast-food restaurant, but that title best describes my role when I left.
This was the job that I blogged about in Lessons Learned from Odd Moments on the Job where one of my colleagues put a vat of ice cream in a storage closet instead of the freezer.
It was an eye-opener for me about how hard people work in a restaurant, and how stressful it can be. I started out as a pizza maker, moved up to cashier and eventually was handed some authority whenever the co-owners were out.
Ultimately though, and unexpectedly given the often-stressful hours, I got bored. I was only there for a few weeks.
How I got the job: I went in to order pizza with my mom, we got to chatting with a co-owner who was behind the counter, and he offered me the job on the spot.
The two co-owners are great guys. Their business has grown over the years and it's become a Montreal institution, now in a different, larger location. I still stop by to say hi whenever I'm in town.
3) 📦 Shipper, summer of 1992
After leaving the pizzeria, I was back in the same shipping department at my dad's business, doing pretty much the same things yet with a little more responsibility. I enjoyed seeing some familiar faces, but it was also a reality lesson when I discovered that some of the others had since been laid off or fired.
I was also happy that my dad was able to hire my good friend Jeff from school.
How I got the job: through family.

4) 🍤 Frozen seafood door-to-door salesman, summer of 1995
The strangest summer job I ever had.
After Jeff and I saw a classified ad in a local newspaper promising a well-paying job, we called the number listed and were invited for an interview. As it turns out, that "interview" was held with about 20 other people, and it wasn't so much an interview as a sales demonstration of how to move your quota of frozen seafood.
I remember being blown away by the sales abilities of the man running that meeting. I, on the other hand, had very little confidence in the utter lack of my own sales experience, and one slick demo didn't help. Plus, even though I wasn't very religious at the time, I still wasn't crazy about selling non-kosher food like shrimp and lobster that I couldn't truthfully tell potential customers I enjoyed.
Jeff wasn't interested in continuing but I was curious enough that I spent a full day with another trainee and a salesman, visiting a nice neighborhood to see what we could earn.
After spending all day going house to house to watch the supposedly-experienced salesman make only 2 sales, I didn't continue with the program.
How I got the job: newspaper ad. Although, the ad was misleading since they would have taken anyone on board. This summer job was a scam where the salespeople had to purchase their quota from the company in advance, and if you couldn't sell your quota, it was your loss and not the company's since they wouldn't take it back.

5) 📦 Shipper, summer of 1995
Instead of going to work at my dad's again, I got a job in the shipping department of a larger company. I was an easy hire, having 2 summers as a shipper already under my belt.
This was the most unhealthy job I've had so far. As an asthmatic and allergy-sufferer, it wasn't ideal working all day in a warehouse that was much dustier than my father's. It was so bad that whenever I blew my nose, the tissue was black.
I wonder if there are any lingering health effects even today… A friend of a friend went to work as a reforester (tree-planter) in Western Canada that summer. Surprisingly dangerous, but still healthier than what I was doing.
How I got the job: through friends. Remember Jeff, the friend who worked with me at my dad's? His uncle worked at this larger company, and arranged the job for Jeff, who then recommended me when another job opened up.
6) ⌨ Data entry clerk, summer of 1996
That's just a fancy name for 'typing robot'.
The McGill Summer Dental Clinic was created by my best friend Ilan's dad, Dr. Howard S. Katz (may he also rest in peace). A terrific idea- the dental care was provided by senior dental students under supervision, and the patients receiving the free care were either teenagers and/or disabled, i.e., patients that weren't as easily cared for by other dentists.
My 4-and-a-half week job through July was data entry, such as typing updated patient information into the clinic's computer database system.
How I got the job: through friends. Ilan also worked there doing data entry and was able to get one of the other data entry jobs for me. Of course, it was another easy hire because his dad already knew me well.
7) 📦 Shipper, summer of 1996
After the Clinic ended, for the second half of the summer, I rejoined the gang in the shipping department at my dad's company.
This was the last summer I would ever work there.
How I got the job: through family.
8) 💻 Quality assurance engineer, summer of 1997
When that summer began, I was only one semester away from graduating with a degree in Computer Science, and I was hoping for a related summer job.
A good plan would have been to get my foot in the door (read: internship) and impress a boss who would want me back after graduation. However, I wasn't thinking along these lines since I already knew that I would be leaving Canada for Israel after that last semester.
I got a summer job as a software tester for a local business software company, helping a team of their programmers improve the quality of their product. A good bunch of guys, one of them planted the idea in my head that it would be cool to live in Europe at some point (which I did, less than 3 years later).
The job only lasted for a month, though. I knew one of the co-founders from my local synagogue, and he was the main reason I was hired. The other co-founder wasn't happy with my hiring for a reason I still don't know, and was rude to me from Day 1. At first I just thought he was like that with everyone, and once I realized that wasn't the case, it just gave me extra motivation to do a good job and win him over.
Towards the end of the month, after I had already received good feedback from everyone else, I asked for a meeting with the other co-founder.
It didn't go well.
He made it clear that I was there against his will. Maybe he had wanted someone else but had been out-voted. I don't know and he didn't say.
Either way, it made me angry and I didn't want to spend the rest of the summer in that kind of atmosphere. I immediately went to speak to the co-founder I knew, and told him that I was leaving. He tried to convince me to stay, but I'd had enough.
How I got the job: through family. I don't know if my dad approached him first in the synagogue, or if the nicer co-founder asked my dad about my availability after learning I was in Computer Science, but the hire happened as a result of a conversation between them, that's for certain.
9) ⌨ Data entry clerk, summer of 1997
Another reason that I left the software testing job when I did was because it allowed me to have another July at the Dental Clinic.
How I got the job: through friends. One phone call to Ilan, who confirmed with his dad that I could have the position again, and I was good to go.
10) 📞 Telephone surveyor, summer of 1998
This was the only summer job I had outside of Canada, taken after I had made aliya (immigrated to Israel) and moved to Jerusalem.
I would have accepted almost anything to put a little more cash in my bank account before my recruitment into the IDF, only a few months away.
A training session taught me how to politely call people up at the least polite time- when they're having dinner i.e. the time they're most likely to be home, and run through a survey, recording their answers as quickly as possible.
It wasn't that much fun, but I did learn to become much more comfortable dealing with strangers over the phone, and the people I called were rarely as annoyed as I expected them to be.
How I got the job: a flyer with an ad was posted on the bulletin board in the building where I was living. There wasn't much of an interview process. Once you showed after the training session that you were competent, you were allowed to keep going.
The top lesson for how to find a summer job
The easiest way to get a summer job is through your network: family, friends and acquaintances, their family, friends and acquaintances, and once you some summer jobs under your belt, you can past bosses and colleagues to that contacts list.
In fact, this is true for ANY job, which is why you should always be looking to meet people who can refer you to jobs.
Question of the article
What was the strangest summer job you ever had? Tell us in the comments.
READ NEXT: 60+ Hot Tips for Summer Jobs and Where To Find Them
Free Bonus
Download a checklist of The 50+ Mostly Unusual Places to Find Summer Jobs to keep track of where you applied while getting ideas for new places to try.
Click the image below to get access to The 50+ Mostly Unusual Places to Find Summer Jobs: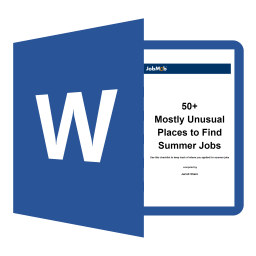 JobMob Insiders can get this free bonus and other exclusive content in the JobMob Insider Bonuses area. Join now, it's free!
Subscribe to JobMob via RSS or email and follow me on Twitter for more lessons from real summer job successes & failures.