What you need to know to as a millennial job interviewer or interviewee of one.
This is a guest post by Aaron McDaniel. If you'd also like to guest post here on JobMob, follow these guest post guidelines.
One of the early signs that you are starting to build a strong career is when you have the opportunity to be on the other side of the table and get to interview potential candidates to work at your company.
You will most likely be elated, empowered and possibly a little nervous.
But before getting engulfed by the feeling of making other people squirm for a change, keep the following tips in mind to ensure your success interviewing millennial candidates:
Free bonus: The One Job Interview Resource You'll Ever Need is a handy reference to help you prepare for any kind of job interview. Download it free now
1) Don't power trip
It is only natural to want to exert any power you're given as soon as you get it.
In the context of job interviewing that usually means that when you first have the opportunity to interview others, you want to ask them every tough question you've ever been asked in your interviewing history.
Resist this urge!
This attitude clouds the focus of the primary responsibility of analyzing the candidate, by instead zeroing in on your own status.
2) Ask behavioral questions
When interviewing someone, there is a natural tendency to want to evaluate how the candidate would do in the open position and less-experienced interviewers will start to ask the candidate what they would do in certain situations typical of the position they are applying for.
Shy away from this technique because it is fairly easy for the candidate to give you an answer that would lead you to believe they fully understand the job (especially if they are an effective communicator), but ultimately this isn't true. For example, if you asked me how I would conduct surgery, I am pretty confident I would come up with an intelligible answer.
The key is to ask for real life examples of experiences that the candidate has had related to the job.
Instead of asking what they would do if they had to deal with a difficult customer, an effective interviewer will ask the candidate for an example of when they dealt with a difficult customer in a previous work position.
3) Dig into group experience
Nowadays, group work is the norm. It would take hours to even count the number of group projects I had to do for school or other activities. However, the unfortunate reality in group environments is that teammates do not always pull their weight.
The "group" may have accomplished something, but it is important to pry under the surface to see what the candidate's role was within the team.
Also, make sure to check (through follow-up questions) to confirm the candidate is not just taking credit for the role that one of their teammates actually played.
4) Test strategic thinking
I am not saying here that you should start asking candidates brainteasers, rather, recognize that logical and strategic thinking is important in business.
Make sure to have the candidate walk you through situations that really show the candidates ability to think strategically while following a logical process to project completion.
5) Put this interviewing experience to use
The most effective way to master how to get interviewed is by interviewing others. You will see firsthand the good things candidates do and the cardinal sins they mistakenly commit.
Learn from these experiences by incorporating the good and eliminating the bad in your own future job interviews.
Moreover, through interviewing others you will realize how important it is to take control of an interview and ensure that you have thought through all you want to communicate, and include it in the answers to the interviewer's questions.
Bonus tip: Avoid informality
Finally, watch out for candidates who immediately attempt to be your friend, or steer you to be informal because you and the candidate are around the same age. How they act in the interview will only be intensified if they get the job.
If you take to heart and implement the tips above, it will keep your interviews on track and help you uncover the top people in the your pool of millennial candidates.
Free Bonus
If you want a handy job interview resource that you can keep on your smartphone or print out for easy reference, I've got a special bonus for you.
This free download contains:
165 positive personality adjectives to describe yourself
444 of the most popular job interviewer questions to prepare yourself with
175 questions that you can ask in job interviews to make a good impression and learn about your future employer
Click the image below to get access to
The One Job Interview Resource You'll Ever Need
: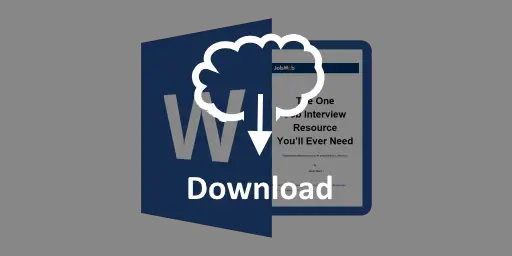 JobMob Insiders can get this free bonus and other exclusive content in the JobMob Insider Bonuses area. Join now, it's free!
About the Author

Aaron McDaniel (aka "Mr. Business") is the author of the Young Professional's Edge blog. He is a corporate director, entrepreneur, public speaker, and community volunteer. Aaron has founded numerous companies and was appointed Regional Vice President at a Fortune 50 company before the age of 28. Follow Aaron on Twitter: @MrBiz
If you liked this article, you'll also enjoy 10 Tricky Job Interview Questions and How to Answer Them.
Subscribe to JobMob via RSS or email and follow me on Twitter for more insight about tough job interview questions.