Some of the funniest help wanted ad examples and now hiring signs you'll ever see.
How can restaurants and retailers stand out when they're trying to get quality hires for their hardworking jobs?
By showing a sense of humor that might mean an enjoyable workplace with fun colleagues.
On the other hand, sometimes their ads are funny for the wrong reasons…
Enjoy these "best of class" examples.
Funny Help Wanted Ads and Signs
"We Need A Graphic Designer… Obviously."
"Please Help. We need a Graphic Designer. Email for an application. Thx. -Student Publications"
"edtiors watned"
"Help Wanted. Must dominate the English Language"
"Wanted: Server: Sober*, sane, non dramatic experienced. Able to work mornings, appreciation of skillful sarcasm helpful. I.D. Required.
*Sober in now way implies admission into a 12-step program, we do, however expect you to NOT be drunk when reporting for work"
"Help Wanted
Food Experience a Must.
Do not apply if you'll need nights off because your band has a gig.
Do not apply if you'll need weekends off because you have a gallery opening.
Do not apply if you just want to work a few weeks before you go to Europe."
"Because your boyfriend will eventually ask for gas money. Now Hiring. Apply in person with manager."
"In Memory of Dave. We Will Miss You. Now Hiring."
"Now Hiring Cashier – Weekends – Must be 21+ Applications avail. Inside
Cannot look anything like "Skeletor from "He-Man"."
"I need a person who likes to work. Cashier, Grill, Phones Nights."
"Piano Player Wanted. Must have knowledge of opening clams."
"Wanted: Someone to grind or chew hay for horse with bad teeth"
"Wanted: Looking for someone do yard work. Must have hoolahoop"
"Surgeon wanted for a new health clinic opening in the area. No experience needed. Must have own tools."
"Wanted: Part time sales person who won't quit after 2 months, who works hard and doesn't think she's doing me a favour by working here, who can take a joke and won't cry everyday on the floor. Enquire within"
"Scarecrow Wanted:
A volunteer is wanted to work as a scarecrow in a field near Didcot (weekends only). No previous experience is needed as full training will be given. Must be able to stand up for several hours without a break, and have no fear of birds. No time wasters please."
"McCook Glass & Mirror Inc. is looking for hard working experienced employees that possess responsibility and are reliable. Must be self motivated and have a clean driving record.
Please do not apply if you:
Oversleep, have no alarm clock, have no car, have court often, have no baby sitter every day, have to give friends rides to work later than we start work, experience flat tires every week, have to hold on to cell phone all day, or become an expert at your job with no need to learn or take advice after the first day.
Must be able to remember to come back to work after lunch. Should not expect to receive Purple Ribbons or Gold Stars for showing up to work on time."
"Sign #342, still looking for that Special person… you know the one, the open schedule one, the one that doesn't cry, the one that's not late all the time, the one that makes things happen and not waits for things to happen… that one!"
"Do you have strong opinions about the calls our referees make? If so… Then we want to hear from you!!
We need people like you to attend the clinics, study the rule book, strap on the skates and wear the jersey, because that is the commitment we need.
If you only want to yell from the bench or bleachers, then you're just a bully and are useless for anything in our facility. Bullying: It's not just kids!"
"Wanted: Grape Stompers
Must Have Good Balance and Large Feet. Skinny Folk need not apply."
"The Dupree School District No. 64-2 is accepting applications for Part-Time Head Lice Pullers. Applications may be picked up in the Business Office of the Dupree School."
"Help Wanted:
Start a career in the fascinating, fast-paced lucrative pudding business.
Long Hard Hours.
Very low pay.
Lots of Heavy Lifting.
Work for a ball-busting asshole.
Dead-End job.
No Benefits.
No advancement.
Must be college Grad.
Start Immediately."
Funny Now Hiring Ads and Signs
"Now Hiring Now. Right Now We're Hiring Now."
"Store Closing. Now Hiring."
"Now Firing. Apply Within. Positions Available."
"Now Hiring Ass Manager"
"SpongeBob Is Here Hiring Managers."
"Toyz: We are Hiring. Low Pay. Bad Hours. Jerk Boss. Apply Now."
"Now Hiring Fried Turkeys."
"Now Hiring Smiling Faces. We do drug testing"
"Now Hiring.
Part Time
Must have open availability
18 or older only
Must like smiling and happy things."
"Now Hiring. Must Have a Brain."
"Need a Job. Lets Taco Bout It."
"You don't have to be Heisenberg to cook. Now Hiring Kitchen Help."
"Job: Noun I. the principal activity in your life that you do to earn money;
Now Hiring: Cashier Nights, Cook Nights, Driver P/T"
"Now Hiring. Please no dinosaurs with clever human costumes – Fool me once shame on you…"
"Help Wanted. All Shifts. We Pay More Then the NYPD."
"Attention! Now Hiring: Teenage Mutant Ninja Turtles. Inquire Within."
"Men Wanted. for hazardous journey, small wages, bitter cold, long months of complete darkness, constant danger, safe return doubtful, honor and recognition in case of success."
Other Funny Wanted Ads
"Wanted: Somebody to go back in time with me. This is not a joke. P.O. Box 322, Oakview, CA 93022. You'll get paid after we get back. Must bring your own weapons. Safety not guaranteed. I have only done this once before."
"Situations Wanted: Will clean your home, will take in washing & ironing in my home. Will also tattoo pet dog at your home"
"Wanted! Good Woman. Apply Within. Free tryouts @ 5:00 pm every 20 mins thereafter!"
"7 Year Old Kid Looking for a Job.
Saving up for a dream that has not come true yet. Wanting to swim like a mermaid. Babysitting small animals (non-evil). Or walking dogs. Experience: I have 2 dogs, 2 rats, 2 fish, 2 geckos, 1 hamster and 1 cat. Please call — I need to stay in walking distance of Garden St. Thank you! Please call! Broken heart. Still waiting for enough money for the mermaid tail."
This was too funny not to include- a call to post a help wanted ad:
"Sorry, we are closed due to short staff." "Hire taller staff cause I need a taco!"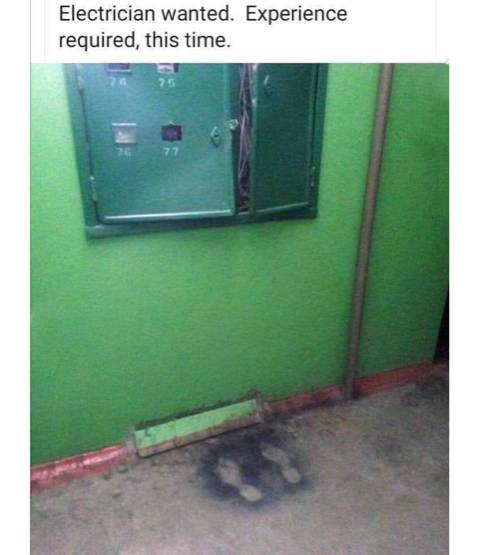 "Electrician wanted. Experience required, this time."
(How do they know the electrocuted person was an electrician? We'll never know… 😋)
Question of the article
What's the best, funniest Help Wanted or We're Hiring ad you've ever seen? Tell us in the comments
Other bloggers' funny wanted ads and signs

More funny and creative job ads
Subscribe to JobMob via email and follow me on Twitter for more of the best job search funnies anywhere.