Get your foot in the door with a volunteering position.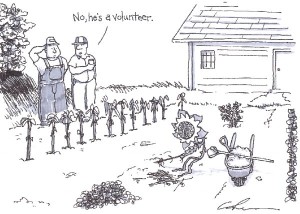 This is a guest post by Hannah Katsman. If you'd also like to guest post here on JobMob, follow these guest post guidelines.
Volunteering in a non-profit organization is a great way to build up skills, make contacts for your job search, and keep up your morale. But merely offering your services is not enough. And you never know, your volunteer job might even become a paid position.
Become a great volunteer
1) Choose the right organization. Supporting an organization's goals is critical, but not everything. Find out how the organization trains and supports volunteers, and what it expects from its workers. Volunteers may need to attend regular meetings, cover their own expenses, or donate money.
2) Be sociable. Satisfaction in a non-profit organization comes from working with others toward a common cause. You'll get the most benefit when you participate in meetings and other face-to-face activities.
3) Follow through. When you aren't getting paid, it's tempting to move volunteer work to the bottom of your priority list. Remember that people are counting on you.
4) Give generously of your time. Decide how many hours a week you can devote to volunteer work while job-hunting, and try to stick with it. Before a big event you'll want to give more time–less when you have to prepare for a round of interviews.
5) Learn to say no. Because there is always something more to do, enthusiastic volunteers are asked again and again for help. Make your limits known to avoid getting burnt out.
6) Don't be too picky. Volunteers can and should enjoy their work, but unpleasant activities need to get done too. Remember that an organization is unlikely to give you interesting, responsible, projects until they know you well.
7) Respect the organization's style. Your wonderful ideas to move the organization forward may not be appreciated when they come from a "newcomer." Take time to learn the organization's style and approach, and earn credibility with your hard work and commitment.
8) Promote. Use your contacts to raise money, bring in new volunteers, or publicize for your organization.
9) Support other volunteers. Ideally you have gained skills, knowledge and satisfaction from your volunteer activities. Pay it forward by sharing what you know with both old and new volunteers.
10) Don't quit when you find paid work. Even though your new "job" will mean you have less time, you'll continue to benefit when you are gainfully employed elsewhere. You, and those you are helping, will reap the most benefits when you volunteer for the long-term.
About the Author
Hannah Katsman is author of A Mother in Israel, a website on parenting and life in Israel. At Cooking Manager, she helps home cooks save time and money in the kitchen. With over thirty years experience volunteering in various organizations, she currently volunteers by supporting breastfeeding mothers. Follow Hannah at Twitter.com/mominisrael or on Facebook at facebook.com/amotherinisrael.
This article is part of the 4th Annual JobMob Guest Blogging Contest, which was made possible thanks in large part to our Gold Sponsor, Jason Alba of JibberJobber. If you want Hannah Katsman to win, share this article with your friends.
If you liked this article, you'll also enjoy 5 Reasons to Volunteer Your Way to Your Next Job.
Subscribe to JobMob via RSS or email and follow me on Twitter for more ideas on how to volunteer your way to a new job.