How can you not love the Cable Monkey?
This is a guest post by James Adams. If you'd also like to guest post here on JobMob, follow these guest post guidelines.
Pens. Staplers. Felt-tip markers. Pencil sharpeners. Pencils. Bacon-Flavoured envelopes. All normal items you might find in your office.
Wait, what was that last one?
Technology has taken us to levels of invention never seen before. And exactly what are the results of the application of this new science to the stalwarts of office products?
Not only does an MMMMvelope look exactly like a piece of bacon, when you lick the adhesive, you get the taste of bacon!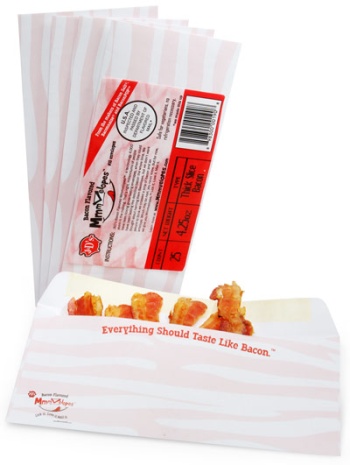 A 2-watt USB-powered fan blows fresh air right into the shirt. Made in Japan, it's 20% cotton/80% polyester, and comes in only one size: XL. Why is that no surprise?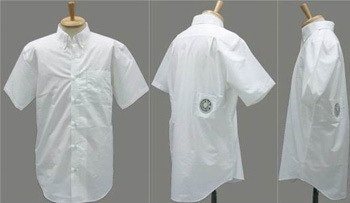 3. Cable Monkey Cable Organizer
Pull out one of these Cable Monkey Cable Organisers, and use the monkey's 8.5″ bendable little arms to gather in the cables and hold them tight.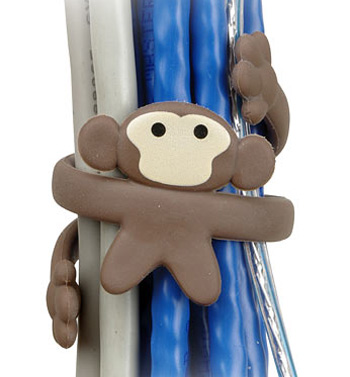 4. Nappak Portable Sleeping Cube
It's a cubicle-sized mattress cube. You certainly cannot keep it hidden the way you hide that travel pillow in your desk drawer. Yes, we know all about that.
Shred paper ephemera five sheets at a time. It's powered by a USB connection, or you can insert four AA batteries and go on a shredding rampage.
Subvert the authority of the badge by picking a customised badge holder with a symbol for resistance: Pirate, Ninja, or Geek (for the shiny ones), or Mushroom, Meh, or Caffeine (for the ones with matte finish).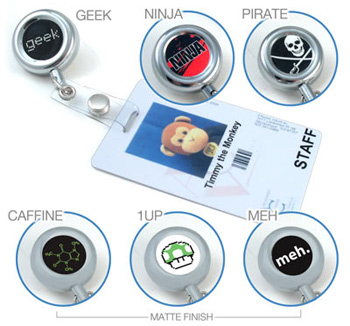 I'll admit, I felt misled. It may look like a tiny blender, but it's actually an alarm clock. Still, it has that retro look, and plays four different alarm melodies (with, in addition, ball rotation!) – time and date appear on the LCD display.
It's a ballpoint pen, with 2 high-tech additions: the end opposite the ballpoint is a stylus for your PDA, and there's a pop-out USB plug for a 128 megabyte flash drive.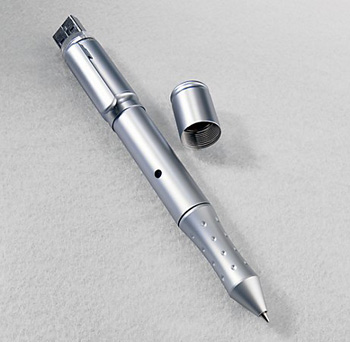 Staples just seem evil, don't they? But, we can't do without them – or can we? Ta-DA! The Staple-Free Stapler cuts a tiny flap through up to five sheets of paper, and folds it in on top of itself. The Staple-Free Stapler is a real alternative – unless you're stapling together six sheets. Oh, well.
Are you sitting up straight? Sitting atop your computer monitor, this device will let you know by flashing a blue light if you're seated properly, and a red light if you're not. And all I can say is that I thank the heavens it doesn't have an audio capability.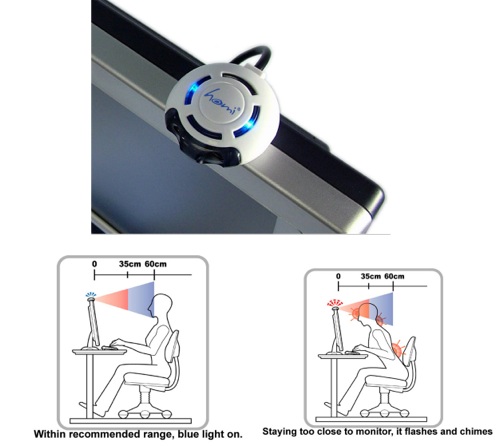 We've got warming, so, can chilling be far behind? This USB-powered device keeps your soda nicely chilled to a cool 45°F. It's got some heft to it, weighing in at a bit over a pound, but that's a small price to pay for a cold soda.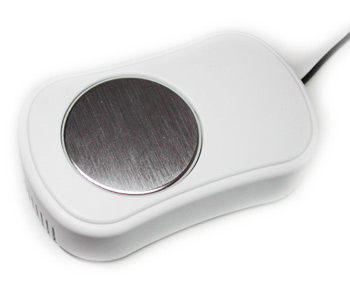 12. Bright Blinds
Put these Bright Blinds on a wall where there's no window, and, with the blinds closed, it looks like a window with light streaming through the blinds.
13. Business Card File Cabinet
This tiny file cabinet actually holds eight hundred (plus a few) business cards. The two drawers actually work, pulling out to let you insert and remove your filed set of cards.
Add human facial characteristics to your office objects. Put some goggle eyes and a big grin on your coffee cup. You get two full sheets with over one hundred stickers.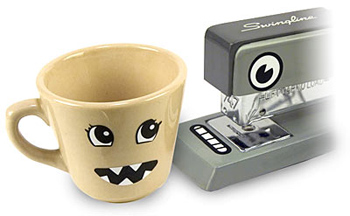 15. Paper Email
"Remember the Great Power Fuzz-Out of 2012? When we had to switch from electronic email to the paper version? What? You haven't laid in your supply?"
What's your favorite? Tell us in the comments.
About the author
This post was contributed by James Adams at Office Kitten, a leading supplier of business equipment in the UK.
If you liked this article, you'll LOVE this one: 25 Creative Ideas To Make Your Workplace Look Really Cool.
Subscribe to JobMob via RSS or email and follow me on Twitter for more fun, inspiring yet functional tools for your job search.