How to get a positive outlook on your job search.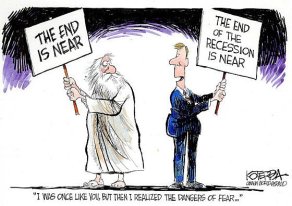 This is a guest post by Kate Baggott. If you'd also like to guest post here on JobMob, follow these guest post guidelines.
Any job search can be a long-term project.
It can induce a loop of depressive or obsessive thoughts and provoke the fear that life will never improve from its current state.
I wrote this little essay to remind myself that life's difficulties always end. Sometimes they morph into happy times, sometimes they evolve into stranger and more interesting difficulties.
Still, the only way to recognize improvements and changes is to change that cycle of obsessive thoughts.
Here is an essay that describes how I work to find a more positive mindset. I hope it helps you too.
Obsessive thoughts are sticky things.
They allow trivial sensibilities to assume and carry an unworthy weight.
They encourage a false dedication that demands intellectual loyalty to what is just cerebral masturbation.
They are insatiable thirsts, forever demanding life's milk and then spilling it carelessly.
They inspire nothing but wakefulness with their tortured repetition.
There is nothing mysterious to complete any fixation.
Obsessive thoughts cannot be resolved.
The adaptability of the brain, in all its fantastic elasticity, can end the loop of obsessive thoughts. It can, with staggering degrees of curiosity and imagination, think new thoughts:
1) Create room for these infant ideas
Accept that the old thoughts are comfortable and well-practiced, but probably wrong.
Good ideas and productive thoughts are fleeting. The knowledge they inspire and the skills they build upon can be applied to meeting the demands of life. Obsessive thoughts repeat because they are flawed. The brain replays them desperately searching for some use for an obsolete tool.
2) Recognize that the old thoughts are wrong
There is freedom in accepting the need to open another neural pathway – metaphorically speaking, of course.
There is no need to revisit old observations that may be the stuff of false conclusions. Instead, there is a need to widen one's outlook, to discover the details missed in the glare of sunlight or the shadows of evening.
3) Do not speak of your pensive opinions as they develop
Do not solicit agreement or disagreement.
Taking in a fresh view of the world is a delicate exercise and more than seeing is required. Listening, too, is important to the creation of new thought. Hear what others have to say, unasked and unprovoked, about whatever is happening in their own heads. Let their words re-form and be read aloud into the ears of your consciousness.
Let it all in. Let it push out the obsessive thoughts and make room.
4) Give your imagination permission to play with subjects it has not considered
Allow memories to revise themselves so that you treat old enemies with kindness, old grudges with compassion and, the almost-forgotten stories of your youth with invaluable friendship.
Open the door to your senses.
Inhale the scent of soap before you buy it. Shake hands more slowly to examine them for calluses and unexpected softness. Walk through the spice market of your mind to discover another flavor. Reconsider all your long-established preferences.
Find a new thought you love more than any you've had before. Then, create another.
About the Author
Kate Baggott is a Canadian writer living in Europe. Her work has been published around the world. Links to other published pieces can be found at http://www.katebaggott.com
This article is part of the Over $4000 in Prizes: The 5th Annual JobMob Guest Blogging Contest, which was made possible thanks in large part to our sponsors:
| | |
| --- | --- |
| | Marcus Tandler's JOBlog is Germany's oldest blog about job search & careers. |
| | Rabbi Issamar Ginzberg is an internationally acclaimed advisor to successful business owners, known for his small business ideas. |
| | Kiesha Easley is the owner of WeBlogBetter.com, a blog devoted to offering blogging tips. |
If you want Kate Baggott to win, share this article with your friends.
If you found this article useful, you'll also enjoy 9 Ways To Deal With Job Search Depression.
Subscribe to JobMob via RSS or email and follow me on Twitter for more ways to get a job-attracting positive mindset.