Ready to freelance? Get started in the right direction by learning how successful freelancers identify and market their skills.
This is a guest post by Adam Green.
From recent college graduates to professionals with decades of experience, the allure of freelancing attracts all kinds. With the freedom to set your own hours and exert total control over your daily routine, it's easy to see why many are exploring the freelance life.
But how do you start? That was the first question I had before embarking on a freelance writing career. Thankfully, a healthy combination of mishaps and triumphs during the first year taught me a great deal about how to achieve freelance success.
---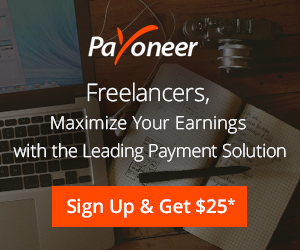 Freelancers and small business owners
Join 4 million freelancers who use Payoneer's payment solutions:
Lower fees
Faster payment
Greater flexibility
Sign up and get $25*
---
Identify marketable skills
Although many associate freelancing with "creative" professions like writing and designing, independent professionals exist in several different industries.
Ever met an independent consultant? Sure you have, but not all consultants are the same. Performing an honest assessment of your experience can help you identify specialties, which you will need to effectively market your freelance services.
Ask yourself the following questions to hone in on your expertise:
How can I leverage experience?
Let's say you were a network administrator at an insurance company. You could gear your IT consulting services toward the needs of insurance offices. In my case, three years as a teacher helped me forge professional relationships with educational institutions. Now they hire me to write copy.
When have I received recognition?
Maybe you led the event planning committee at your office and received rave reviews for your work. A former colleague of mine did just that and is now an independent events planner.
How do I add value?
Something about you is different. If you design websites, you might also have suggestions for clients about improving search engine visibility, for example.
Market your services across multiple channels
Whether you're ready to freelance full-time or just want a few projects for side income, remember that you're running a business. You're just one person, but you still need a marketing plan.
A solid combination of digital and "traditional" marketing methods will help you connect with clients and build a solid foundation for success. Be sure to do all of the following:
Create a Website
Tell your audience who you are and what you do. Update it regularly with fresh content that helps drive traffic and demonstrates knowledge of your industry.
Build your brand with social media
Social media lets us network round-the-clock. Find out which networks are popular with your audience and use them to make new connections.
Reach out to former contacts
One of the best ways to get business is through old colleagues. Tell them you would love a referral if they know anyone who needs your services – and direct them to your website.
Network in-person
Despite the current buzz surrounding social media, in-person networking is still extremely effective. Joining a local chamber of commerce will put you in touch with several contacts who may need or recommend you. Never underestimate the power of face-to-face interaction!
Avoid job boards
The best gigs for freelancers are rarely advertised. Good clients usually come to you via your marketing efforts, not the other way around. Although Craigslist and Elance may be full of jobs for freelancers, you will find few that pay well.
With time, effort, and consistency, a combination of the above tactics will bring clients to your door. Deliver stellar work, and watch the referrals come in.
Freelancing is hard – you're running a business, after all – but the professional freedom makes it well worth the effort.
About the author
Adam Green is a freelance copywriter and R consulting enthusiast. When he isn't referring to himself narcissistically in the third person, you will find him playing guitar on his front porch in Atlanta, Georgia.
If you found this article useful, you should also read One of The Most Common Positive Trends Among Job Seekers Today.
Subscribe to JobMob via RSS or email and follow me on Twitter for more ideas on how to get started freelancing.