Save yourself massive headaches by knowing which jobs to avoid.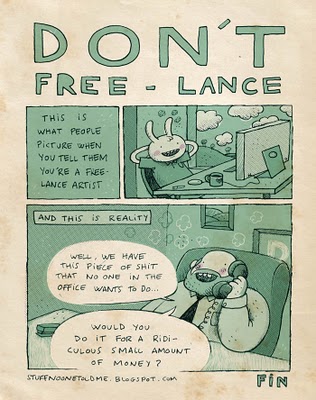 This is a guest post by Emily Suess.
A couple of times a week, I get an email from a new reader who's interested in starting a freelance writing career. Without fail, he'll inevitably ask me one of the following questions:
Where can I go to get my first job?
How do I get started?
Where can I find new clients?
Asking the Right Freelance Questions
The truth is, these kinds of questions have been answered extensively on a number of different writing sites, and a quick internet search will take you to any number of places offering work for freelance writers.
Since ads seeking content writers seem to be everywhere, I think aspiring freelance writers should really be asking veterans how to spot a shady job posting from the get-go.
So, today I'm asking and answering the following question for all of you newbie freelancers out there:
When should I apply to that job posting, and when I should I run like hell?
---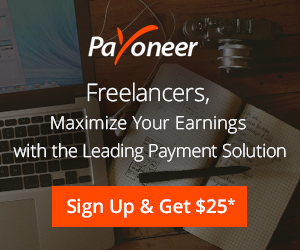 Freelancers and small business owners
Join 4 million freelancers who use Payoneer's payment solutions:
Lower fees
Faster payment
Greater flexibility
Sign up and get $25*
---
Top 10 Signs You Shouldn't Apply
1) The starting pay is too low.
If the pay isn't already sustainable long-term, don't apply for the job. Many promise offers of future raises for quality work, but there is no guarantee the poster will stick by his word. If it's not enough money to start, keep moving.
2) The pay is too good.
Some places pay exceptionally well; don't get me wrong. However, they don't usually have to advertise openings. So keep that in mind. If an unheard of start up offers you $50 for a 500-word blog post, get a contract and an upfront percentage to start the work.
3) You're being offered ad share revenue.
Just don't, okay? You can make real money but writing for sites like Suite101 all the time will waste your time—time you could have spent writing for a reasonable wage.
4) The client wants you to write a full sample first.
Major red flag here. While it's perfectly acceptable to share your portfolio or past samples, never write a piece to a job poster's specifications for approval. Nine times out of ten, they'll steal your content and run.
5) The client asks you to apply through another link.
This happens mostly to writers applying on Craigslist. If you send your resume and samples in an email and get a reply with a link asking you to fill out an online resume? Delete, delete, delete.
6) The job description is too vague.
At best, it's a real client who doesn't know what she wants and will be a total headache to work with. At worst, the client isn't being honest about all of the responsibilities the assignment entails.
7) It's not clear where the client is located.
A complete physical or postal address is awesome, but even a listing that includes the business name, website, or city and state is more trustworthy than a listing that is completely anonymous.
8) They want money from you first.
If you don't know this already, shame on your parents. Don't enter poetry contests with entry fees and don't pay someone to give you work. Heck, I don't even pay for subscriptions to job bulletin services. Save that money for getting a website and buying some business cards.
9) They used the word "spinner" or "spin."
In my opinion, there is nothing wrong with SEO if its mission is to help readers find good content, but article "spinning" isn't about the reader at all. It's about the website owner trying to work the system.
10) They want you to steal content.
Sometimes people launching new sites ask you to "rewrite" content so that it's like their competitor's site, but not. Basically, they want you to plagiarize content but make it difficult for humans and software to detect. It's completely unethical.
Go with Your Gut
Even if you do get burned by responding to a shady posting or two—don't' despair! Consider it an opportunity to learn something about the industry, and use that to your advantage.
I promise that after a few raw deals, you'll be able to nose out the duds more easily from the very start. Trust your gut, and run away from anything that seems suspicious or sounds too good to be true.
About the Author

Emily Suess is a freelance writer in Indianapolis, Indiana. She is the author of Suess's Pieces and regularly shares thoughts about writing, freelancing and small business on Twitter.
This article is part of the Over $5000 in Prizes: The 5th Annual JobMob Guest Blogging Contest, which was made possible thanks in large part to our sponsors:
| | |
| --- | --- |
| | Marcus Tandler's JOBlog is Germany's oldest blog about job search & careers. |
| | Rabbi Issamar Ginzberg is an internationally acclaimed advisor to successful business owners, known for his small business ideas. |
If you want Emily Suess to win, share this article with your friends.
If you liked this article, you'll also enjoy How Successful Freelancers REALLY Get Started.
Subscribe to JobMob via RSS or email and follow me on Twitter for more ideas on freelance job search success.