Done right, freelancing can help you land the perfect job.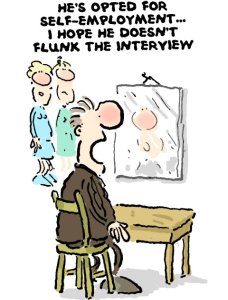 This is a guest post by Adam Green.
If you're out of work and tired of sending out countless resumes, you may be ready to try this different, less common approach to finding a job.
I'll go ahead and warn you that it's not easy. It definitely requires a lot of work and may even call for a serious part-time commitment.
And when it starts working, you just might decide to do it full time.
I'm talking about freelancing.
That's right – networking to find clients, working from home, and doing everything on your own terms.
Consulting is also a form of freelancing, and it's something many ambitious job seekers do to fill the time (and earn some cash) when they're between jobs.
Since I started freelancing last year, I've received several job offers or invitations to interview. Some have been from clients while others have come from people I connected with on Twitter and LinkedIn.
As I'm not currently looking for a job, it's flattering to receive these offers. At the same time, I've realized several reasons why I keep getting them – reasons I think could help a lot of job seekers.
Here are a few to consider:
I'm not unemployed. The moment you start freelancing, you're self-employed, not unemployed. There's no longer a gap in your resume to explain at the interview.
I'm producing quality work. As a freelance copywriter, I'm constantly helping clients craft effective sales emails, foundational Web copy, and press releases. Not only do they pay me for it, but I'm usually able to include the work in my online portfolio for all to see.
I'm always networking. Freelancers have to network all the time if we want to make a living. I'm constantly monitoring and updating my LinkedIn profile not just because I want to, but because I have to. Doing so inevitably brings a lot of eyes toward me and my business.
Whether you're a programmer, designer, writer, or financial guru, there's a good chance you can use your skills to do freelance or consulting work.
Even when you don't have many clients, the willingness to further your professional development in the absence of a job demonstrates that you're hard-working and committed to excellence.
Here are some tips to help you get started:
Create a website. This should be a professional-looking site that explains your background and the type of freelance work you do. Having a website also helps you build your personal brand, something you should be doing whether you're freelancing or not.
Be active on LinkedIn. While all social networking platforms are valuable to freelancers, I find more opportunities on LinkedIn than any others. Use your profile to link to your website and blog, participate in group discussions, and reach out to former contacts.
Update your resume. Show prospective employers that you're currently working. They don't have to know if you only have a small number of clients or plan to quit freelancing the day you get a great offer. The fact that you're hard at work already says a lot.
While most people find that freelancing work doesn't pay as well as jobs in their field, those who keep at it long enough may find that it pays even more.
For many, freelancing will always be a temporary activity that helps pay the bills while they look for something better. For you, it could also be an excellent opportunity to network, develop your skills, and earn a solid income.
And you never know – you might enjoy it so much that you decide not to quit.
About the Author
Adam Green is a freelance copywriter who doesn't plan on quitting any time soon. He's also a musician, ultra-light backpacking enthusiast, and simplicity advocate (but not a simpleton). Follow him on Twitter @AdamGreenMedia.
This article is part of the Over $5000 in Prizes: The 5th Annual JobMob Guest Blogging Contest, which was made possible thanks in large part to our sponsors:
| | |
| --- | --- |
| | Marcus Tandler's JOBlog is Germany's oldest blog about job search & careers. |
| | Rabbi Issamar Ginzberg is an internationally acclaimed advisor to successful business owners, known for his small business ideas. |
| | Kiesha Easley is the owner of WeBlogBetter.com, a blog devoted to offering blogging tips. |
If you want Adam Green to win, share this article with your friends.
If you liked this article, you'll also enjoy How Successful Freelancers REALLY Get Started.
Subscribe to JobMob via RSS or email and follow me on Twitter for tips on how to employ yourself.