With a little preparation anyone can perform well in a group or panel job interview. Here are some of the most important tips for panel interview success, what to do and what not to do.
This article is a guest post by Joyce K. Babu of Joycebabu.com. If you'd also like to guest post here on JobMob, follow these guest post guidelines.
Free bonus: The One Job Interview Resource You'll Ever Need is a handy reference to help you prepare for any kind of job interview. Download it free now
Preparation
First of all, do your homework well. Get as much information as possible about the company you are hoping to join. Note one or two questions to ask about the organization's structure or possibly "if I'm selected, when can I expect to join the company?" or "if I'm selected, is there any particular field for which I should prepare more?". On the other hand, never ask questions like "am I selected?" and don't ask your interviewers to select you since that will only reveal your lack of confidence.
As for the questions that you'll be asked, be ready for the most common:
Tell me about yourself.
Which is your greatest strength and greatest weakness?
How would your enemy / friend describe you?
Why should we hire you?
More examples and recommended answers can be found here.
For the Venue
Dress Formally
A light color shirt and dark color pants are best for men, possibly with a tie. For women, it depends more on your culture. Remember that you are not going for a fashion show, so avoid bright colors. Also make sure that you don't use heavily-scented perfumes or deodorants.
Come Early
Turn up at least 15 minutes before the scheduled start time. Make yourself comfortable with the environment, maybe even by talking with other candidates if there are any. Since companies tend to monitor your behavior at the venue, you want them to see you as a social and easy-going person.
Come Equipped
Bring copies of your CV and relevant certificates/diplomas, but keep them in your lap until you're are asked for them. Plus, you should always carry a pen with you.
At the Interview
Be Polite
When your chance arrives, knock at the door before you enter the room. Greet the interviewers collectively but if there are women in the panel, greet them first. Wait a few seconds before taking the chair, giving the interviewers the opportunity to ask you to sit. If they don't ask you in a few seconds, then wait no longer and sit down. They may be giving you a stress test.
Another example. If one of the interviewers eventually asks you a question while you are answering another interviewer's question, don't stop your current response abruptly to answer the new question. Instead, politely tell the asking interviewer that you will come to their question and then continue where you left off. Similarly, don't interrupt your interviewers.
Be Calm and Collected
There really is no reason to be nervous, this is not going to be your last interview so be cool and comfortable. Try not to wander your gaze among the different objects in the room. Look at the interviewer with a light smile and when they ask you a question, look them in the eyes while you reply. Sometimes interviewers may start talking among themselves to test how you react to such a situation.
Be Confident, But Not Arrogant
The interviewer may ask you questions on topics about which they have no knowledge so answer questions with confidence. If the interviewer points out a mistake, accept it. Do not try to correct an interviewer unless you are sure that you are right and it is entirely necessary but of course, always do it in a very polite manner.
Be Honest
If an interviewer asks you a question which you don't know, tell the interviewer so. No person has infinite knowledge on everything happening in this world. If you lie or say something you are not sure about, then it will be a very black mark. The panel may have seen hundreds of people like you and can understand a lie from truth just by looking at you.
Be As Brief As You Can
Remember that time is very precious. When asked to talk about yourself, talk more about your professional qualifications than personal qualifications. Make answers brief and up to the point. Don't try to show your entire knowledge while answering a simple question, or you may not get time to bring out the main points. Only elaborate an answer when asked to do so.
Light Jokes are OK
A mild joke during the interview is fine but you don't want to appear like a joker. Also, avoid personal jokes and comments.
Remember Your Prepared Questions
Towards the end of the interview, interviewers will usually ask you whether there is anything that you'd like to know. Ask one or two of the previously prepared questions and no more, as the interviewer is supposed to interview you and not vice-versa.
Make Your Exit Confidently
When the interview is over, remember to collect everything you brought with you. Do not push the chair violently, move it quietly. Thank the interviewers and leave. After walking out the door, do not look back unless they call you.
I hope these tips help you next time you're in the interviewee's chair. All the best.
Free Bonus
If you want a handy job interview resource that you can keep on your smartphone or print out for easy reference, I've got a special bonus for you.
This free download contains:
165 positive personality adjectives to describe yourself
444 of the most popular job interviewer questions to prepare yourself with
175 questions that you can ask in job interviews to make a good impression and learn about your future employer
Click the image below to get access to
The One Job Interview Resource You'll Ever Need
: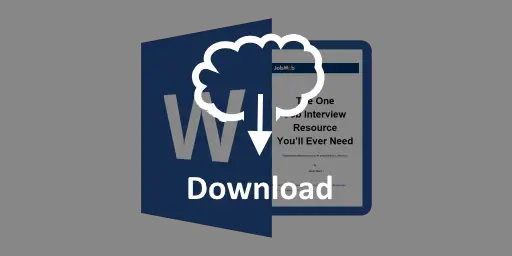 JobMob Insiders can get this free bonus and other exclusive content in the JobMob Insider Bonuses area. Join now, it's free!
About the author
Joyce K. Babu is the owner of the blog Joycebabu.com.
If you liked this article, you'll also enjoy 130 Positive Personality Adjectives For Your Next Job Interview.
Subscribe to JobMob via RSS or email and follow me on Twitter for more inside information on job interview success.