Why the hidden job market just might be one big misunderstanding.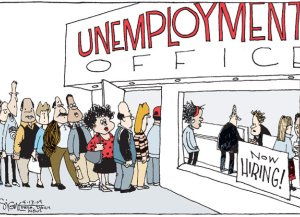 This is a guest post by Lavie Margolin. If you'd also like to guest post here on JobMob, follow these guest post guidelines.
True or false: 80% of openings are never advertised
How many corporations and government institutions do you know of that do not post their jobs publicly?
Consider any organization with more than 300 workers. Go to the website of a Fortune 500 company and find the job listings section. You will likely see pages and pages of job vacancies.
For most organizations, there is no reason to hide the job openings that they have available. It will only benefit them to let the world know that they are seeking candidates. A notable exception includes executive level positions that are of a sensitive nature and the company will use a headhunter instead of advertising a job. Additionally, organizations with smaller budgets cannot pay for advertising at all, but this is only a handful of employers.
So can it be true, as is often said, that 80% of jobs are never advertised and they remain hidden?
Where that number really comes from
The 80% number may come from a business interpretation of the word "advertise".
When one advertises their services, they are paying for them. There are many ways to publicly announce a job without taking out a paid announcement on a job board or providing a listing in the classifieds. Possibilities to share your job opening without paying for it would include listings on Yahoo/Google/LinkedIn groups, job boards that do not require a fee, industry blogs, bulletin boards, social media as well as the official company website.
The 80% figure has taken on a life of its own as a fact for years and years. I have certainly heard it many times from job seekers in my eight years as a Career Coach in New York.  We hear it repeated so many times that it is often difficult to dispute.
The truth is that most jobs are advertised, but it is hard to stand out above the crowd in order to get consideration for the job.
According to a report conducted by Jobs2Web in 2010, the chances that you will be the one to get the job that you apply for on a major job board are less than half a percent!
Although the chance for finding success seems daunting, a job does not need to be 'hidden' in order for you to find positive results. Take a more dynamic path than everyone else in order to increase your success rate.
Some of those techniques would include:
tailoring your resume/cover letter to the needs of the employer for every job
finding job listings off of the major job boards (on company websites, LinkedIn, community message boards, etc.), and…
finding an advocate within the company to submit your resume.
Be dynamic, don't believe everything you hear and stay determined in order to find the next great opportunity.
About the Author
Lavie Margolin is a Career Coach and the author of "Lion Cub Job Search: Practical Job Search Assistance for Practical Job Seekers". Lavie has presented at community events, workshops and conferences and has been quoted on job search related topics in media outlets including The Wall Street Journal, CNN.com and CBS MarketWatch. With readers in over 100 countries, his website www.lioncubjobsearch.com has been named a Top 50 career coaching resource.
This article is part of the Over $4000 in Prizes: The 5th Annual JobMob Guest Blogging Contest, which was made possible thanks in large part to our sponsors:
| | |
| --- | --- |
| | Marcus Tandler's JOBlog is Germany's oldest blog about job search & careers. |
| | Rabbi Issamar Ginzberg is an internationally acclaimed advisor to successful business owners, known for his small business ideas. |
|   | WebHostingBuzz is a reliable reseller hosting company based in MA, USA. |
If you want Lavie Margolin to win, share this article with your friends.
If you liked this article, you'll also enjoy 55 Hidden Job Finding Tips WITHOUT Using Social Media.
Subscribe to JobMob via RSS or email and follow me on Twitter for more job search myth-busting.