As a freelancer, I consider myself a perpetual job seeker. Here's how I use LinkedIn and Twitter to find jobs.
This a guest post by designer Mirko Humbert. If you'd also like to guest post here on JobMob, follow these guest post guidelines.

The past two years I started to use LinkedIn and Twitter more seriously and quickly noticed how useful it could be to find gigs.
Here are a few things I learned along the way.
Download The Ultimate Twitter Job Search Guide
Use LinkedIn the right way
You probably noticed that attending a networking event without talking to anyone doesn't get you anywhere, and the same applies for LinkedIn.
Build yourself a solid profile
This should be a no-brainer. In some ways LinkedIn is like a dating website where users with pictures and a completed profile get more connections than others.
Ask your friends or colleagues for recommendations
Being recommended increases the trust level of your profile viewers, and even if your contacts like you, they will not always think about recommending you, so why not just ask?
Expand your network
Start by adding people you already know, then browse their contacts and ask them for introductions. You can also add people from other social networks. Important: add a personal touch to the email sent when connecting with people.
Promote your profile elsewhere
Email signatures are a good place to mention your profile url. If you have a blog, add a link back to your LinkedIn profile.
Start tweeting
From my own experience, Twitter has been the best relationship-building tool I've used by far. However, there are some things you should know to make it more effective.
Connect with people in your industry
No need to have thousands of followers on Twitter, just try to find the right people to connect with. People in your industry will have interesting news and could be very helpful.
Tweet about industry-related topics
Just like for the previous advice, tweeting about your industry will show people what kind of news they can expect from you, which is a great way to attract the right followers.
Help others
The best way to be remembered by other Twitter users is to help them, they'll also be aware of your capabilities.
Visit Twitter JobSearch or TwitHire
Free Bonus
Learn how to find use Twitter to find jobs quickly in the short-term and to attract jobs in the long-term.
This free download contains sections on:
How To Make Every Recruiter Jump To Hire You
Which Key Tools Need to Be in Your Twitter Job Search Toolbox?
An Easy Checklist to Follow Every Day
Click the image below to get access to
The Ultimate Twitter Job Search Guide
: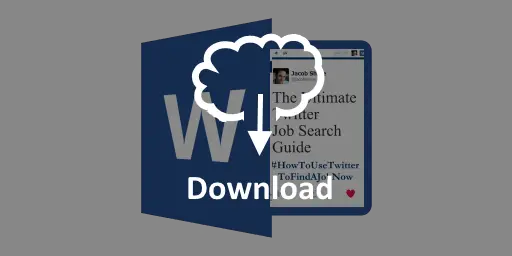 JobMob Insiders can get this free bonus and other exclusive content in the JobMob Insider Bonuses area. Join now, it's free!
About the author

Mirko Humbert is a freelance graphic designer from Switzerland publishing the popular Designer Daily design blog and CSS Orgy CSS gallery, and you can also find him on Twitter.
This article is part of the 3rd Annual JobMob Guest Blogging Contest. If you want Mirko Humbert to win, share this article with your friends.
Subscribe to JobMob via RSS or email and follow me on Twitter for more ideas on using LinkedIn and Twitter in your job search.