Make finding a job easier by doing the right things.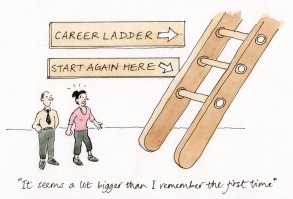 This is a guest post by Chrissy Scivicque. If you'd also like to guest post here on JobMob, follow these guest post guidelines.
Whether you've been laid off or are intentionally taking a little transition time between jobs, you're wandering in dangerous territory, my friend.
Why? Because many a great man (and woman) have found themselves overcome with boredom, anxiety, depression, and all manner of mental deterioration during such periods of career transition.
Here's the good news: You have the power to prevent transition tragedy. Here are 4 ways to prevent going crazy when you're between gigs.
1. Keep a schedule
Since you no longer have a boss hounding you to be at your desk by a certain time each day, it's up to you to enforce some kind of schedule for yourself. I know it's tempting to enjoy the freedom of no 9 to 5, but things can quickly get out of hand. First, you're waking up at 8 am. Then, you're pushing it to 9. And pretty soon, you've got the sleeping patterns of a teenager.
Give yourself a firm wake-up time just as you do when working. Create a routine for your morning including a little exercise and some computer time (spent job searching, brushing up your resume, networking, etc.).
Just to be clear, your morning routine should also include a shower and getting dressed in real clothes (not workout clothes or pajamas). You'll just feel much better that way.
Your day should be as clearly scheduled as a normal workday. If your number one priority is finding work, your job search IS your job. You should be spending 40 hours a week on it. And in order to do that, you need to schedule your various job search activities.
If you're taking time off for other reasons (like school or self-discovery), you need to schedule time for related activities—otherwise, they're way too easy to put on the back-burner.
I know it sounds like I'm taking all the fun out of your time off. But you'll thank me for it later. Many of my clients sabotage their best intentions by allowing themselves to get distracted with television, housework, and other activities that do nothing to further their goals. Before you know it, weeks or even months can be wasted.
2. Get out of the house
Don't get sucked into the vortex of your home. First of all, home is where most distractions await you. And secondly, it's easy to go stir crazy if you're not regularly interacting with the outside world. Those who work from home already know this. But if you're used to working in an office or any other location outside the home, you may not be aware of just how monotonous it can be to look at the same walls day in and day out.
Grab your laptop and go to a coffee shop to work on your resume or complete a few online applications; don't just sit in front of your computer on the couch. It might feel like a waste of $2 to buy a cup o' joe when you've got a perfectly good coffeemaker at home, but it's worth the cost.
Just a simple change of scenery can do wonders for your spirits. You'll feel more energized and focused, and I can almost guarantee you'll leave having accomplished more in a shorter period of time.
3. Get networking
There's nothing like a little social interaction to keep you sane. Professional networking gives you a great excuse to make sure the old business suit still fits—believe me, it's easy to gain weight without realizing it when life is in transition. Plus, networking keeps your social gears lubed up. The longer you're out of the professional setting, the easier it is to get rusty.
Visit local chapter meetings for professional associations you're involved with (or want to be involved with in the future). Heck, right now might be a perfect opportunity to take on a bigger role in these groups. You've got the time and it's a great way to elevate your visibility in the field.
4. Volunteer
I've seen a lot of folks get hit with the "unemployment blues" over the past few years. It's easy to start feeling down on yourself when rejection letters are piling up and the days of the week all blend together. It's also easy to forget how good you really have it.
Get out there in the community and give a little bit of yourself. This may be the only time in your life when your schedule is open enough to really get involved, so take advantage. Commit to working a few days a week at your local women's shelter, animal rescue, spiritual community center, or any other organization that you feel passionate about.
Volunteering has so many benefits: Aside from the fact that you're doing something to help your community, you're also keeping your skills sharp, possibly learning some new skills along the way, and you'll be meeting other professionals (some of whom may end up being great business contacts for the future).
Yes, transition is never easy. But that doesn't have to drive you to the brink of sanity. Follow these simple strategies and you'll keep your mental facilities in check even during the toughest of career transitions.
About the Author
Chrissy Scivicque believes work can be a nourishing life experience. As a career coach, corporate trainer and public speaker, she helps professionals of all levels unlock their true potential and discover long-lasting career fulfillment. Become a fan on Facebook or a follower on Twitter @MakeWordsHappy, and grab a FREE copy of Chrissy's workbook called "How Nourishing is Your Career?" by visiting EatYourCareer.com
This article is part of the Over $6000 in Prizes: It's The 6th Annual JobMob Guest Blogging Contest, which was made possible thanks in large part to our sponsors:
| | |
| --- | --- |
| | WebHostingBuzz is a reliable web hosting company with the servers hosted at multiple US and Europe locations and over 30,000 happy customers worldwide. |
| | Web SEO Analytics is one of the most complete & innovative online marketing platforms providing pioneering SEO tools and SEM Software. |
If you want Chrissy Scivicque to win, share this article with your friends.
If you liked this article, you'll also enjoy 10 Tips About Changing Careers (and Whether You Even Should).
Subscribe to JobMob via RSS or email and follow me on Twitter for more ideas on changing to the best career for you.