One of the harsh realities of job search explained.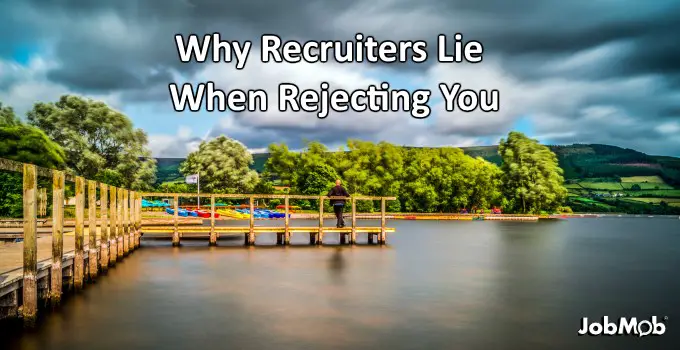 This is a guest post by Recruiting Animal.

(If you voted Yes, can you share your story in the comments below?)
I was going to write about hiring managers being the dumbest people in the world but I decided to write about recruiters instead because, you know, they're dumb, too.
I'll often see a recruiter puffing up her chest online and strutting around bragging about how transparent she is with candidates.
So, then, I'll ask her, "If the hiring manager rejected a candidate because he didn't like her voice, would you tell her that? Imagine he said, 'She's very intelligent but if I had to listen to that all day, I'd shoot myself.' Would you pass that on?"
Of course, the answer is always "No." but you have to force them to admit it. They'll say, "He thought you were very intelligent but it just wasn't a match," and try to claim that this is transparent.
What they usually mean when they say "transparent" is that you send an automated email to someone who applies to a job online telling them that their resume has been received. Then you send them another email when they have been rejected.
But the recruiter wants to prove to everyone what a good person she is so she tries to argue that this is transparency.
No recruiter gives substantial feedback. We can't.
Click To Tweet
No recruiter gives substantial feedback. We can't. If you're missing specific skills and someone else has them we can tell you that because it is a matter of fact. But we can't tell you that the hiring manager doesn't like you because you look a bit frumpy or because you're a drip.
And people get rejected for that. I once sent an HR Generalist to an interview and she was rejected because she didn't fit her clothes very well and her hair didn't look nice so the company didn't want her representing them. I didn't tell her that. My client didn't give me permission — and I didn't ask for it either.
So, remember this job hunters: recruiters aren't social workers. It's not their job to tell you how to improve. If they can, they will; but usually they can't.
About the Author

The Recruiting Animal is a headhunter not a rock star. He's not even a rockstar headhunter. (That's @Jerry_Albright). He runs a rowdy online call-in show about recruiting and careers. His website is: RecruitingAnimal.com.
READ NEXT:
An earlier version of this article was part of the Over $6000 in Prizes: It's The 6th Annual JobMob Guest Blogging Contest, which was made possible thanks in large part to our sponsors:
| | |
| --- | --- |
| | WebHostingBuzz is a reliable web hosting company with the servers hosted at multiple US and Europe locations and over 30,000 happy customers worldwide. |
Subscribe to JobMob via RSS or email and follow me on Twitter for more recruiter insight for job seekers.