You should never learn to enjoy rejection, but you should learn to never let rejection deter you.
Everyone gets rejected on their job search but no one ever likes it.
Recruiters may only reject your candidacy for a role, but it can feel as if they're rejecting your professional abilities in general, or even your existence in life (!).
It's so easy to fall into a downward spiral where rejection leads to anxiety to poor job interviews to rejection to anxiety and on and on… sapping your self-confidence all the way.

But the truth is, it's all about job search persistence: if you believe in yourself and your abilities, you should be able to push forward until you succeed, to prove the naysayers wrong and to show that recruiters were mistaken in rejecting you.
Other people have done it before you, and you can learn from their stories.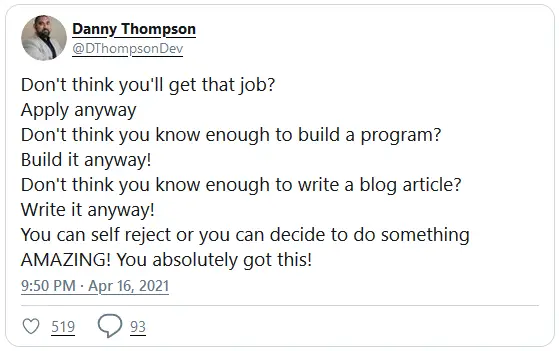 Free bonus: Download The Job Search Depression Report which contains insights and resources on how to manage if you're too depressed to look for work.
Celebrities who proved many people wrong on their job searches
J.K. Rowling
the UK's best-selling living author, her books have brought in more than $25 billion and sold more copies than any other book series… but not before Rowling had to overcome the hardships of rejection and being a single mother living on welfare.
JK Rowling was rejected by 12 different publishers for the first Harry Potter book, and years later after she was already the most successful living author in the world, she was rejected again for a book she tried to publish under a pen name.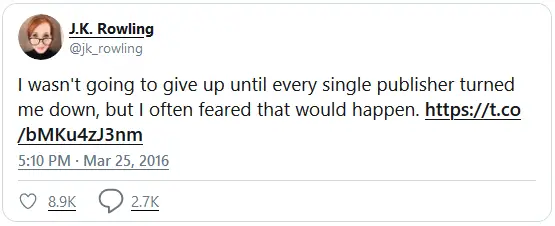 In 1973 he finished the manuscript for his first novel "Carrie". One of the rejection slips he received said, "We are not interested in science fiction which deals with negative utopias. They do not sell."

When "Carrie" was finally published, it sold over a million copies in its first year and he was able to leave teaching and start writing fulltime.
"I remember when my second book in my 20s was rejected by 36 publishers — by which time I was tempted to change professions — I went and got a loan from a bank and kept going," she says.

And what kept her going all that time? The advice that her mother gave her.

"Failure is not the opposite of success; it's a stepping stone to success," she used to say.

Being afraid of failure, in Huffington's case, is not an option- it is merely a lesson to be learned and to move on from.

She is now the author of a whopping 15 books, and shows no signs of slowing down.
He grew up poor in communist China, failed his college entrance exam twice, and was rejected from dozens of jobs, including one at KFC, before finding success with his third internet company, Alibaba… Ma is now worth an estimated $25 billion…
Sylvester Stallone has been a household name for decades after the monster success of the Rocky franchise that began in the 1970's. Not only did he star in these movies as Rocky but he also directed, produced, and wrote a majority of the films. Rocky was his first big hit that made him a certified movie star and would go on film in countless action films…

Stallone struggled at the beginning of his Hollywood career. But his struggles were more than most. He was so broke that he became homeless…
Stallone's rags to riches story is a must-hear, especially when told by a master storyteller in Tony Robbins:
From 14 People Who Failed Before Becoming Famous:
Steven Spielberg was rejected from the University of Southern California School of Theater, Film and Television three times. He eventually attended another school, only to drop out and become a director before finishing.
Oprah Winfrey was told she was "unfit for TV."
Sidney Poitier was told by a casting director, "Why don't you stop wasting people's time and go out and become a dishwasher or something?"
The Beatles were rejected by Decca Recording studios, who had recorded 15 songs with the group, who said "we don't like their sound, and guitar music is on the way out. They have no future in show business."
Fred Astaire was someone who "Can't act. Can't sing. Slightly bald. Can dance a little," according to a testing director at MGM Studios
Elvis Presley was fired after just one performance at the Grand Ole Opry whose manager told him, "You ain't goin' nowhere, son. You ought to go back to drivin' a truck."
Question of the article
What was the toughest rejection you had to deal with on a job search? Tell us in the comments.
READ NEXT: 😒 Why Recruiters Lie When Rejecting You
Subscribe to JobMob via email and follow me on Twitter for more ways to get over job rejections.