Even for healthy job seekers, the coronavirus pandemic has changed job search around the world in only a short time.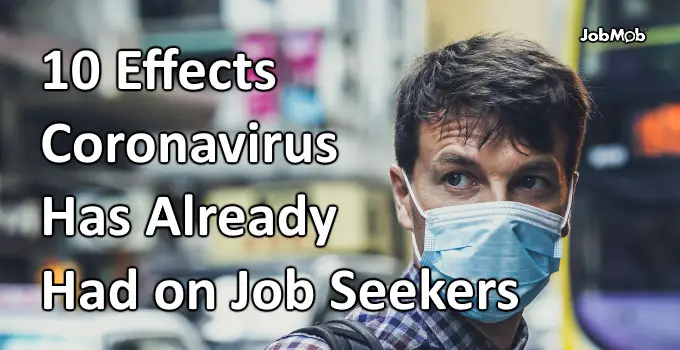 COVID-19 is the name of the strain of coronavirus that has already killed over 3,000 4,000 people.
Besides this catastrophe, the attempts to cover up the discovery of the virus and the rate at which the virus is spreading internationally have lead many people to panic and suffer from corona-phobia, and become suspicious of each other.
When the virus initially seemed to be a Chinese or South East Asian problem, I heard awful stories of racism against anyone who looked Asian. This was out of Canada and France, but it was happening in other places too. Hopefully, one tiny, silver lining of the virus going global is that people will realize it can happen to anyone.
Should you freak out?
No!
In the United States in 2018-2019, over 34,000 people died from the flu out of an estimated 35.5 million cases of it.
While COVID-19's mortality rate is currently much higher than the flu's, the number of people who have had this coronavirus and already recovered is around 64,000.
If someone you know gets sick, their odds of survival are very high.
This is still very scary and depressing, and you need to be careful and take precautions with the following facts in mind:
"The main mode of transmission is respiratory droplets"
"Sneezing… is not a common symptom of COVID-19″
You can get the virus "through shaking hands or kissing somebody who is sick, or you can do it through indirect contact transmission, which is through a contaminated surface, something like a doorknob or a handrail … [or] you pick up somebody else's phone."
"Researchers aren't sure how long droplets of the new coronavirus remain infectious on phones, but similar coronaviruses can survive on surfaces from a few hours up to a few days, depending on the environment"
"So far, it seems to spread less easily than flu or measles"
In a nutshell, your best bet to not contract the virus is to practice physical distancing and avoid people whether they have it or just might.
Don't touch anyone unnecessarily because you don't know who may be carrying the virus, and play it extra safe by washing your hands regularly, especially when out in public.
Free bonus: The One Job Interview Resource You'll Ever Need is a handy reference to help you prepare for any kind of job interview. Download it free now
10 ways the coronavirus outbreak has changed job markets in 2020
Many employers have begun taking these precautions too, and this is how it's affecting job searches.
1) Recruitment has shifted online as much as possible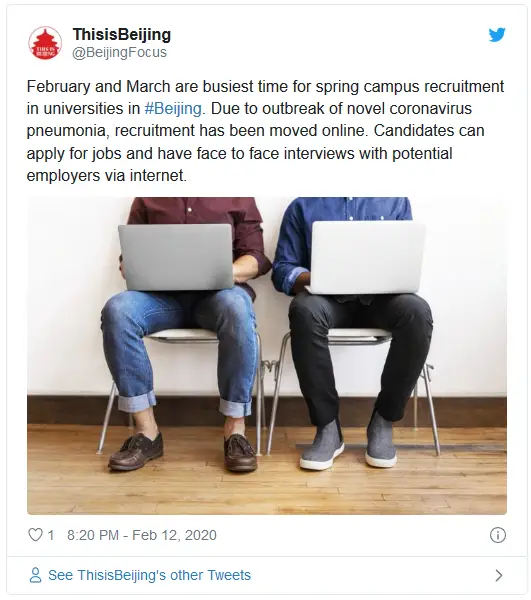 2) Job fairs are shifting online more too
3) No more hand-shaking at job interviews
4) New kind of job interviewer question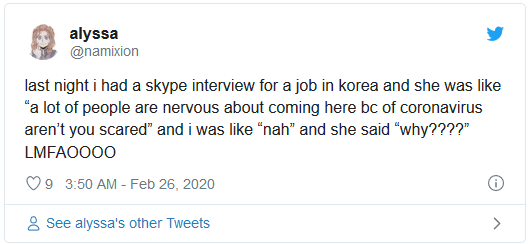 5) What to wear at a job interview now includes face masks or surgical masks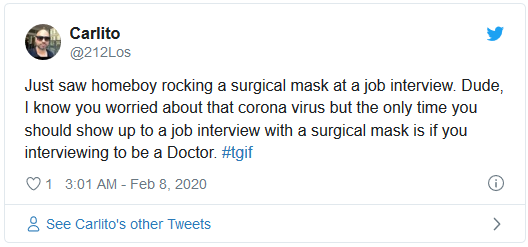 Although it's important to know how face masks actually work and how they don't:
6) Employers are switching to video interviews
Google and LinkedIn recently announced that all their interviews would be virtual for the time being, which some recruiters say is a good idea anyway.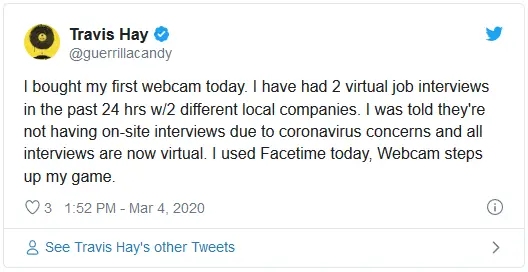 7) Job interviews are being postponed by employers

8) Job interviews are also being postponed by job seekers

9) Job interviews are being canceled
If the interview isn't rescheduled, it may just have been a recruiter lie. On the other hand, it may be because the employer's business is tanking and they no longer have the budget to hire for the position.


10) There's a surge in demand for temps
11) New kind of candidate rejection: virtual onboarding is too hard to hire you now

Thankfully, some people can still joke about all this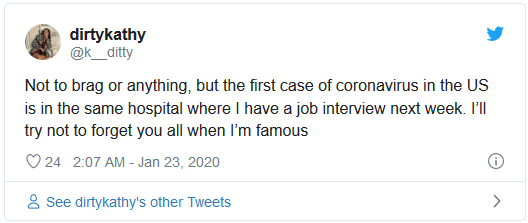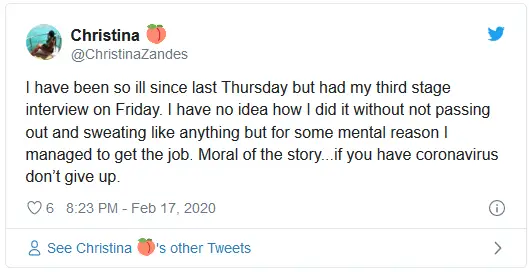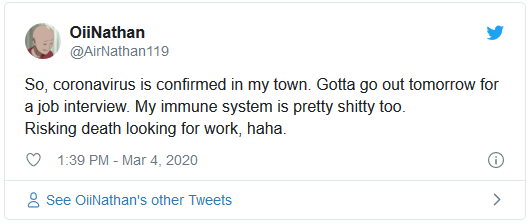 Question of the article
Has your job search been affected yet by the coronavirus outbreak? If so, how? Tell us in the comments.
What others are saying
READ NEXT: 🦺 How To Safely Job Search In Emergency Situations
Subscribe to JobMob via email and follow me on Twitter for more critical job search advice you need now.