Members of the Job Tips Newsletter are going to get a peek inside The Ultimate Twitter Job Search Guide next week.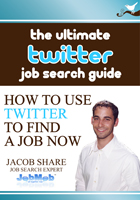 When I announced my Job Tips Newsletter and the free Ultimate Twitter Job Search Guide e-book, I mentioned that:
"Early-bird subscribers to the Job Tips Newsletter will be able to download the Guide first, one week before its official release on JobMob. There may also be some other surprises for subscribers until then."
Well, one surprise is coming next week.
This isn't the first piece of the Guide that I'll be sharing; yesterday's 375+ Twitter Feeds of Job Openings From Around the World is from the e-book's Resources section. Unlike that article, this new piece of the e-book won't be made public and appear here on JobMob.
No, if you'd like to see the upcoming sneak peek inside the Guide and all other surprises that are coming before the Guide's official release, you'll need to be an early-bird subscriber to the Job Tips Newsletter as well.
Sign Up Now to the JobMob Job Tips Newsletter

As a reminder, here are some of the benefits for subscribers to the Job Tips Newsletter:
Fresh expertise about job search success and career excellence.
The newsletter is FREE.
Free download of the first-of-its-kind Ultimate Twitter Job Search Guide e-book.
There are 3 ways to sign up to the Job Tips Newsletter
1) In the JobMob sidebar on the righthand side of the site, there is now a new area showing the Guide with a small sign-up form beneath it. Simply fill in your name, your email address and then click the button to submit the information to the site.
2) Via the small sign-up form that appears beneath this and any other blog article on JobMob. Enter your name and email address, then click the submission button.
3) Use the dedicated sign-up web page: