This has been a long time coming and I'm excited to finally be able to tell you about it.
Update November 2015: the new version of the guide can be found here:
Download The Ultimate Twitter Job Search Guide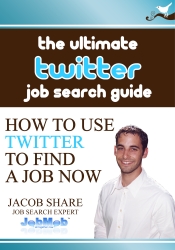 What is the JobMob Job Tips Newsletter?
The JobMob Job Tips Newsletter is my new email-based publication for bringing you expertise on job search success and career excellence.
Each edition of the newsletter will contain tips to help you find jobs faster and have a more successful career.
Initially, the newsletter will come out 1-2 times a month. Also, I will sometimes send out broadcast emails when I have something to tell you that is time-sensitive, or special reports that I've prepared just for you.
The newsletter is FREE.
Why did I create the JobMob Job Tips Newsletter?
There are a number of reasons why I decided to create the Job Tips Newsletter in addition to JobMob itself.
Email allows a more personal connection than RSS
Many JobMob subscribers follow the site via RSS. That's fine, but it prevents me from knowing who they are and makes it more difficult to build a personal relationship with them, to learn how I can help them even more.
Reach a more global audience
If you're reading this on JobMob.co.il, in all probability you are not Israeli and aren't interested in many of the articles on JobMob that are specific to finding jobs in Israel.
The vast majority of visitors to JobMob aren't Israeli. They enjoy their visit to JobMob but once they see content that isn't related to their own country, they leave the site without subscribing for JobMob updates.
The Job Tips Newsletter will let me continue giving global visitors valuable insight that will always be relevant. My hope is that they will enjoy the newsletter so much that they will reconsider becoming a regular JobMob reader as well.
Is the JobMob Job Tips Newsletter useful for JobMob subscribers?
Of course! The Job Tips Newsletter will not replace JobMob at all, the newsletter adds to JobMob.
These are some of the unique benefits for newsletter subscribers:
Fresh content – tips, advice and special reports that don't appear anywhere else on JobMob.
Wider scope – The Job Tips Newsletter will be about job search success AND career excellence.
Free access to The Ultimate Twitter Job Search Guide
What is The Ultimate Twitter Job Search Guide?
As you might have noticed, Twitter is exploding as one of the fastest growing social networks. More and more people are finding jobs on Twitter and you can too.
The Ultimate Twitter Job Search Guide is a concise report that I created to teach people how to use Twitter to find jobs effectively.
The Guide will be available in July 2009 as a free download to all subscribers of the Job Tips Newsletter.
If the Guide will only be available in July, why should you sign up now?
Early-bird subscribers to the Job Tips Newsletter will be able to download the Guide first, one week before its official release on JobMob. There may also be some other surprises for subscribers until then.
Ok, so how do you sign up for the Job Tips Newsletter?
There are 2 ways:
1) In the JobMob sidebar on the righthand side of the site, there is now a new area showing the Guide with a small sign-up form beneath it. Simply fill in your name, your email address and then click the button to submit the information to the site.
Or…
2) Use the dedicated JobMob page for The Ultimate Twitter Job Search Guide.
What do you think?
This news has been a long time in preparation and I hope you'll find the newsletter and the Guide as useful as I'm trying to make them for you. Like with JobMob, my goal is to give you as much value as possible. I'm excited about this new way of reaching out to you and I hope you are now as well.