Free tools to help the unemployed, underemployed and everyone else to package and promote themselves for hiring authorities.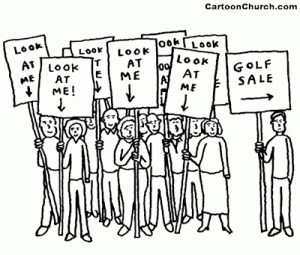 This is a guest post by Doug Caldwell. If you'd also like to guest post here on JobMob, follow these guest post guidelines.
"It ain't braggin' if you can back it up." Dizzy Dean
Job seekers often limit themselves to a profile on LinkedIn, paper business cards and a written resume which may be posted on job boards. We often hear about the biggies such as LinkedIn, Facebook, and Twitter, but there are others. Let's review others to make you stand out as distinct and different in the labor market.
Cool tools to stand out in the labor market
Resume
I have sampled several online apps seeking the best features to promote and package myself with hiring authorities. I made this screencast about 5 different online resume websites. Find what works best for you to promote yourself to get the interview.
Beside a 2-page paper resume there is VisualCV to host your resume online. My resume at VisualCV allows for easy rewrites, inserting a photograph, making links to other web pages, adding video and audio. VisualCV makes it simple to share your resume with hiring authorities using a vanity name URL.
Or use Google Docs to create and share your resume online. While not as feature rich as Microsoft Word or OpenOffice Writer, a Google document can be an option. Google Docs does allow inserting photographs and links to websites into documents. I use Google Docs for my biography with a VisualCV resume.
Online Profile
Along with my LinkedIn profile, I took advantage of creating and expanding my Google profile.
Most important to me was to control more of what Google shows to others as a job seeker. And for employers, a better chance of finding me even when they misspell my name.
If and when you create a GMail account, search on your name in Google. Note what appears at bottom of the first page. Are those the search results you want them to find?
If not, add the features and links to improve the first impression viewers get of you from Google.
Schedule
Successful job seekers, at least the ones who land sooner than later, effectively use their time. Scheduling your day and meeting with others is an important component. TimeBridge and Google Calendar can be used separately or together (Calendar requires a GMail account).
Do you recall the challenges when you were trying to schedule meetings with missed emails, voice mail not returned, day timer misplaced? And then when it was confirmed, somebody had to change the meet and you started all over again. TimeBridge allows you to share your calendar with others who want to meet with you, like a recruiter. They see when you are 'busy' or available and propose meeting dates/times that fit your schedule. I posted a TimeBridge widget on my blog, website and Google profile to make it easy to schedule a meeting with me.
Once accepted the meeting can be inserted into your calendar system; Outlook, Calendar, or Apple iCal. If the meeting has to be canceled or rescheduled, all meeting participants can be notified with one email.
Business Card
The paper card has been around a very long time and is most convenient in many situations. Especially to write a note on the card in F2F meetings. However, you are limited to about 3 1/2 by 2 inches, not much room to package and promote yourself, even at 8 point font size.
Virtual business cards can add the glamor that is missing from the paper card with embedded video, social media links, and document attachments. They can be a mini-website. I am using the FREE BusinessCard2 app to host my card. Depending on your social media footprint size you can link the card to your Facebook page, blog, website, and LinkedIn profile. The card can be sent to your contacts one at a time or as group message which they can download into their contact management system.
The next step from virtual cards sent by email will be a 'bu.mp'. I just installed the bump app on my phone, but haven't had a chance to try it with someone. When we get to meet in person, let's bu.mp.
Video
"So tell me about yourself," said the hiring authority. You have been trying very hard to communicate with your resume, answering the verbal questions from the interviewer to finally be asked that question.
Why limit yourself to just written and verbal communications? You can now add the video component to your efforts.
Sidebar: Yes, I am in favor of showing your photograph and/or video across the web. Yes, I know that hiring authorities will be prejudiced against hiring a leading-edge baby boomer-seasoned citizen-real old fogey-bald white guy. I'd rather be screened out beforehand than waste time at that kind of interview. Besides, if they discriminate on gender, race, or age what else do they discriminate on, religion?
As you network, have informational and occupational interviews, look at using Eyejot to send video emails. The FREE account let's you record a message up to one minute. You can say a lot in 60 seconds, and eliminate potential confusion with written emails. When the recipient gets the video, they can see your facial expressions, tone and volume and body language. You can create a distinct and different first-impression with the video.
If your hair and make-up stylist is not available for the video, try Google Voice. Google just made this service available for FREE with many features and benefits. You can pick a Google Voice number from their extensive list during registration or kept your existing number. I did get a unique Google Voice number to keep for life to use in the future.
3 features alone convinced me to switch to Google Voice:
Speech-to-Text transcript of call
Personalized greetings for frequent callers
Keep my current mobile number
Now I get an email when the caller leaves a message with a written transcript and the audio file. While the transcript is not perfect, it is sufficient to know who called and why. If necessary I can listen to the audio file. So when I call/text/email a reply, I know what to say and write. Saves time.
I created a default message for unknown callers on my current mobile number [+1-214-641-4084] using Google Voice. For those listed in my address book there is a personalized greeting – hi Judy or Bill or Tim or Susan – and instructions appropriate for that caller.
Google Voice does allow international calling for low-cost from either your computer or via an app on your Android-powered phone. For my international calls and many domestic calls I continue to use Skype on my computer. I especially like the FREE calls with other Skype users which can now include up to five callers in a video conference call.
One last thought on communication, your email service platform. Your email name and domain service title will be your potential employer's very first impression. Make it your best. I strongly recommend making the investment in getting a unique vanity email address (doug@dougcaldwell.net) and robust email platform. Your name is THE most important brand feature and it deserves to be noticed.
My email service is with Google which does a great job filtering out spam, improving the contact management system, user-controlled message filter process, and instant messaging with optional video. As an added service you can send updates to Twitter and Facebook from your GMail in-box.
Internet TV
"All right, Mr. DeMille, I'm ready for my close-up."
Film buffs will recognize the quote from the movie, Sunset Boulevard. You can have a close up as well on your own FREE Internet TV channel to promote yourself. With many barriers to get to meet the hiring authorities in person, why not offer an opportunity to see me on the Internet every week. (Shameless ad: watch 12:47pm central time USA Fridays)
As the station owner and host, my shows are about using social media for job search and career success. The easy part was getting a computer, web cam and a FREE account on Livestream. The hard part is creating interesting and compelling content.
Blatant Pitch: If viewers give me lots & lots of money, I can run an ad-free TV show. Otherwise you have to watch commercials from Livestream during my show. That's why it's free for you and me.
Along with my computer, I can also broadcast from my smartphone using an app from Qik. Mobile phone video can be sent to YouTube, Qik, or my Livestream account all at the same time.
Conclusion
Rarely does the best qualified candidate get hired, the job goes to the best packaged and promoted. How is your package and promotion working for you?
It's time to start bragging.
About the Author
Doug Caldwell, the 'Facilitator Extraordinaire', is a wizard at creating learning WOWs! & O*M*G* moments at dougcaldwell.net. He is a featured presenter on Web 2.0+ applications and how their use will reduce costs and improve revenues for companies. Doug hosts a weekly Internet TV show on Friday at 12:47pm central time on Social Media for Job Search & Career Success. You can reach him at doug@dougcaldwell.net or follow him on Twitter at @doug_caldwell.
This article is part of the 4th Annual JobMob Guest Blogging Contest, which was made possible thanks in large part to our Gold Sponsor, Jason Alba of JibberJobber. If you want Doug Caldwell to win, share this article with your friends.
Subscribe to JobMob via RSS or email and follow me on Twitter for more handy, free job search tools.