Latest news about the 5th Annual JobMob Guest Blogging contest.
More prizes, changes to the calendar and more.
Thank you to our new Bronze Sponsor: Joshua Waldman of CareerEnlightenment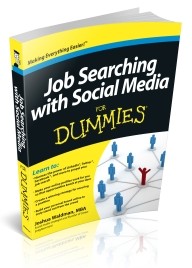 Joshua Waldman helps frustrated job seekers leverage social media to find work FAST! He is the founder of CareerEnlightenment.com and the author of the new book, Job Searching with Social Media for Dummies. Sign-up for his newsletter today and get access to his exclusive training videos for free.
10 randomly-chosen contestants, that haven't won any other contest prize, will each win a free copy of Job Searching with Social Media for Dummies.
If you or your company would also like to be a Bronze sponsor, you still can.
Updated contest calendar
The new calendar is:
August 1st 2011 – first guest post appears on JobMob, early bird prize winners announced
September 12th 2011 – the last possible day that a guest post will appear on JobMob, and the Contest Rankings page will no longer be updated until the end of the contest.
September 21st 2011 – official announcement of the grand prize winners and most shared article prize winners
Only 1 spot left
As you can see with the massive countdown number in the JobMob sidebar, there is only 1 spot remaining of the 25 initially available.
Get your entry in while you still can!
Or just click through to see the ever longer, long prize list.
Subscribe to JobMob via RSS or email and follow me on Twitter for more massive contests that also help your job search.