Need to find a new job but you're stuck at home in coronavirus quarantine? There are plenty of effective things you can do while other people are in the same situation.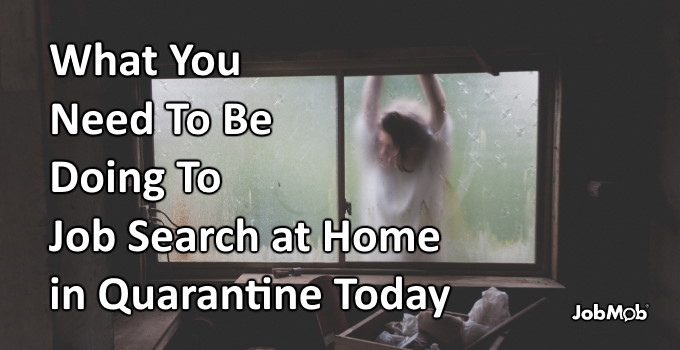 On Monday, March 23rd, 2020, Hannah Morgan of CareerSherpa.net and I hosted an open-ended Zoom online video chat for job seekers.
With the coronavirus spreading around the world and many people forced to work from home if they haven't already been laid off, the topic of discussion quickly turned to ways that job seekers can use this crisis as an opportunity.
Watch the chat recording now. After the initial chitchat, we get into the discussion at 4:34 of the clip:
5 Ways To Job Search From Home While In Coronavirus Quarantine
Below are highlights of quotes of the main insights given in the chat, including from Melvin Hurley, CEO of Careers-Action CIO in the UK, and Todd Porter, President / Founder / Recruiter at H.T. PROF Executive Search in America.
1) Keep looking, there are still companies hiring
Hannah: "there's a short-term plan and a long-term plan… the short-term is about what you can do today to start generating some money."
Melvin: "Over here, there are supermarkets that offer home delivery that have been inundated and thousands of jobs are being created for the duration of the crisis, and I'm sure that volunteering and other short-term, paid employment opportunities are going to come up around the world ."
Jacob: "Amazon is hiring 100,000 people… the big companies that deliver are doing massive hiring surges… social media is a great place to find out where those jobs are."
Hannah: "As much as we say companies are frightened and they're not sure what's happening, they're still interviewing candidates… I'm truly hoping that we can find a way to make this different than the Great Recession of 2009-11…. companies are really embracing the idea behind remote workers and that they can find a way to make that work."
Hannah: "One of LinkedIn's editors [Jacob: Katie Carroll] is sharing a running list of all the companies who are hiring… we do know that companies are hiring, across industries and in different areas… it's mostly US, but it may give you some ideas for whatever country or area you're in as well. Use it as an idea generator "if this type of company, what other companies are like that near me?"
2) Part-time work can lead to full-time work
Jacob: "A company that may be laying off a certain type of worker… they still will need that kind of work to be done… companies are not shutting down right away… if you can place yourself as someone who can help smooth the blow, that will make you appealing and it could be in a part-time role for now, and it could become a full-time later if things go well."
Melvin: "Look back at what you have done earlier in your career to see what skills & expertise you can bring to the table in the current situation. For example, engineers might be able to go back to manufacturing where in the UK there's certainly the call for people with experience to go and create manufacturing of things like ventilators and protective equipment.
Past skills can become very, very useful, and it really is a case of needing to look in those segments of the market where people are manufacturing or distributing services and products that others need and then approaching them. It may be that you're going to volunteer in the short-term but that's going stand in really good stead once this crisis is over… it could become a career path in the future for you… it's really important to stay positive."
Jacob: "Try to understand where the demand has shifted right now, and for the short-term, and see how you can meet that demand."
3) Remote working experience is valuable to employers
Jacob: "My first career job was working for Amazon in France, while I was working with people in the States, Germany and the UK… someone who has that kind of experience can reach out to companies saying "I know how to remote work, I have experience remote working, so bringing me up to speed inside will take less [time to be productive] and I may even be able to help you convert over some of your other employees to remote working."
4) It's a great time to build relationships
Jacob: "Many people hopefully are stuck at home and they should be there, and that makes them more available than they usually are, and so it's a good time to reach out to people, whether it's through your own contacts, people that you haven't been in touch with for a few years and want to warm up that connection again, or if you're researching a company to apply to potentially, look for past employees of that company and reach out to them through LinkedIn and hopefully meet up on a Zoom call and ask them what it was like to work for that company. Past employees will tend to be more free with what they're willing to say as opposed to someone who is currently employed."
Hannah: "Even employees might feel more comfortable making time and talking about their people and their company because they don't have their boss looking over their shoulder… they're now working from home, there's a little more flexibility in their schedule."
Todd: "Don't ask for a job. Reach out to individuals if they're at companies you want to get into, or investigate or whatever, reach out to somebody in one of those companies on LinkedIn, ask to connect with them: "I'm trying to get information. How are you guys doing? This is a terrible time. We're all in this boat together. What do you see as coming out of this? Do you think you guys are going to be needing people still? Is there somebody I should talk to?" If they're hiring, they'll tell you…have conversations so that when this thing turns, then hopefully we can then move it to a conversation of needing someone… Communicate, and talk to as many people and connect to as many people on LinkedIn as possible."
Melvin: "This is a great opportunity to build relationships. If you look at the stats on the number of vacancies that exist in the market, 80% of them never get advertised, they're built through relationships because the hiring cost is virtually $0 and people like to hire people, not CVs."
Jacob: "We usually say when reaching out to someone, especially someone you've never met before… if there's something that you have in common with them, it does increase the chance they'll respond positively to whatever you're asking. Many of us are stuck in this situation that's affecting the whole world at the same time, and it's still new… if you mention "hey, we're both stuck in quarantine (or self-isolation)…" it can be used as a point in common."
Melvin: "Give, not ask. Givers gain, and if you can offer somebody some advice/help in some form, then they're more likely to respond to you."
Hannah: "The name of the game for the next few weeks, months, whatever, is nurture and build new relationships because that's something that we can all do no matter what situation we're in…
Not everybody lives on LinkedIn. As a matter of fact, most people don't check LinkedIn all that often… if you're working, you're working your job, you're not living in LinkedIn… But everybody uses their email, everybody's checking that… If you're going to have a conversation with somebody you're already connected with,  jump over to email… because then your message has a better chance of being seen and responded to."
Todd: "On LinkedIn… send an invitation to connect, with a message through LinkedIn. It's funny, I'll have more people accent the invitation than return an InMail. But once they accept the invitation, now typically you can see their contact information, they're then more likely to accept an InMail… every one I send is a 300-character, personalized [message] (half of it may be canned)… grow your network."
5. Launch online groups to help others suffering right now
Melvin: "Somebody within my church has set up a new Facebook group for local small businesses in Milton Keynes [where Melvin is based], and the idea is that people will go onto this group and share information about where people need help, where they need advice, where small businesses are offering a service that they had to suspend but they could do something else. This has started to take off. It's already got over 100 members and jobs are already being advertised there. It's a very simple thing to set up the group and then to promote it through your local networking contacts and encourage them to engage."
Jacob: "This reminds me of someone I met in Jerusalem years ago. Similarly, they're running a group for small businesses and because they launched the group, everything goes through them. And so all the job offers, they get them first, they can decide what they want to do with them. They know which businesses need what, they have a complete finger on the pulse of that member community.
It wouldn't take much to go on LinkedIn right now, or Facebook right now, and open up a "(Whereever you are) Coronavirus-Helping Businesses Group." It doesn't have to be a long-term, permanent group, it can just be a short-term thing to help people in need or businesses who are in need, and because you started that group – it could be for a specific industry of business, if it's your industry – it puts you in the power position of being that networker."
Melvin: "And people get to know you, and know you for something good."
Question of the article
To you, what's the most frustrating thing about job search at home while in quarantine? Tell us in the comments.
READ NEXT: 😷 15 Ideas For Job Seekers To Do While Lonely in Coronavirus Quarantine
Subscribe to JobMob via email and follow me on Twitter for more ideas on finding jobs while stuck at home.