JobMob is sponsoring the first Israel Multilingual Job Fair.

Recruiters and HR experts: Mention coupon code JOBMOB for a 20% discount on booths at the fair.
I've wanted to sponsor a job fair for a while, so I'm excited that JobMob is going to be a part of this.
Who
The fair's slogan is "Find a job in own your language."
The companies at the fair will be looking to hire job seekers with language skills in the following languages *among others*:
English
French
Russian
German
Italian
Spanish
Chinese
There's a pretty wide range of openings to be filled including "Engineers, Lawyers, Accountants, Coders, QA Engineers, Marketing, Sales, Hospitality, Real Estate Agents, Administrators, Writers, Customer Service reps, and more."
Free bonus: Download JobMob's Job Fair Success Guide with over 60 job fair tips.
What
According to the official announcement:
Come meet the leading companies on the market, enjoy our fascinating lectures from different speakers, and connect with HR representatives from all of the hottest international companies on the market.

Make yourself standout and find a job.
Some of the companies hiring at the fair:
Payoneer
Toyga
MyHeritage
SimilarWeb
Rushmore Marketing
Eldan
Memo Global
Wix
Fattal Hotels
JMRB MEDIA
dapulse
RCS
InnoData
In parallel to the company booths, there will be speakers in the lecture hall:
09:15 – 09:30 Opening
09:30 – 10:00 Lecture in English, Professor Jonathan Smilansky, "Finding career opportunities in Israel"
10:00 – 10:45 Amutot Panel discussion: "Building your Career in Israel"
10:45 – 11:00 Lecture in Hebrew by Maof Group, "Employment In Israel"
11:00 – 11:20 Lecture in English, Yulia Reinshmidt, "LinkedIn workshop – Effective tools to manage your career"
11:30 – 12:00 Lecture in Russian, Ministry of Aliyah and Immigrant Absorption, topic TBA
12:00 – 12:30 Lecture in Spanish, topic TBA
12:30 – 13:00 Lecture by MyHeritage, topic TBA
Check back here closer to the fair for an updated schedule.
Where
Tel Aviv Cinematheque
Shprintsak St 2, Tel Aviv-Yafo
Tel: 03-606-0800
Bus:
63 from Tel Aviv Hashalom train station (Azrieli mall)
72, 9, 89 from Savidor/Mercaz train station
5, 26, 70 from Tel Aviv Central Bus Station
Full details on how to get there, including more buses & parking (Hebrew)
Pricing
Job seekers
Early bird rate (before January 17th): NIS 23.90
Regular rate: NIS 59.75
Recruiters and HR experts
To exhibit at the fair, contact Segev Shoval. Mention coupon code JOBMOB for a 20% discount on booths.
When
Tuesday, January 26th, 2016 from 9am – 3pm
Why
Free Bonus
JobMob's Job Fair Success Guide explains why you should go to the fair with over 60 tips.
This free download contains:
25 Reasons Job Fairs Are Not a Waste of Time
35+ Job Fair Success Do's and Don'ts
Click the image below to get access to
JobMob's Job Fair Success Guide
: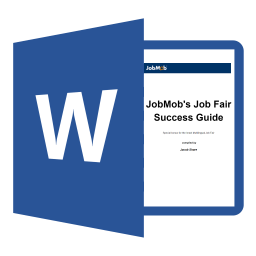 JobMob Insiders can get this free bonus and other exclusive content in the JobMob Insider Bonuses area. Join now, it's free!
Subscribe to JobMob via email and follow me on Twitter for job fairs you just might want to go to.