Your tone of voice is telling your job interviewer more than you think.
This is a guest post by Dr. Michael Britt.
Photo Credit: Tess Watson
You're about to go for a job interview.  So let me guess, you:
Spiff up the resume
Buy a good suit/dress
Rehearse your answer to "What are your strengths and weaknesses?"
Recall what your mother told you: "Sit up straight", and what your father told you: "Give 'em a strong handshake."
Ok, not bad.  All this should help you present a good impression.  But have you thought about what your voice says about you?
Free bonus: The One Job Interview Resource You'll Ever Need is a handy reference to help you prepare for any kind of job interview. Download it free now
Listen to what your voice is saying
Interviewers pay attention to body language (eye contact, smiling, etc.).  Sometimes I wonder if job seekers realize this because I've interviewed more than one person who wore a drab "this is my interview suit" suit and sat back in the chair like it was getting late for his afternoon nap and when was this going to be over?
So when you rehearse things over in your head or when you talk through your answers in the car, consider what psychologists are discovering about what your voice says about you:
1) The pitch of your voice
There's not much you can do about how high or low your voice is, but you might as well know that for men, lower voices are seen as more authoritative (wouldn't we all like to sound like James Earl Jones after all?) and people with voices like this are seen as more appropriate for managerial jobs.
For women, interestingly, a low voice or a very high voice is rated poorly.  Low voice = not feminine, high voice = not mature. Geez! Ya can't win!
2) The rhythm of your voice
Has your voice changed? Don't speak in a monotone voice.  Remember how your college professor put you to sleep with a boring lecture?  Put some life into your voice during an interview.  Who wants to have a boring co-worker?  Show a little personality through your voice.
3) How fast you speak
Although you don't want to come across as a fast-talking, Slick Willie-type salesperson, don't talk slowly.  A good pace is essential for a good impression.
don't talk slowly. A good pace is essential for a good impression
Click To Tweet
4) Don't pause too often
While it's good – especially if you're stuck for an answer – to pause and say "that's a good question", long or frequent pauses don't send a good impression.  Your preparation regarding those annoying questions is important.
5) Consider how loudly you speak
I'm talking about watching out for sudden changes in how loudly you sound.  Too much unexpected or surprising change in how loud you are can lead to a sense that you just aren't stable and maybe not right for that job that requires a lot of responsibility.
Conclusion
Pay attention to what your voice is doing.
The voice characteristics above were studied with interviews for managerial jobs in mind.  If you're going for that great acting job then you might violate all of the guidelines above.  Other creative types might also violate these guidelines.  In either case, take a look at your voice language as well as your body language.
And remember to sit up straight and give 'em a good handshake too.
Question of the article
Do you do anything special to prepare your voice for job interviews? Tell us in the comments.
Free Bonus
If you want a handy job interview resource that you can keep on your smartphone or print out for easy reference, I've got a special bonus for you.
This free download contains:
165 positive personality adjectives to describe yourself
444 of the most popular job interviewer questions to prepare yourself with
175 questions that you can ask in job interviews to make a good impression and learn about your future employer
Click the image below to get access to
The One Job Interview Resource You'll Ever Need
: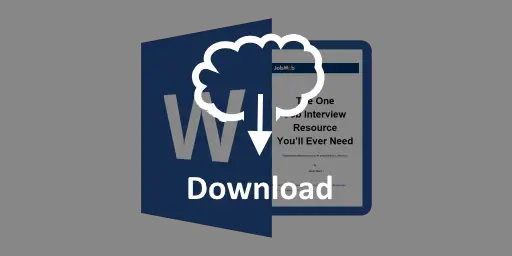 JobMob Insiders can get this free bonus and other exclusive content in the JobMob Insider Bonuses area. Join now, it's free!
Super bonus
Celebrity voice coach Roger Love explains how to improve your (interview) tone of voice
More reading
About the author

Michael Britt, Ph.D., is the host of The Psych Files podcast and blog.  The Psych Files is for anyone interested in what makes us "tick".  Each week he shows how ideas from psychology can be seen in everyday life.  Michael taught psychology at Marist College and is currently an eLearning specialist for Pearson Education.  You can subscribe to The Psych Files through iTunes.
This article was part of the 2008 JobMob Guest Blogging Contest.
Is your message getting across? Subscribe to JobMob via RSS or email and follow me on Twitter to learn how to tweak the skills that are critical to your job search success.