Sometimes, those bad things actually happen.

This is a guest post by Katherine Burik. If you'd also like to guest post here on JobMob, follow these guest post guidelines.
Walking through the park one evening when from behind the bushes a hand reaches out and grabs your sweetie…
With a blood curdling scream, she is GONE!!!
Scary… Makes the hair on the back of your neck stand up a little doesn't it?
Why is something scary anyway?
Much of it is in our heads.
It can be paralyzing to ruminate on the bad things that can happen. But bad things really can happen when disruptive, unexpected situations get out of control.
Job interviews can be scary too for the same reasons. Surprisingly, interviewing is about the same level of scary for candidates and for the company. Each party imagines all sorts of bad outcomes.
Sometimes, those bad things actually happen.
Free bonus: The One Job Interview Resource You'll Ever Need is a handy reference to help you prepare for any kind of job interview. Download it free now
3 ways interviewing can be scary for candidates and for the company
1) It is disruptive
For the company, a vacancy means extra work with little time to recruit. It is hard to overlook the short term workload to see the long term advantages to recruiting now. It is a question of time and workload.
For the candidate, finding a job means changing from the known job to an unknown. The devil you know and all that. Will the people be nice? Is this company in sound financial shape? Will I like the work? Will the change be worth the hassle?
2) There can be financial risk
Company doesn't want to make a mistake – can be expensive to hire then terminate someone in a short time – loss of productivity and expense only to have to recruit again.
Candidate is either changing jobs for a promotion which has a financial risk or out of work changing jobs, which has its own financial risk to family. A lot is riding on every interview.
3) Finally, there's the unknown: neither side really knows how to do it
Most hiring managers have not been trained. Have you?
Most candidates have not been trained either. Have you?
An interview is a terrible thing to waste. It is a shame for either party to go into the recruiting process unprepared and paralyzed with fear.
The solution?
Just like the Girl Scouts, we want to always be prepared. Everyone needs a Job Search Marketing Plan! The level of preparation is similar for companies and candidates. A great deal of work needs to go into the front end to make the process smooth and increase the chances for success. This is the 80/20 rule.
3 ways both parties can prepare
Answer these questions as you plan.
1) Know what you want
Company – what are the 2 to 3 critical success factors for this job? How will you know if the new incumbent is successful? It is more than the job description.
Candidate – what is your ultimate career goal? No one will figure this out for you. You must be specific.
2) Know how to express what you want
Company – What are the KSAs that are critical to achieving the 2 to 3 critical success factors? The Knowledge, Skills, and Abilities are hidden in the job description usually. Pull them out and be specific.
Candidate – What stories demonstrate you have the KSAs to do the job? Know how to tell your story in the context of the competencies you think are necessary to do the job successfully.
3) Create a plan
Company – Where do you want to look for candidates; how to build relationships with talent in advance? What questions should you ask each candidate to learn whether the candidate possesses the KSAs to do the job successfully?
Put the questions in writing.
Who will be on your interviewing team? Prepare them to ask questions that help you discover if the candidate can achieve the 2 to 3 critical success factors.
Candidate – Where do you want to look for contacts? How will you build relationships with target contacts in advance? How will you answer questions related to the KSAs that you think are important to the job?
Prepare written answers to the questions you think might get asked including answers to the 30 FAQs.
In short-
Avoid the nightmare by being prepared. Some advance preparation will help you sleep better and take you closer to your goals. After all, an interview is a terrible thing to waste!
Free Bonus
If you want a handy job interview resource that you can keep on your smartphone or print out for easy reference, I've got a special bonus for you.
This free download contains:
165 positive personality adjectives to describe yourself
444 of the most popular job interviewer questions to prepare yourself with
175 questions that you can ask in job interviews to make a good impression and learn about your future employer
Click the image below to get access to
The One Job Interview Resource You'll Ever Need
: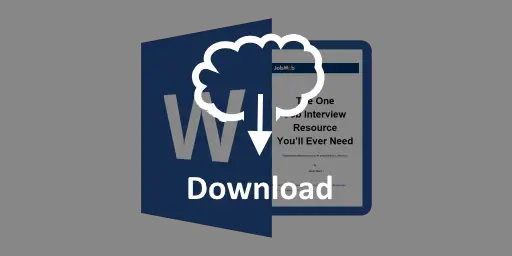 JobMob Insiders can get this free bonus and other exclusive content in the JobMob Insider Bonuses area. Join now, it's free!
About the Author
Katherine Burik, a partner in The Interview Doctor, Inc., coaches people preparing for interviews and companies improving their interviewing skills. She blogs regulary on job search at jobinterviewcoaching.org. She outlines her unique approach to job search in the three book series, The Job Seeker Manifesto: The Job Search Marketing Plan, Resumes 3.0: Tools to Find Your Next Job, and the latest book, "Tell Me About Yourself: Secrets to Strategic Job Interviews" available in September 2014. Connect with Katherine on LinkedIn and follow her on Twitter @interviewdoctor.
This article is part of the The $11K 8th Annual JobMob Guest Blogging Contest.
If you want Katherine Burik to win, share this article with your friends.
READ NEXT: How To Cope With A Bad Job Interviewer
Subscribe to JobMob via RSS or email and follow Jacob Share on Twitter to keep away from other frightening job search situations.