Fun suggestions to make your resume standout.
This is a guest post by Yehoshua Paul. If you'd also like to guest post here on JobMob, follow these guest post guidelines.
So you've finished polishing your resume after proofing it 5 gazillion times. You've located and exterminated all those pesky spelling mistakes, corrected any obscure grammatical errors (wait, you can't split an infinitive?), and carefully tailored the content that every single detail matches the appropriate requirement on the job ad.
Now after sending it out to a dozen or so friends to proofread, and waiting for their response – why not use the time to have some fun with it?
Here's five ways to goof off a little with your resume – and if you make something really fun, you might have created something that can be used to impress a future employer.
Write it in Star Wars crawl
If you want to give your resume some force then "use the Force, Luke!" You can go to the starwars.com website to create your own crawl, and send it to friends and prospective employers. However, beware the dark side! This crawl is addictive and you may find yourself needing to remind yourself to eat, drink, sleep, and shower for that job interview you missed last week while playing with the crawl creator.
Incorporate Shakespearian dialogue
Prospective employer: 'What services canst thou do?'
You: 'I can keep honest counsel, ride, run, mar a curious tale in telling it, and deliver a plain message bluntly: that which ordinary men are fit for, I am qualified in; and the best of me is diligence.'" (Adapted from the The Tragedy of King Lear)
You may not be able to ride or run, but delivering a plain message bluntly is a forgotten art, and this is an opportunity to show off your education and creativity. Extra points will go to the person who submits his resume in 14 lines using iambic pentameter.
Make it into a game of Jeopardy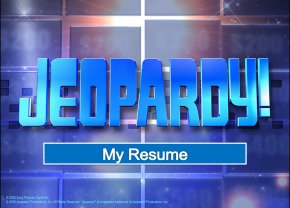 With Alex Trebek!
Or if he is unavailable, download a Jeopardy template for PowerPoint, and phrase your job experience in the form of an answer.
Create five categories, such as: experience, education, skills, accomplishments, and most recent place of work. Have the answers revolve around the same question: "who is <insert your name here>?
Using the hyperlinks and animations, you should be able to come up with something pretty impressive.
Create a video
Always a classic. Look at what Barney Stinson, from How I met Your Mother, does:
It is not very informative, but it is entertaining enough to keep Barney employed and in expensive suits – and entertainment is the most important element of a successful video. The information is also important, but you need to make sure that your viewers don't fall asleep halfway through. So take a lesson from Barney and keep it awesome!
There are many creative tools you can use to create a fun video about yourself. Some are free, like Windows Movie Maker, others are pricier, but have value on the job market, like Camtasia. But video making is definitely a skill with high demand in today's market.
Create a Chocolate frog card
Unless you're a Hufflepuff who is still in the closet, or a Slytherin looking to apply for a job with high security clearance, this one is for all you Hogwart's alumni looking to impress your potential Muggle employers. Since magic is banned, I would probably recommend using PowerPoint.
Create a short video of yourself moving around with various poses and insert it into the first side, and have it repeat until the next click. Clicking will switch to the next slide, where you can write a short card about yourself, education, experience, and contribution to the wizarding world at large.
These are more than just fun ways to play around with your resumes. There are many potential employers who are looking for the candidate who can stand out from the crowd, and this involves applying some creativity, and sending something out in addition to the resume. None of these ideas can replace the need to send out a well written resume, but they can definitely improve your chances by showing that you are more than some nicely written words on a piece of paper.
Think you have a fun way to play with your resume? Leave a comment, and let the readers know what you think.
About the Author

Between the summers of 2009-2010, Yehoshua Paul worked in 5 different high-tech companies as a technical writer and translator, both freelance and employed, part time and full time – with the occasional project on the side. Since then he has become a lead technical writer at Logic, one of Israel's larger security companies. When he is not busy thinking of creative ways to redesign his resume, he enjoys engaging in professional discussions on the Techshoret and TechWhirl e-mail lists, learning new skills on
Lynda.com
, and guest blogging to his heart's content. He is now happily married to Tammy Paul, a recruitment consultant working at Marksman International Personnel. This is Yehoshua's third year to participate in the JobMob annual guest blogging contest, hopefully this time for the win. His previous entries include:
18 Tips that Helped Me Find Work this Year
and
How to Date You Way to a Job
This article is part of the Over $6000 in Prizes: It's The 6th Annual JobMob Guest Blogging Contest, which was made possible thanks in large part to our sponsors:
| | |
| --- | --- |
| | WebHostingBuzz is a reliable web hosting company with the servers hosted at multiple US and Europe locations and over 30,000 happy customers worldwide. |
If you want Yehoshua Paul to win, share this article with your friends.
If you liked this article, you'll also enjoy The Secret "So What?" Method To Resume Writing Success.
Subscribe to JobMob via RSS or email and follow me on Twitter for more outstanding resume inspiration.