How do Twitter power users get thousands of people following them?
Photo Credit:  Sue Waters
I asked a long list of popular experts for the secrets of their Twitter success.
Here are their tips and insight to gaining so many followers. There are also many more ideas in the comments below.
Enjoy!
Download The Ultimate Twitter Job Search Guide
Lindsay Olson, @PRjobs: Share information that is relevant and will interest your target audience. A good mix is 80% on topic / 20% personal.
Robert Scoble, @Scobleizer: Make every tweet magic!
Dan Schawbel, @danschawbel: Poll your audience. I do "Twitter Poll: How much do you love Jacob Share's blog posts on Personal Branding Blog?" and get answers from many people, which builds my own Twitter readership even more.
Alex Shalman, @AlexShalman: It's a numbers game. Follow many people you find interesting, and chances are that many of them will follow you back.
Tom Raftery, @TomRaftery: #1 tip? Tweet interesting stuff! #2 tip converse
Heather Huhman, @heatherhuhman: Be relevant to your followers and give, give, give. I've grown from less than 200 followers to nearly 1,200 in the last month doing this.
Laurie Ruettimann, @lruettimann: I think people follow me because of my blog. Fresh content on the blog, fresh contact on Twitter, but the two are connected.
Michelle Lentz, @writetechnology:  

Don't be afraid to join in the conversation.
You only get out of Twitter what you put into it. No one will follow you if they don't know you're there, so chime into conversations using the @reply feature. Once people know you're there, and that you are insightful or funny or worth following in some way, the followers will come.
I see so many people try Twitter, follow people, and then sit back and wait. Those are the folks who "quit" Twitter and don't get it. Without participating, there is no conversation. And the tool, well, it just facilitates – amplifies – the conversation if you use it correctly.

Peter Shankman, @skydiver: Relevance, brevity, and knowing when NOT to tweet.
Kevin Grandia, @kgrandia: My best tip would be to regularly re-tweet articles, blog posts and other links that people send you that you find to be genuinely interesting. It's good karma that will come back to you as you build a reputation as someone who is willing to pass on information from one twitter network to another. This type of behavior also has a multiplier effect in that if a link is re-tweeted enough times it is potentially exposed to thousands of people across various networks on Twitter, which is also very appreciated. A re-tweet reputation is a long term strategy for building a nice steady stream of followers over time. And, of course, a group of followers more inclined to re-tweet your links.
Dillon Burroughs, @dillonburroughs: Join SocialToo.com. It has over 6000 people on it. Many will auto-follow you back. I was able to add over a thousand people with this method. Of course, I follow each person back too so we help each other out.
Michael Gartenberg, @gartenberg:  

Despite Twitter's "what are you doing?" question, most people aren't that interested in the mundane.
Share information. Post links to what you're reading or things you've written. Add some commentary and insight as to what's being said. Ask good questions and talk with those who answer you.
Engage others in dialogue. Send @messages to other users who may not be following you yet. Their replies will be seen by their followers who might notice you as well.
Who you follow is still more important than the number of people following you.

Rick Abbott, @TheDigitalLife: "Massively engaging every possible user, fresh fun content that is retweetable, lots of humor!"
Dave Saunders, @madmain: Be yourself and be funny. People like people who make them laugh, so I will see a trending comment and then make a snarky remark, then watch as it gets re-posted and people want to connect. Last night, I heard about the Christian Bale tape, heard it and saw that everyone on Twitter was talking about it. I posted this and wham, 50 followers in 20 minutes. A few days after posting Top 10 Really, really bad Realtor Headshots, I increased follower count by over 500.
Ben Yoskovitz, @byosko: Have a strong blog. Focus on a niche. Follow smart people. Follow A-listers. Tweet valuable resources.
Kirsten Wright, @kirstenwright: Be honest and compelling. The more that you are yourself and participate in the twittersphere, the more people will want to talk with you. Get involved with #followfriday, attend local tweetups, find ways to combine twitter with all your social media and your followers will grow.
Charles J. Orlando, @charlesjorlando:  

Don't go for quantity… know who follows you (check them out before you follow them back… and respond AFTER you've seen their tweets and know something about them)
DO NOT USE auto-followers/auto-replies (This is SOCIAL NETWORKING, you know?)
Contribute. Don't use ONLY as a mechanism to publicize your services/blog posts… and try to stay away from tweets like "Just got up… brushing my teeth now", because no one really cares about that. Engage people about you, yes… but also about the world around us.

Meryl K. Evans, @merylkevans: Interact with a diversity of twitterers by providing witty, honest and informative tweets and linking to interesting content that's not your own. Follow the right people, not just anyone who breathes on twitter. Don't make it about building up followees. It means genuinely taking advantage of twitter. Participate in twitter chats like #journchat.
Mia Chambers, @MiaChambers:  

Be real; don't JUST talk shop. Dare to risk saying what you feel.
Engage others by responding to their Tweets. Make it about other people, not just about you.
Provide links that you know your followers will value. Your tweets will be re-tweeted and you'll pick up followers virally (Sounds nasty!).

Ari Herzog, @ariherzog: provide value. If you're not providing value, then why would someone follow you? You can see a recent blog post of mine referencing an academic study on this.
Daniel Flahiff, @bigfigdesign:  

Pimp your Profile – post an 'I'm nice' picture, and a blurb that's friendly and mentions 'sharing'
Post things you can 'share'
Go to TwitterGrader and follow the leaders in your industry.
Don't forget to ReTweet often

Drew Gneiser, @axiompr: Good content paired with patience.
Cheryl Harrison, @cherylharrison:  

Don't follow more than 300 people than follow you at any given point. People take the followers/following ratio very seriously on Twitter – no one wants to follow someone who only looks like they are trying to attract a ton of followers.
Find 5-10 new people a day to follow based on similar interests or location. Use Twellow to find these people. Also, register your Twitter account on Twellow to select 13 categories that you fit into so people can find you.
Join some Twitter groups that fit your interests so that people with similar interests can easily find you through these groups.

Marc A. Pitman, @marcapitman: Be interesting. The more interesting and informative your tweets are, the more likely they are to get retweeted to other people's followers.
Holly Homer, @Texasholly:  

Find an online group that you would like to be a part of that also has a twitter group. For me that started with Twittermoms and branched out into #gno. I was one of the first that regularly "attended" #gno and got a lot of solid follows from that group. They run a twitter link list prior to each Tuesday evening event @ http://mommygossip-gno.blogspot.com/.
Tweet @ others on a regular basis. These tweets show up to that person's followers and often those followers will be interested in what you have to say.
Regularly tweeting things that are funny and non-controversial.
Follow others.
Once you have some followers, getting listed on an online special interest list will help get you to the next level. That happened for me when I was listed in the top 50 on TCOT.

Melissa Cassera, @casseracomm: Work on branding your Twitter page – a page with personality lets followers make a stronger connection to you, almost as if they are meeting you in person.
Jon Berry, @jonberry:  

Be honest and transparent (i.e. be yourself 100%, DO NOT try to impress)
Link out to additional information about what you are tweeting about, making your tweets more valuable
Link using a trackable URL shortening service (I use http://tr.im which allows me to track click-thru's)
Re-tweet good and useful information and always give credit to @YourSource
Follow like-minded people with common interests (which will get you re-tweeted)
Allow your tweets to update your status on various social networks (MySpace, Facebook, etc.) for this I use http://ping.fm

Matthew Ebel, @matthewebel: What I've been doing to gain not just followers but fans and email signups is simple: reply to people talking about your subjects. My music sounds like Ben Folds, Elton John, and Billy Joel. So I've set up three Twitter Searches in Tweetdeck for those specific names. Whenever someone tweets about Ben Folds (and I've got something worth responding with), I reply to them. More often than not they'll follow me back and maybe, just maybe, we'll have a meaningful conversation too!
Tiffany L Berryman, @tiffy643: Bottom line is that to be actively followed, you must actively participate. The sharing of information sparks conversations but unless you are contributing to those conversations- no one will pay attention.
Julie Gallaher, @juliemarg: Actively look for ways to connect with your current followers. Reply & Retweet their tweets, comment on & Stumble their blog posts. etc. The stronger your connection to your current followers, the more likely they are to recommend you to others.
Lani Rosales, @LaniAR:  

Be a connector and always look for ways to be of value to your network. Help people find jobs, find good restaurants, good copy writers, good stylists and as you become a resource, people look to you and tell others to look to you as well.
Pretend you're walking around with a cocktail in your hand. Sure, you have a business card in your pocket, but let's talk about your golf game and your favorite shoes first.
Introduce new friends to old friends and watch your network grow exponentially.
Be timely. There is nothing worse than a week between direct messages and there is nothing more sinful than not following someone in return in a timely manner. Twitter is the fastest moving network online and if you can't operate quickly, you could offend more than you may reach.
Use your Twitter handle on your business cards and email signature (like mine below), in blog footers and in print media. For other twits, they'll instantly connect and for those who don't know about Twitter, it's a great conversation starter!

Derrick Hayes, @Encouragement4u: I'm still learning how to Twitter. The first thing I did was to just start following people. After that I learned to search for keywords and find people in my industry. What has allowed to be unique on Twitter is where I offer a free Derricknym. Anyone who Twitters me their first name will receive a positive message in return.
Lisa Martin, @blm03: Be authentic. Don't try to hard. I have found that as long as you treat twitter as a conversation, it is not hard to get followers. Join in conversations, don't just have all of your updates be links to your blog or website.
Julie Maloney, @Momspective: The key to getting a lot of Twitter followers is moderation. I don't auto-follow people, but I do follow everyone who follows me and I send them a quick Direct Message. I typically say, "Thanks for following me, I'll follow you back!" and I always reply to any direct messages people send unless it's obvious SPAM.Don't try to sell anything to anyone and if you're promoting something, don't overdo it. No one wants to log on to their page and see 15 'Tweets' in a row by the same guy. If I see multiple tweets, I'll stop following that person.You'll also want to watch out for people who follow you only to have you follow them back and then they unfollow you. There are people who just want to be followed but not return the favor, so signing up with a social mediating site like Socialtoo.com is handy for sending you updates on your Follow/unfollow status.
Lyn Mettler, @WebPRGirl: Participate in a Twitter party! You'll make lots of new friends, get lots of new followers and have fun to boot!
Lisa Dilg, @pprlisa: Find someone you respect in whatever market you are in/interests you have, someone you think is already "doing it right" and then look at who is following them. Check out some of these followers, follow those you find relevant (not hundreds at a time!) and then engage them in the public timeline – NOT through DM. Either comment on something they've recently said, or something you've seen interesting about them in their bio or on a site they link to from their page. Also effective is to re-tweet something interesting they've said or answer a question they have asked. This is time consuming, but this is a more effective way to not only get follow backs, but to start meaningful dialogue with people who could become valuable to your work/life. In addition, using sites like Twitter Grader and Twellow can help you find people to follow in your area, or in your market or an area of interest that you have. Then follow the same advice as above.
Allison Nazarian, @AllisonNazarian: It's not enough to say you are "real." Be open about your faults, mistakes, accidental discoveries and what I like to call 'DUH!' moments. I have found that when we are really real, flaws and all, then the response and ultimately the connection you make with others is amazing.
Greg Cangialosi, @gregcangialosi: Be active and engaging – don't be shy! Talk to others and share content worth sharing.
Aruni Gunasegaram, @aruni:  

Get your panel idea selected for SXSWi. My panel is called "Building A Web Business After Hours."
Put out a 'if X number of people follow me by Y date/time, I will donate to XYZ or do something crazy" challenge.
Connect with people offline, speak at events and mention your twitter name.

Nate Long, @theprguy: What goes around comes around. Help others before asking for help. Want to promote yourself on Twitter? Promote others. Think about how you can help both your followers and non-followers and do it! Remember, people hang out with people who make them feel good.
Monica Hamburg, @monicahamburg: List yourself for your location or niche in Twitter Packs. Also find and follow people listed in the same city as you. (Find via Twitter Packs or Twitter Local etc.) It's always fun to follow interesting people who live in the same town.
Rachel Levy, @bostonmarketer: Compliment people with retweets, praise and thanks.
Wendy Limauge, @Sweetiesswag: Give some of value away for free. This works to both boost Twitter followings but also blog readers. If you help people in some way they will follow you because they want to see what else you will offer in the future. I help people with anything I have knowledge in like blog design, SEO, web design, and I also point them to articles on my blogs that might help them. Don't always send them to your own blog but also give them links to help directly on the Web through other blogs and websites. When people see that you genuinely want to help them and want nothing in return you end up with a not only a lot of followers but a loyal following as well.
Dave Saunders, @davesaunders: Don't be a billboard: No one is joining social media to read your marketing messages. They're there to connect with other real people. Engage other people and bring value to the party by sharing your interests, tips, and insight. As you do, people will follow and connect to you.
Steve Kayser, @stevekayser: Provide good content – ideas, useful information – with links. That will attract people to you. The coin of the realm is your content. A more important question might be "who should you follow and why?" And "who do you want following you?"
Sarah Lewitinn, @ultragrrrl: I found that initially, the best way to gain followers on Twitter was to follow people who were following other relevant twitterers. Then, and I think the most important thing I did to maintain those followers was to tweet about things people would be interested in — cool new songs, cool concerts, cool parties — as well as super personal things going on in my life.
Connie Bensen, @cbensen: monitor your topic or niche on Twitter & Retweet items that have links or helpful information. (people will appreciate your increasing the mindshare & your followers will grow. Those that are retweeted will be pleased & follow you too)
Related articles from around the blogosphere
The Twitter Effect – 10 Days to a 1000!
Tesla on Twitter – Twitter on Tesla (a viral story)
Free Bonus
Learn how to find use Twitter to find jobs quickly in the short-term and to attract jobs in the long-term.
This free download contains sections on:
How To Make Every Recruiter Jump To Hire You
Which Key Tools Need to Be in Your Twitter Job Search Toolbox?
An Easy Checklist to Follow Every Day
Click the image below to get access to
The Ultimate Twitter Job Search Guide
: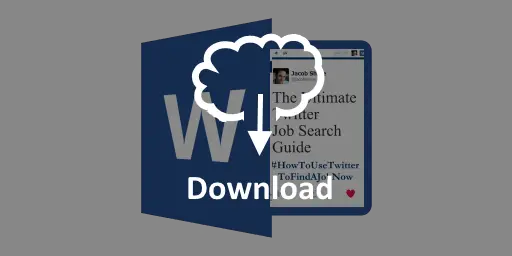 JobMob Insiders can get this free bonus and other exclusive content in the JobMob Insider Bonuses area. Join now, it's free!
Do you have over 1000 Twitter followers?
If so, add your tips in the comments below and they'll be added to the article.
On Twitter yet? Subscribe to JobMob via RSS or email and follow me on Twitter for the best Twitter tips to finding your next job.