Speaking to a complete stranger can have an amazing therapeutic effect. Whether you're feeling depressed on your job search in Israel or just want someone to talk to, ERAN can help.
To get the full story for you, I spoke with Candy Shinaar, ERAN's former Director of Resource Development, and Tal Perri, Director of ERAN's Jerusalem branch and a veteran of 30+ years with the organization.
Free bonus: Download The Job Search Depression Report which contains insights and resources on how to manage if you're too depressed to look for work.
What is ERAN?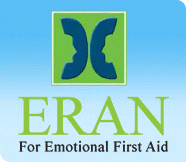 According to ERAN's official website:
ERAN is Israel's only national phone and web hotline service for immediate anonymous and confidential emotional support, 24 hours a day, 365 days a year.
It is our mission to "be there" for every Israeli citizen in need of emotional support. Anyone feeling worried, lonely, anxious, suicidal, or traumatized, can talk things over with a warm and sympathetic volunteer, professionally trained to help callers explore their own strengths and ways to deal with their personal crisis.
Who is ERAN for?
Candy Shinaar: Many people who call in with severe depression blame their lack of employment as one of the reasons they feel that way. We also have employed people call in because they are upset with their bosses or place of work too.
About 3000 calls a year are presented as problems about work or lack of, but many thousands more are presented as a problem about low self esteem or depression and it comes out in the conversation that the person is also looking for work.
The percentage of calls for the year 2006 received by people who weren't employed are:
Hebrew hotline – 50%
Russian hotline – 70%
Arabic hotline – 55%
(these percentages also include retirees and anyone who isn't employed by choice)
Tal Perri: People come to us with many kinds of work-related problems such as:
Unsuccessful job searches
Financial problems
Feelings of harassment from an authority figure
Frustration from lack of promotion or from being passed-over for promotion
Wondering why they have no friends at work
Uncertain whether they should continue at their current workplace
Sometimes people get an idea that a problem is their fault and just want to talk about it. That's what our volunteers are for.
Who are ERAN's volunteers?
Tal Perri: Anyone can try to volunteer via our website (Hebrew) or by calling 1201 extension 9 (in Israel only). The recruitment process is relatively long and all potential volunteers undergo a careful screening process before they're accepted and are trained. It should be noted that ERAN is a humanitarian service and not professional advice. We are here as much to listen as to help people.
How does ERAN help you?
ERAN volunteers can respond in English, Hebrew, Russian and Arabic. Depending on the language, you can contact ERAN by the official website, telephone (free from any phone), email, personal chat room or even ICQ.
Something important to know is that if the lines are busy you shouldn't get frustrated, it's not symbolic and it could happen to anyone; please try again later.
Tal Perri: One conversation is usually all it takes. Our volunteers are great listeners but may also make recommendations such as where to seek professional advice. Also, because volunteers are tied to specific branches they will often recognize any repeat callers, which makes it easier to continue the conversation (callers don't need to repeat themselves each time).
You can also donate to ERAN
Fielding tens of thousands of calls year round takes a small army of volunteers and support staff. If you'd like to help out, ERAN would appreciate your donation via their secure website.
Other donation options:
Direct Bank Transfer
Bank Leumi, Jerusalem
Branch # 915
Acct. Number: 575000/49
Personal Check by mail
ERAN
P.O.Box 7137
Netanya, Israel 42170
Free Bonus
Download The Job Search Depression Report if you're getting depressed because you can't find a job. It contains:
15 Causes of Job Search Depression and How To Prevent It
13 Signs of Job Search Depression
Unsure About The Signs? Take The Test
9 Ways To Deal With Job Search Depression
Click the image below to get access to The Job Search Depression Report:
JobMob Insiders can get this free bonus and other exclusive content in the JobMob Insider Bonuses area. Join now, it's free!
Long job search? Subscribe to JobMob via RSS or email and follow me on Twitter for the guidance you need to reach your objective.