Bad jobs can still make you miserable after you've left.
What type of company do you want to work for?
If the answer is "any company that will hire me", you're off on the wrong foot.
The more subtle reason to avoid bad companies
There are two big reasons to be careful about where you work.
1) No job satisfaction
I've had multiple jobs that I hated, and others that I hated at times.
I'm sure you have too: The 2016 edition of The Conference Board's annual job satisfaction survey found that only 49.6% of Americans are happy in their jobs, and that's actually the best result since 2005.
Why struggle to find a job you'll struggle to keep?
While this first reason is pretty obvious, the second reason is a lot more subtle but no less painful.
2) Impact on future job searches
A job seeker contacted me with his biggest challenge.
He had good skills and years of experience, and was getting interview invites. However, he was getting tripped up at the same point in the recruitment process each time because his recommendations weren't impressing recruiters, so it was just one rejection after another.
This had gone on for 2 years.
After digging a little, we realized that it wasn't so much that his recommendations were poor, it was that relations with his most recent boss had been poor.
As a result, when recruiters contacted the former boss, they were underwhelmed and ultimately scared away. Unsurprisingly, they didn't go any further to reach the other, better references he'd provided from earlier managers.
His one recent, bad work experience was haunting him even after it was over.
There has to be a way you can avoid these situations in advance, and there is.
Free bonus: The One Job Interview Resource You'll Ever Need is a handy reference to help you prepare for any kind of job interview. Download it free now
Have you ever heard of The Waiter Rule?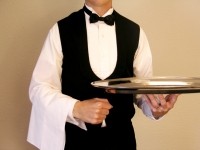 This is what former Raytheon CEO Bill Swanson wrote for #32 of his Swanson's Unwritten Rules of Management:
"A person who is nice to you but rude to the waiter, or to others, is not a nice person. (This rule never fails)."
Many CEOs agree. Hardly surprising, because the Waiter Rule is:
Simple to understand
Easy to apply
And it just works
How can the Waiter Rule be applied to companies?
Useful, honest information about an organization is harder to find than you'd think.
Company websites are marketing tools and will usually limit themselves to highlights of a company's story.
Similarly, private companies will sometimes be mentioned in the media when they put out press releases.
Publicly-traded companies are required to divulge lots of information but it may only be comprehensible to financial professionals or economists.
Yet, you're more likely to face a small or medium-sized company or non-profit organization where even the above information may not be available.
To apply the Waiter Rule, you'll need to get in close contact with potential employers who appeal to you.
4 signs to help you weed out bad employers
1) A company that charges to read your job application
Whether direct fees such as application processing fees, or indirect fees such as requests for you to meet far from home, requiring you to pay your way, no company should be asking for your wallet. This is as backward as a casino that charges you to gamble, and is often illegal.
Speaking of what's illegal…
2) A company that asks illegal interview questions is probably acting illegally elsewhere too, out of ignorance or otherwise
In the USA, being asked your political affiliation is an attention-getter. In Israel, ethnic background has been an issue.
3) A company that requests free work during the hiring process will continue to do so after the hiring process
Years ago, before a first interview, an Israeli tech company once asked me to review their unfinished product. Regrettably, I wasted a few hours giving them free consulting advice when I should have immediately turned away… which I did after the first interview a few days later.
If a company won't pay for work during the application process because they aren't required to by law, there's a good chance they'll underpay when they are required to.
4) A company whose hiring process is unnecessarily complicated is a company for whom working will be unnecessarily complicated
Endless rounds of interviewing are often indicator of an employer who's afraid to take responsibility for their own decisions.
What about earlier signs?
The only drawback with the Waiter Rule technique is that it can only help you after you've already begun a meeting or job interview, and not earlier such as before you send in a job application.
However, there are signs you can look for before the application process gets that far, such as poorly written job listings.
One way to check if a company is good is by reading company reviews on Glassdoor.com.
In 5 Signs of a Bad Work Environment, career strategist Linda Raynier talks about looking for signs of a dysfunctional company, such as high turnover or companies that aren't in good shape financially:
More reading
Sometimes, only a deeper look will tell you what you need to know. If you follow the above guidelines, you can save yourself from job search headaches AND job headaches.
Question of the article
Looking back at the job you hated most, what could you have done to avoid it in the first place? Tell us in the comments.
Free Bonus
If you want a handy job interview resource that you can keep on your smartphone or print out for easy reference, I've got a special bonus for you.
This free download contains:
165 positive personality adjectives to describe yourself
444 of the most popular job interviewer questions to prepare yourself with
175 questions that you can ask in job interviews to make a good impression and learn about your future employer
Click the image below to get access to
The One Job Interview Resource You'll Ever Need
: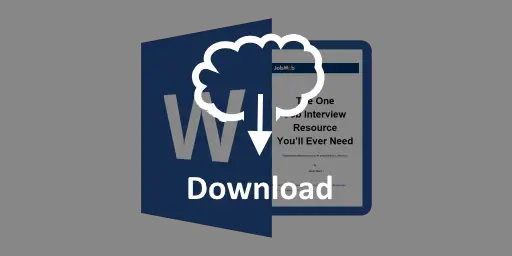 JobMob Insiders can get this free bonus and other exclusive content in the JobMob Insider Bonuses area. Join now, it's free!
Subscribe to JobMob via RSS or email and follow me on Twitter for more ideas on avoiding bad workplaces and finding good ones.