This event is over.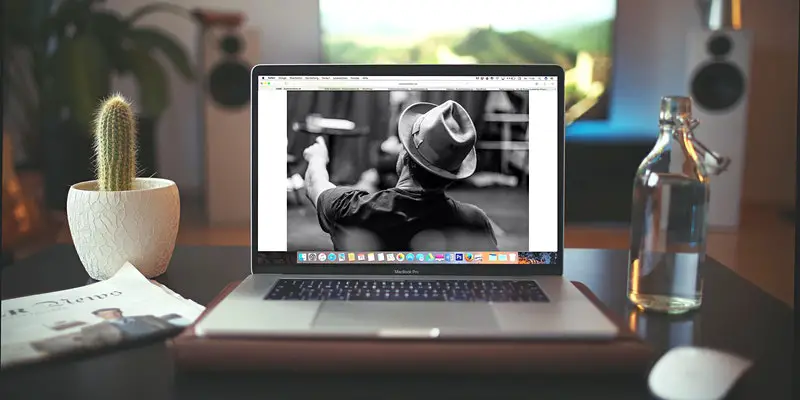 Who
All job seekers
What

PERSONAL BRAND IDENTITY (TV/FILM ACTORS) NOW LIVE STREAMING ONLINE FROM OUR VIRTUAL STUDIO ON ZOOM
About this Event
PERSONAL BRAND IDENTITY (TV/FILM ACTORS)
BOJESSE CHRISTOPHER ACTING STUDIO
LIVE STREAMING ONLINE FROM OUR VIRTUAL STUDIO ON ZOOM
COACHED BY KRISTIN BJORGE
(Producer/Costume Desinger Guild Member 892 | Costume Designer, Stylist, Artist)
httpt://www.imdb.me/kristinbjorge
HOSTED BY BOESSE CHRISTOPHER
(FOX's Deputy, HBO's True Detective, Point Break Fims/TV & More)
PRESENTING YOUR BEST SELF IN LIFE & ART
+ Personal Brand Identity + Color Psychology & Visual Tone + Identify Your Top 3 Archetypes + Perfect Posture + Posing For Photo + Video Presentation + Discover Your Personal Color Palette + Silhouette Selects + Actors Keep Recorded Video Asset Each Workshop +
Learn how to craft a personal image that resonates.
Actors, your future is now. Join us & be ready!
EVERY TUESDAY AFTERNOON 2-4PM
A NOTE FROM BOJESSE
Based on 30 years of experience as a professional film and television actor, I present a two-part format using components, principles and disciplines of Stanislavski's and Meisner's preparation in moment. The work is a journey into self-discovery to identify and take ownership of your unique emotional instrument, revealing your innate personal brand. I encourage each actor to make the teachings their own and forge a path towards creative and economic success through inspired action.
THE CLASS
OVERALL FORMAT:
Class consists of a two-part format using Stanislavski's preparation of building a character, Strasberg's Method, and Meisner repetition components in the moment.
* Warm up (repetition based, emotionlly connected exercises, through music frequency and verbalization. All exercises explored in reality and the imaginary circumstance (connectivity and communication through feelings; body language, behavior, verbal and non-verbal).
* Assigned Scene Study Overview (genre, presentation format, concept, theme, tone, pace, actors responsibility to find the deepest meaningful connection to writers intention, and make it thy're own).
* Rehearsal of Assigned Scenes (practice and application, blocking, eyelines, and camera technique…leaving a margin of room to find it in the moment).
* Quick 10 minute break.
* Assigned Scene Work (compartmentalized audition technique to win the job with the idea that once you win the job you can unpack the building of a character), (on camera and on monitor w/ repetition, direction, character exercises, adjustments to achieve an emotionally connected result).
** Actors keep your personal video asset to review, share, and post!
TECHNIQUE:
* Making strong, smart choices in your scene work preparation leading up to the moment in the world of play.
* Getting familiar with, understanding, emotionally connecting to, and memorizing the material.
* Identifying who you are, what you want, how you feel about the other person, visualizing third party characters, and creating a strong point of view.
* Observation of other character's behaviors and feelings, being aware of how it effects the impulse of your feelings, adjusting your point of view, and achieving moment to moment truth.
LIMITED SPACE, RESERVE YOUR SPOT NOW:
A) 8 CREDITS/WORKSHOPS @ $50 EACH = $400 (2 cancellations allowed)
B) 4 CREDITS/WORKSHOPS @ $65 EACH = $260 (1 cancellation allowed)
C) 2 CREDITS/WORKSHOPS @ $70 EACH = $140 (No cancellations allowed)
D) OBSERVE OF WORKSHOP CREDIT = $30 (anytime)
*Cancellations: 24 hour notice is required for any reason and will be noted.
**Credits info below in flier.
QUESTIONS? JUST ASK!
Phone: (310) 985-0465
Email: bojessechristopher@gmail.com
www.bojessechristopher.com
LIKE, SUBSCRIBE, SHARE, REVIEW!
IMDB – BoJesse Christopher – TV/Film Credits
VIMEO – Coaching Content
INSTAGRAM – @BoJesseChristopher  |  @BoJesseChristopherActingStudio
FACEBOOK – BoJesse Christopher  |  Truth Be Told Acting Collective
YELP – BoJesse Christopher Acting Studio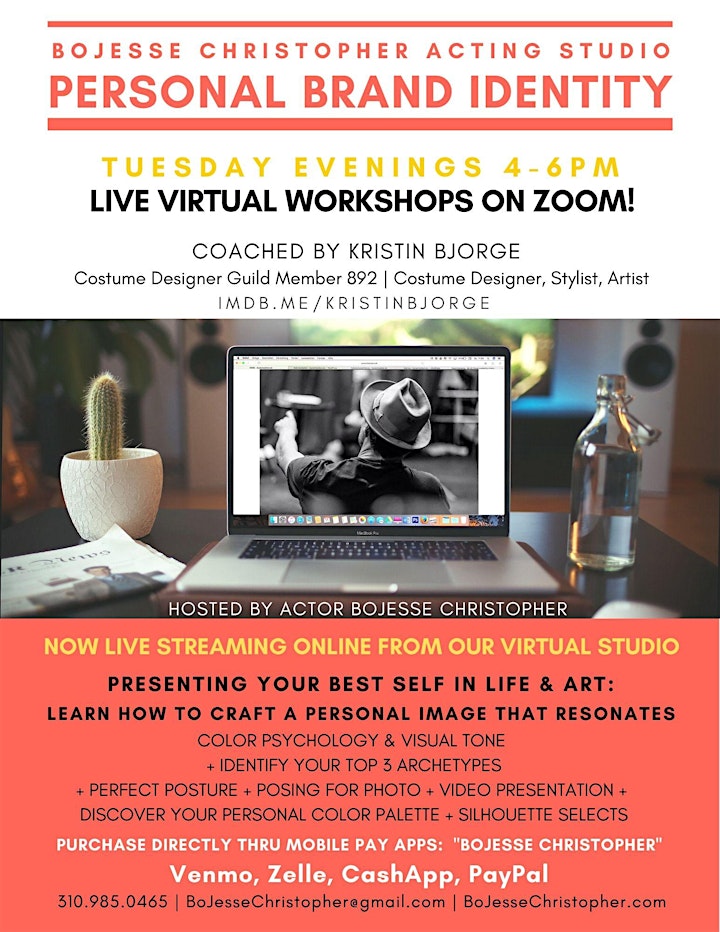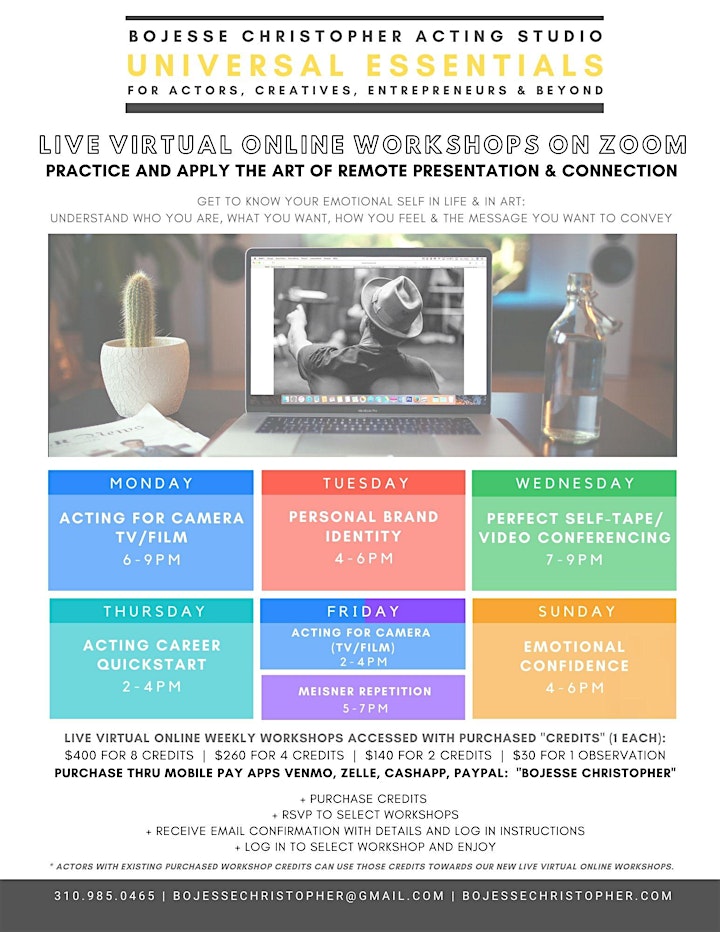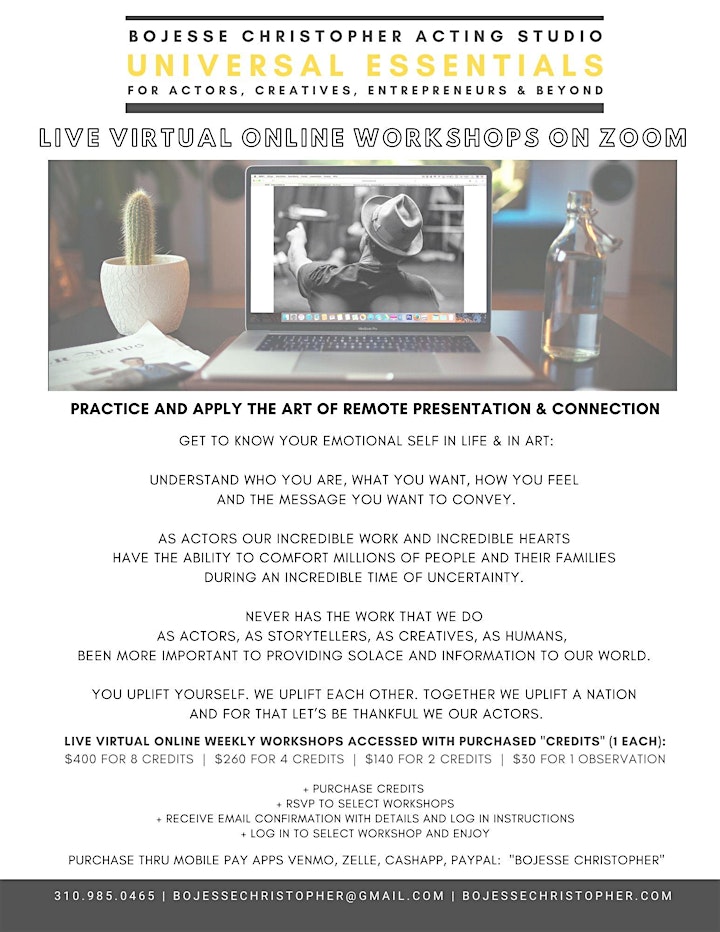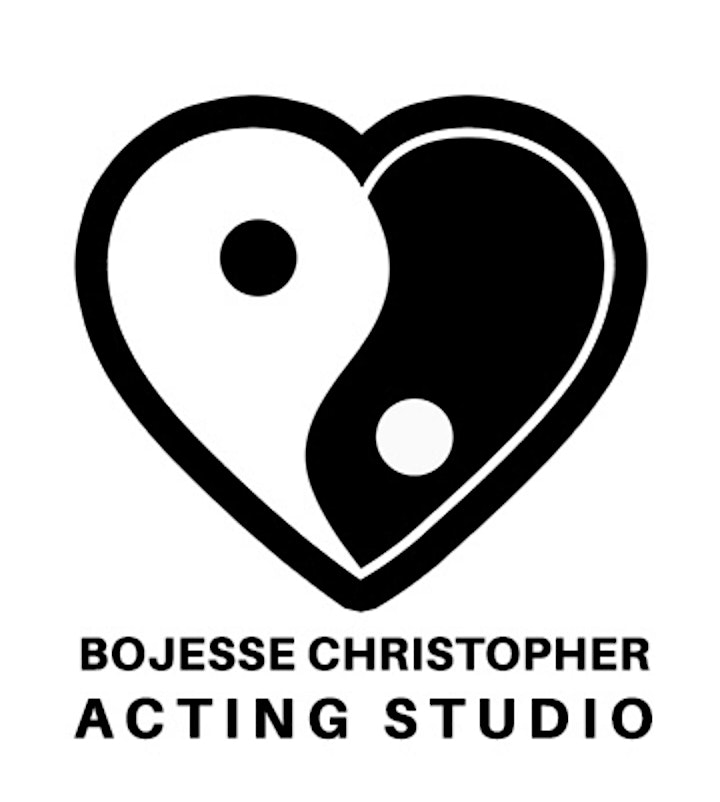 Where
Virtual event
When
Date: Tuesday, November 17, 2020
Time: 4:00 pm - 6:00 pm
Timezone: UTC+7 (check your local time here)

How
Registration required? Yes

Cost: $30 – $400

Full event details: Personal Brand Identity (TV/Film Actors) LIVE Online Workshop on Zoom

🔖 Event tags:
Paid events
🚩 Event category:
Did you attend this event?
How did it go? Tell us.
Leave a comment below
.